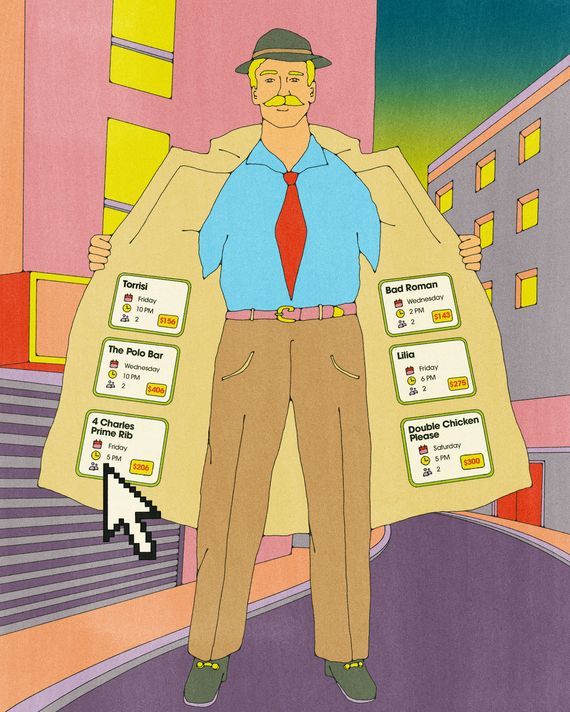 Illustration: Kate Dehler
It's never been easier to make a restaurant reservation: Tap around a few times on Resy, OpenTable, or Tock, and you're set. Bon appétit. But everyone knows there are additional, better reservations to claim, provided you have some clout or a cool job or know someone who knows someone, at restaurants that are unbearably exclusive — and meticulously designed for mass appeal. There's 4 Charles Prime Rib, the closet-size West Village steakhouse with tufted leather seats and $40 French dips. There's Ralph Lauren's blue-blooded Polo Bar, where a Waldorf salad is on the menu and Howard Stern may well be sitting in the corner. There's Don Angie, the TikTok-beloved ode to rolled lasagna, and Via Carota, where Taylor Swift recently toasted a breakup. There's the Caligula-does-Vegas fantasia that is Bad Roman, there's Torrisi, and there is, above all else, Carbone.
Carbone is a place on the planet Earth — in fact, it's a handful of places, with outposts in Dallas, Hong Kong, and elsewhere — but the original restaurant on Thompson Street may as well be Narnia. Unlike other secret pockets of the city, which are sequestered from the masses, Carbone is right there. It has a giant neon sign! While it lost its Michelin star last year, its spicy rigatoni vodka is by all accounts as creamy as ever, and the restaurant remains the archetype for a never-ending red-sauce revival. Carbone does accept reservations via Resy. I tried the other week and, with surprising ease, managed to find a table for two at 11:15 p.m. on a Wednesday.
If, alternatively, I wanted to eat at an hour that might reasonably be considered "dinner," I would be out of luck. Carbone releases tables at 10 a.m. sharp, 30 days out; Carbone's tables are gone by 10:01 a.m. sharp, 30 days out. Another option is Resy Notify, which is like signing up for a waiting list. But if my name does not signal to the restaurant's manager that I am worthy of a table — and I have learned my name does not — I will likely remain stuck in a state of perpetual prenotification.
For the truly desperate, a number of semi-illicit third-party solutions have emerged online. These services have slightly different philosophies, but they all make the same explicit promise: For a price, even you can eat dinner at Carbone.
"I really believe that we are a partner of the entire F&B industry, because I think it's a problem that an appropriate diner cannot get a reservation," says Jonas Frey of Appointment Trader. Frey came up with the idea for the service when he couldn't make an appointment at the Las Vegas DMV. "This is crazy," he recalls thinking. "How is it possible that I can't buy an appointment?" If his vision is realized, that will no longer be the case: "I want to make everything available all the time. Our claim is availability anytime, anywhere. In five years, wherever you want to go, you can — it'll just cost you something."
Appointment Trader has never sold a restaurant reservation, Frey wants me to understand, because it's not a store but a marketplace, like Etsy but for dinner: It facilitates other people selling their reservations. "If you want a reservation, you can post your offer," Frey says. "And if you have a reservation, you can sell it." Who is selling these reservations, and under what circumstances, is not Appointment Trader's concern. "We're, like, the epicenter of capitalism, right?" Frey says. "If they're following our guidelines, we want people to make a shitload of money."
Timothee, an active seller who asked me not to use his last name, declines to reveal how much he makes on Appointment Trader but says it's "to the point where I feel that this could potentially be an extremely lucrative side business." Appointment Trader buys cell-phone-location records and weighs other factors (past sales, weather data) to calibrate how much a given time slot is worth. I could, I discovered, buy a Carbone reservation at 6 p.m. on a Thursday for $200 or secure an 8 p.m. seating the following Monday for $265. As a person who generally makes reservations for zero dollars, I thought this seemed like a lot. I instead offered a bid: I would pay $140 to anyone who could book a table for two on a Wednesday night at a decent hour. This still struck me as too much money, but I learned that, in the world of Appointment Trader, it is essentially nothing. Carbone charges a $50-per-person deposit (plus tax) for reservations made through Resy, meaning any potential seller of a two-top has already paid more than $100 in upfront costs. Appointment Trader would take a 20 percent cut from my initial bid, so my seller would net about $3 for their trouble. Wednesday came and went, and nobody took me up on my offer.
Even submitting the bid felt humiliating: Carbone has devised a system calibrated to keep me out. I was offering cash to anyone who could, in essence, help me crash the party. At certain restaurants, employees monitor resale markets and — because scalping violates Resy's terms of service — aren't obligated to honor reservations that might have been dealt. "We definitely have an issue where we're seeing people checking in for reservations they don't have," explains a manager from one popular downtown spot. "And they get upset and say, 'I paid for this reservation!'" At a previous job, "certain people were booking all the time," and "every time, someone different would check in," but there's nothing to be done about it. "You can't tell Resy, 'Hey, this person keeps booking, and it's never them.'" That might be fine, except it tends to be "a certain type of person" who buys reservations off the books: "Maybe it's someone who complains as soon as they get in, or someone who's not used to dining in a restaurant, so when the check comes, there's a problem."
Sarah Goldring and Mena Barakat, the duo behind ResX, think that reservation swapping can benefit restaurants and diners alike. Their platform is more like the take-a-penny, leave-a-penny of last-minute plans. Users can submit and claim unwanted reservations, and no money is exchanged. It began as a crowdsourced Instagram account and is now a crowdsourced app, though there is, of course, a premium option that grants "exclusive" access to in-demand restaurants. I downloaded ResX and paid my $9.99 to subscribe. Several days of scrolling later, I had seen many tempting options — Foul Witch, Ci Siamo, Soothr — but Carbone remained out of reach.
My most reliable bet might have been Dorsia, a members-only platform that gives its users — the company declined to say how many — access to premier reservations if they commit to spending a minimum amount during dinner. (Yes, it is named for the impossible-to-reserve restaurant in American Psycho.) Miles McMullin, Dorsia's vice-president of hospitality, explains that his service is an alternative to other reservation services: "These restaurants are losing control of their dining rooms." To McMullin, it's dire. "They have no idea who's actually walking through the door," and they aren't making money off the additional demand. So Dorsia partners with restaurants, which allocate a certain number of tables for members.
Alas, I was never granted access to Dorsia's private club, so I was once again left to fight for a table with the rest of the hoi polloi. Luckily, I had only begun to fully explore my options. There is Cita Marketplace, an Appointment Trader competitor, which would allow me, for $262, to book a Carbone two-top for 5 p.m. on a Thursday or, for $193, a four-top lunch at Bad Roman. There is also Dumpling Joint, a virtual "assistant for booking reservations at restaurants, bars, etc.," that, as far as I could tell, just tries really hard to make particular reservations for its users. Although it costs a mere $10 a pop, it would require me to hand over my own Resy password. I needed something else.
On Reddit, I met a man who'd used a bot that could claim Resy's reservations faster than any sentient human could click. Bots are a popular explanation for how reservations disappear so fast — how else could it happen? "I don't know if this is fully legal," he tells me, declining to give me his name.
He had been trying and failing to get a reservation at Double Chicken Please, a high-end cocktail bar on the Lower East Side. "There's no way that every single reservation for every single time slot disappeared in zero seconds," he recalls thinking. It had to be bots, he figured, even though that seemed unlikely. "Sneakers, sure, whatever, I'd heard of that," he says. "But restaurant reservations? That was a surprise." Running the bot was easy, but to date he has botted only once and only for himself. In a Robin Hood–like show of altruism, he posted instructions to Reddit to wrest power back from big reservation. It was a public service: "Like, 'Oh, you guys don't like Appointment Trader and scalping? Well, here's a way you can just beat them at their own game.'" Reddit's admins, however, did not take the post in the spirit it was intended, and the bot operator was perma-banned from the r/foodNYC sub-Reddit.
I next called Steve Saed, a founder of #FreeRezy, a pioneering but now-defunct reservation-trading channel on the Telegram platform that was shut down after four months when Resy deactivated the founders' accounts. Saed is a man who arguably knows how to secure reservations too well. "There's not really a silver bullet," he says. If, for example, Drake wants to eat at Carbone, he does not open the Resy app at 9:58 a.m. a month ahead of time and hope for the best. "For the average person," Saed says, "they have reservations for lunch and then after 10 p.m." I agreed this was true. One thing I could try, Saed advised, was just showing up. "Sometimes people will go right at 5 p.m., when they open for dinner service, and say, 'Hey, if you have any cancellations, I'm in the neighborhood.'" He did not sound optimistic.
The Monday after Easter at 5 p.m., I joined a well-contoured line and shuffled into Carbone. It was deeply humbling. Carbone did not want me; why couldn't I see that? "I think I know the answer to this," I said, as winningly as possible, "but is there any chance of a reservation tonight, if there happens to be an opening?" The host very nicely suggested I try Resy Notify. Instead, I walked to a nearby Brazilian restaurant and ate feijoada under its fairy lights.