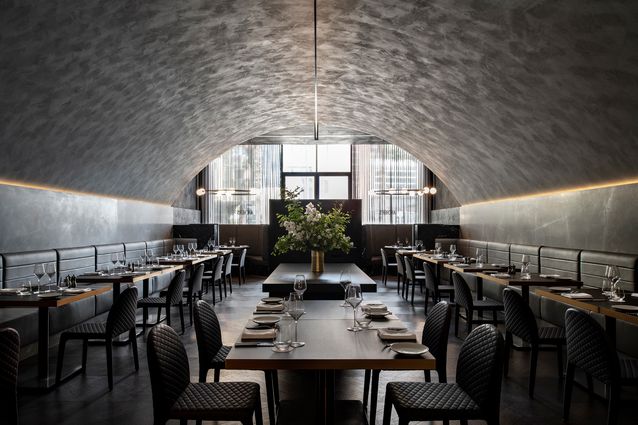 In the Best Restaurant Design category, 38 project have been shortlisted:
Archer's – DKO
Arkhé – Studio Gram
BKK – Dion Hall
Cappo Socialem – Emma Tulloch Architects
Copycat Bar and Restaurant – Technē Architecture and Interior Design
Di Stasio Carlton – Hassell
Entrecôte Prahran – Brahman Perera
Flame – Altis Architecture
Gage Roads Fremantle – Finespun
Grill Americano – Mitchell and Eades
Her Bar – Dion Hall
Hubert Estate – Cera Stribley
Jane – Luchetti Krelle
KOI – Loop Creative
LOAM Sydney – Flack Studio
Lola's Level 1 – H and E Architects
Lucky Kwong – APS Design
Meet Fresh – Wall Architects
Moonhouse – Ewert Leaf
Olea – Guru Projects
Patina at Alumni Court – DM2 Architecture
Picnicka – CTRL Space
Press* Food and Wine – Claire Kneebone
Rocco's Bologna Discoteca – Studio Co and Co
Sakura Kaiten Sushi – Bergman and Co.
Santa Caterina – Guru Projects
Shell House – Woods Bagot
Sou'West Brewery – Ewert Leaf
St.Alma – Five Foot One Design
Stratton Bar and Kitchen – Newstead Hospitality Group
Stringers Sorrento – Chris Connell Design
Sunset – CTRL Space
The Heke – Izzard Design
Tippy Tay – Technē Architecture and Interior Design with Eleisha Gray Design for Tippy Tay
Untitled – Flack Studio
Ursula's Paddington – Brahman Perera
Van Bone – Laura Simone
Woodcut Restaurant – Loop Creative
See the full gallery of shortlisted projects on the Eat Drink Design Awards website.
Eat Drink Design Awards is organized by Architecture Media (publisher of ArchitectureAU). The 2022 awards is supported by principal partner James Richardson Furniture, major partner Blind Corner, and supporting partners Roca, No Rock and Latitude.
Related topics