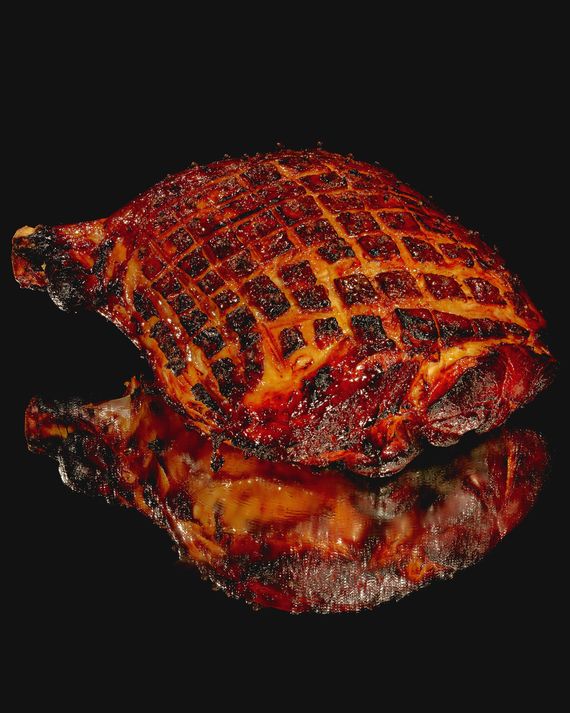 Torrisi Deli and Restaurant's brown-sugar-brined ham.
Photo: Marcus McDonald
Even as the city heads into a second uncertain pandemic fall, with proof of vaccination required for indoor dining and another round of heated winter streeteries on the horizon, cooks keep cooking and restaurants keep opening. Here, a selective list of newcomers, from short-lived but essential pop-ups to venerable institutions making exultant returns. Prepare for a season of fried chicken (Indian and southern), tartares (tuna and mushroom), and sandwiches, from tramezzini to tuna melts.
Open Now
Pam Yung Pizza at Stone Barns
630 Bedford Rd., Tarrytown; through September 18
Speaking as eaters lucky enough to have sampled Pam Yung's sourdough-pizza handiwork at the late Semilla, we can say that the prospect of one of her pies is worth the trip to Stone Barns — provided you can snag one of the very few spots left during her chef's residency. (If not, definitely join the wait list.) Yung has spent the past two years heading the kitchen at London's Flor, and for discerning carbivores, her return constitutes a culinary happening. Her doughs are made from freshly milled whole grains; her toppings are farm-sourced. And her vision for the populist food, as expressed in a recent Instagram post, extends way beyond deliciousness: "Could it also be radical?" she asked. "The starting point for some sort of revolution?"
Ha's Dac Biet at KIT
657 Washington Ave., Prospect Heights; through September 18
After a rough go of it at Outerspace, the indefatigable popper-uppers, Anthony Ha and Sadie Mae Burns of Ha's Dac Biet, have bounced back. They'll be dishing up their distinctive, delectable, very personal "Vietnamese bistro" vittles from the kitchen at restaurant incubator KIT (formerly known as Meme's Diner) for the next couple of weeks. Sample menu items include grilled-sardines rice-noodle bowl and fried spearing with lime-leaf green sauce.
Lodi
1 Rockefeller Pl.
Find yourself in midtown and in need of an espresso, a porchetta panino, a seasonal spritz, or a fresh loaf of fermented-rice bread? Satisfy all of these desires and more at Ignacio Mattos's new Rockefeller Center Italian-style caffè. [Read more.]
September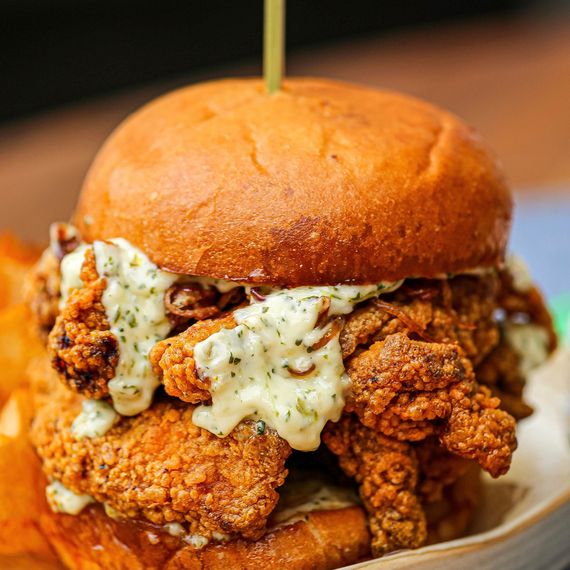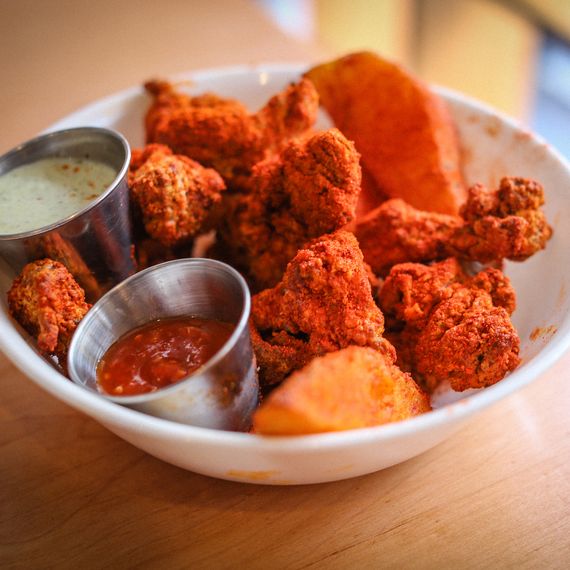 Unapologetic Foods' Rowdy Rooster and Kebabwala
149 First Ave. and 82 Second Ave.
Titans of real estate say it all boils down to location, but for Unapologetic Foods' Roni Mazumdar and chef Chintan Pandya, the three most important words in the restaurant biz this fall are expansion, expansion, expansion. The brains behind the mind-blowing, palate-blasting Indian restaurants Adda in Long Island City and Dhamaka on the Lower East Side are off on an empire-building tear. First, they'll unleash the Rowdy Rooster, a fried-chicken specialist housed inside the cubbyhole once occupied by the ill-fated Afandi Grill and, before that, the This Little Piggy Had Roast Beef sandwich shop. If you've ever tasted Pandya's off-the-Scoville-charts deep-fried chicken thighs at Adda, you know that this is something to get excited about (and also prepare for in advance by taking out a fire-insurance policy on your tongue). Also on the docket this month is Kebabwala (that's right, kebabs in all their chargrilled glory), which will be skewering its chunks of meat, fish, and veggies in a former vape-and-hookah shop not far from Rowdy Rooster. Maybe that's too much Mazumdar and Pandya for any one neighborhood and surrounding vicinity to handle, so come November, the team is transferring its recently shuttered Lower East Side Indian-street-food concept, Masalawala, to 365 Fifth Avenue in Park Slope. There, they'll give the menu an overhaul and debut an onsite spice market of sorts.
Tortazo
1123 Broadway
Rick Bayless, Oklahoma-born student of Mexican gastronomy, has built his career in Chicago (and on TV). For his first foray into the New York restaurant scene, he has spun off a branch of the fast-casual sandwich shop he opened in a new retail development at the old Sears Tower. The menu centers on pork and chicken tortas, chip-strewn salads, and the variously topped tortillas called tlayudas. The churros are sourced locally, from La Newyorkina, and the full bar offers mezcal flights and a frozen agave-based riff on the Jungle Bird cocktail.
Zou Zou's
85 Manhattan West Plaza
Two former NoMad cooks collaborate on a menu that fuses eastern Mediterranean flavors with a modern New York sensibility. [Read more.]
Emmett's on Grove
39 Grove St.
Emmett Burke, native Chicagoan and chief proselytizer for that town's pizza, both deep-dish and tavern-cut, expands on his Macdougal-Street-bar base with a bona fide restaurant in the West Village. It will still be a pizzeria, but the menu's "Midwest tavern" theme extends to the classic American supper-club fare of Burke's youth: steak, fish, pasta, and especially baby-back ribs, which Burke has entrusted to the capable hands of a chef who spent eight years at Dinosaur Bar-B-Que.
Kettl Tea
70 Greenpoint Ave., Greenpoint
After selling its wares at a cloistered Williamsburg shop and a Noho kiosk, Brooklyn-based tea importer and distributor Kettl has expanded into a new flagship café and ceramics studio in Greenpoint that will no doubt become a hub of Japanese-tea connoisseurship. The white-walled, light-wood-shelved space was designed as a place to stone-mill, roast, taste, and especially savor matcha, houjicha, and soba cha, all of which can be sipped at a communal table or a tasting counter, or ordered to go from a takeout window. And a new dessert menu incorporates the signature teas into sweets like roll cakes, financiers, mousse, chestnut mont blanc, and ice-cream parfaits.
Bonnie's
398 Manhattan Ave., Williamsburg
Brooklyn-born chef Calvin Eng opens a Cantonese-American restaurant inspired in equal measures by his mother's home cooking, special-occasion Cantonese banquets, and the East-West fusion of Hong Kong diners. [Read more.]
Coco Pazzo Pizzeria and Restaurant
307 Spring St.
Self-described restaurant junkie Pino Luongo is consolidating his assets. He's moving his Coco Pazzo restaurant on the corner of Prince and Thompson Streets a few blocks west into the Soho branch of his new pizza project, Coco Pazzeria. The plan is to take the classic dishes from Coco Pazzo and combine them with the most popular dishes from Coco Pazzeria, creating what is in theory a super-menu that no starchy-food fiend could ever resist. Here's hoping that the bucatini cacio e pepe, the bomba buzzetti, the focaccia robiola, the rigatoni alla Buttera, and the chicken meatballs make the cut.
October
Gotham
12 E. 12th St.
Gotham Bar & Grill claimed it was closing for good in March 2020, but rumors of its demise seem to have been greatly exaggerated. The Greenwich Village landmark has been brought back to life by former managing partner Bret Csencsitz and his business partner, the environmentalist Kevin Conrad, with a streamlined design and a menu that evokes the New American, pedigreed-protein standards of yore. (Yes, there will be tuna tartare, as well as Elysian Fields lamb and Niman Ranch strip steak.) Given that management has entrusted the refurbishment to James Biber, the architect who conceived Gotham's original post-modern design, and the menu to the restaurant's longtime pastry chef, Ron Paprocki, it seems clear that the desired effect is restoration, not radical change.
Ci Siamo
100 Manhattan West Plaza
After making her name with unexpected pastas and crisp-tender pizzas at Vic's, chef Hillary Sterling joins Danny Meyer to open a wood-fired (mostly) Italian restaurant at Manhattan West, Hudson Yards' new neighbor. [Read more.]
The Mary Lane
99 Bank St.
Chef-partners Mike Price and Joey Campanaro have named their latest Village venture after a seedless yellow fig, and like its sister spots – Little Owl, the Clam, and Market Table – the Mary Lane will focus on approachable, seasonal fare. Unlike them, it will eventually serve breakfast, ranging from muffins with mascarpone and steak-and-eggs to Brussels-sprout-and-sweet-potato hash. But it will be dinner-only to start, including dishes like mushroom tartare with Dijon-truffle aïoli and grilled pork loin with sauerkraut and apples. There is a fig tart on the dessert menu, but no indication of the variety.
Noz 17
458 W. 17th St.
Start digging between the cushions of your couch and check out the penalty clause for early withdrawal from your 401(k): The Upper East Side sushi gods of Noz are branching out to Chelsea. It's $395 smackeroos for 25 or so nigiri-forward courses if you can score a reservation for one of the seven counter seats.
Torrisi Deli and Restaurant
275 Mulberry St.
Rich Torrisi and Mario Carbone get a do-over on Torrisi Italian Specialties, the place that made their names twelve years ago on Mulberry Street. They're fine-tuning the old model and setting it up in a swanky space just up the block from the original location. [Read more.]
Charles Pan-Fried Chicken
340 W. 145th St. and 146 W. 72nd St.
After closing his restaurant on Frederick Douglass Boulevard in February, Harlem mensch Charles Gabriel was supposed to be back in action with not one but two new branches in July. But construction crews, like old-school cooks who meticulously fry their chickens in manhole-size skillets rather than just dumping them into deep-fryers, cannot be hurried. Now, the plan is to cut the grand-opening ribbon on the first shop in Harlem in early October, with a second to follow on the Upper West Side later that month. The focus will be on pickup and delivery, but there's some outdoor seating and hopefully Wet-Naps for on-the-spot fried-chicken feasting.
Saraghina Caffè
195 Dekalb Ave., Fort Greene
Another pesky thing that can hold up an opening, especially during a global pandemic, is the red tape associated with shipping equipment and materials from Italy in the hope of getting all the details right for your aperitivo bar-restaurant. That is the situation in Fort Greene, where Edoardo Mantelli has had to push back the planned July curtain-raising on his 1930s-inspired caffè. If the stars get their act together and align, however, Fort Greene-ers will be nibbling housemade potato chips and tramezzini washed down with Negronis by mid-October, says Mantelli. [Read more.]
And Beyond
Eisen Coffee Shop
174 Fifth Ave.
If there's anyone you can trust with the keys to the much-loved 92-year-old luncheonette, Eisenberg's, it's the sandwich geniuses of Court Street Grocers, Eric Finkelstein and Matt Ross. [Read more.]
More From Fall Preview 2021