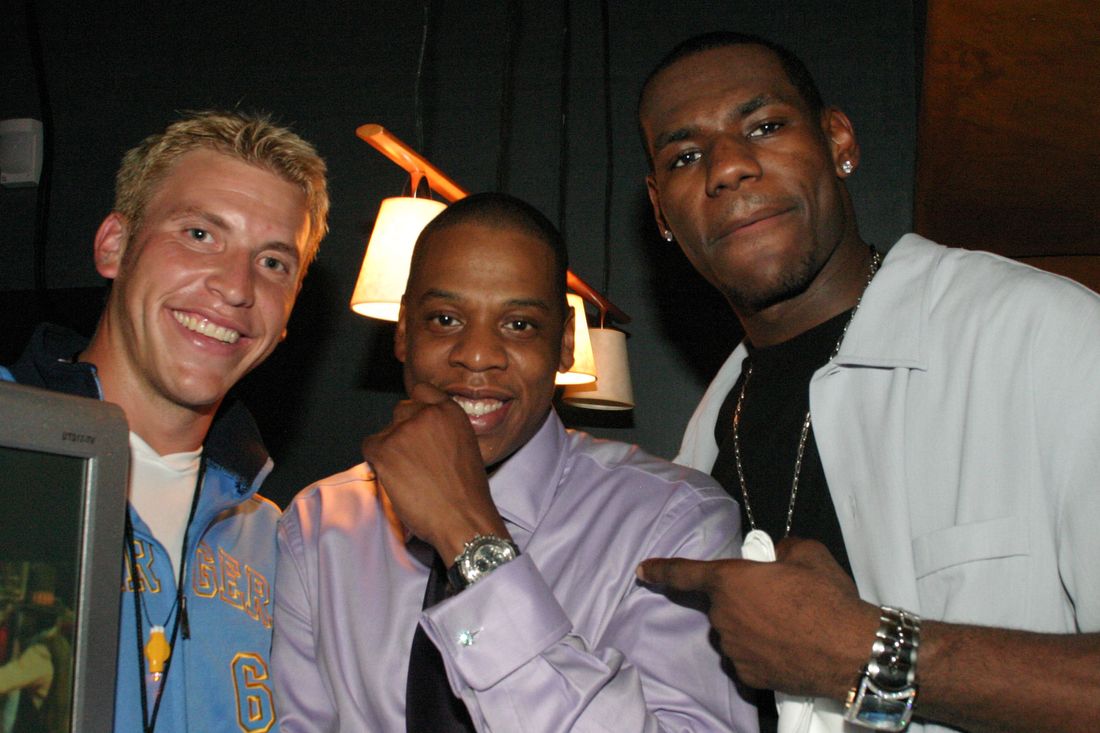 Golfer Ricky Barnes with Jay Z and LeBron James. Photo: Johnny Nunez/WireImage
The current round of aughts revivalism has largely been relegated to the meet-me-in-the-bathroom draw of indie sleaze and Carrie Bradshaw's return to TV. How quickly we forget that 2003 was also the year 50 Cent dropped "In Da Club" or that, in the summer of the same year, Jay-Z unveiled 40/40 — named for the rare baseball feat when a player hits 40 homers and steals 40 bases in a single season — the nightclub–sports bar mash-up that helped him expand his entrepreneurial footprint and set the stage for his involvement in pro teams. 40/40 closed this summer, without the fanfare that befits most New York institutions.
The Flatiron District isn't usually mentioned as one of the parts of town where clubgoers migrate when the sun goes down, but on opening night — June 18, 2003 — the corner of West 25th Street and Broadway was the center of the universe. Funkmaster Flex and Heavy D were there. Lil' Kim was, too. Jason Kidd, still in his playing days for the Nets (still playing in New Jersey, before Jay-Z took an ownership stake), could be seen talking with another future basketball Hall of Famer, Tracy McGrady. Both of them were likely sizing up an underage guy who probably didn't need his ID checked at the door: LeBron James, who was 19 at the time and less than two weeks away from going No. 1 in the NBA draft.
James talked to Magic Johnson and posed for photos with Jay, who was in his "Crazy in Love" era with Beyoncé. A couple weeks later, the New York Times would declare the former Destiny's Child member "no Ashanti" on her first solo album, but also joined the world in wondering whether she and Jay-Z were really a couple. That night at 40/40, she stunned in a red Luca Luca dress with a plunging neckline, diamond earrings, and diamonds around her neck. The dress cost $2,200 back then, around $3,600 today, or about the same as the cost of the YSL boots she wore while traveling on a private plane in 2017. At the end of the night, she and her sister, Solange, went to Serendipity 3 for dinner and ate $11 Frrrozen Hot Chocolates for desert.
Looking back, that first night set the tone for the next 20 years, for Jay-Z, Beyoncé, New York City, and the bigger, flashier nightlife culture that is still hard to escape today, where the distinction between a club, a bar, and a restaurant are blurrier than ever. The history of New York City nightlife could be broken down into two categories: The places that fostered some sort of community, where an emerging scene or sound came out of (CBGB, Mudd Club, Paradise Garage), or spots like the Stork Club and El Morocco, destinations for the rich, powerful, and good-looking. 40/40 was the latter, and in the early days, it catered to the spectacle: press conferences for title fights, album-release parties, and, of course, a 22nd birthday party for Beyoncé that one former employee said was supposed to be a surprise, even though everybody in Manhattan seemed to know about it. This was before smartphones and social media; it took a lot for word to travel.
For those who were granted entry, the room itself lived up to its "sports bar" billing: There were jerseys on the wall, huge-screen TVs, and lots of fans yelling if a big game was on. Naturally, it became a draw for athletes, and no player embodied the 40/40 mind-set during its peak years better than Manhattan-born Alex Rodriguez, who'd signed with his hometown team a year before the club opened.
40/40 Club's opening night. Photo: Johnny Nunez/WireImage
In the middle of his 2005 MVP season, A-Rod sipped chilled Hpnotiq out of coupe glasses with Jacob the Jeweler, Young Jeezy, a pair of nude models covered in gold and silver paint, and plenty of teammates. In 2006, Rodriguez would turn the club into a casino for a night, hosting a celebrity poker tournament that included Nelly, Steve Harvey, and Biohazard's Evan Seinfeld, who'd just wrapped up his role as Jaz Hoyt on Oz. Looking back now, Seinfeld says the experience was "amazing," that he played a few hands with the Yankees star and that "Dan Marino got annoyed with me — it was funny."
All clubs have an expiration date, though 40/40's was later than many expected. And even though the first location is gone, an outpost lives on in Barclays Center and — oddly — the Hartsfield-Jackson Atlanta International Airport. It's also fitting that, given 40/40's strong ties to the Yankees, there would be Red Sox beef: David Ortiz opened a club of his own in the Dominican Republic called Forty-Forty in 2010 — and Jay-Z sued him for $5 million. The suit was settled the next year.