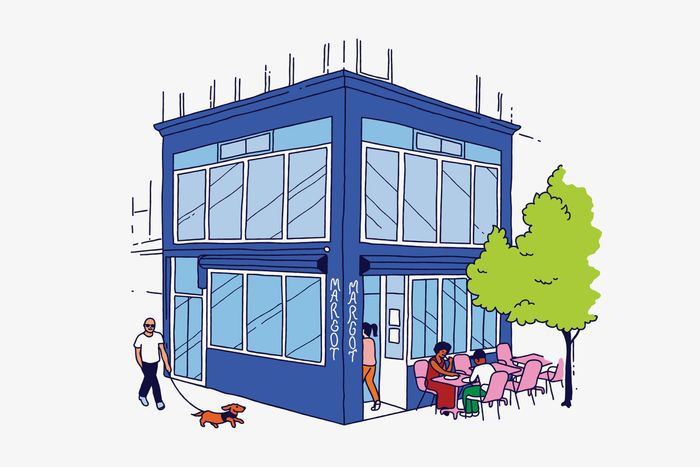 In Fort Greene, Margot has trimmed service but added an outdoor cocktail bar. Illustration: Naomi Otsu
Resy would have us believe that every hot new restaurant is booked solid in perpetuity. But of course there are great spots where it's still possible to get a two-top without having to first set a notification. Here are five:
Get the halibut with a butter-rich vin jaune sauce at this new corner spot, then finish with vanilla ice cream drizzled in miso caramel. The trio of operators — Halley Chambers, Kip Green, and chef Alexia Duchêne — have forgone service on Monday and Tuesday, which does make it slightly more difficult to find a table, but that's offset by the addition of "Bargot," their name for a stretch of sidewalk seating where you can grab a spritz or a glass of rosé.
Up near Hudson Yards, Dan Kluger offers his refined farm-to-table cooking (a homemade play on Cheez-Its, carrot hummus, asparagus with strawberry-habanero sauce, a top-tier burger) in a glassy new space that also includes a walk-in-only downstairs cocktail bar and an attached bakery, so make sure you order some bread, like a seedy sourdough that arrives warm from the kitchen.
The entrance is a bit nondescript, but it opens to a surprisingly spacious room and large back garden. Here, chef Emily Yuen fuses a Japanese sensibility to European classics: pull-apart milk bread, smashed potatoes topped with Bulldog sauce and bonito, and a $42 pastry-topped meat pie that's filled with a curried take on beef stew.
The curvy, colorful space feels like the world's most extreme Alessi showroom, and the menu seems maybe one shade too cute (baked potato gnocchi, octopus salad with pepperoni and ranch dressing, Castelvetrano olives encased in rosy cubes of negroni Jell-O) — but it's a party inside. Order a drink and have some fun.
Chef Elisa Da Prato's intimate knowledge of Tuscany — she ran a trattoria in her father's hometown of Barga until recently — is evident in the simple-is-better menu: fried rabbit with sage, fresh pasta with fava beans and chamomile, and complimentary grissini that happens to be among the city's very best.