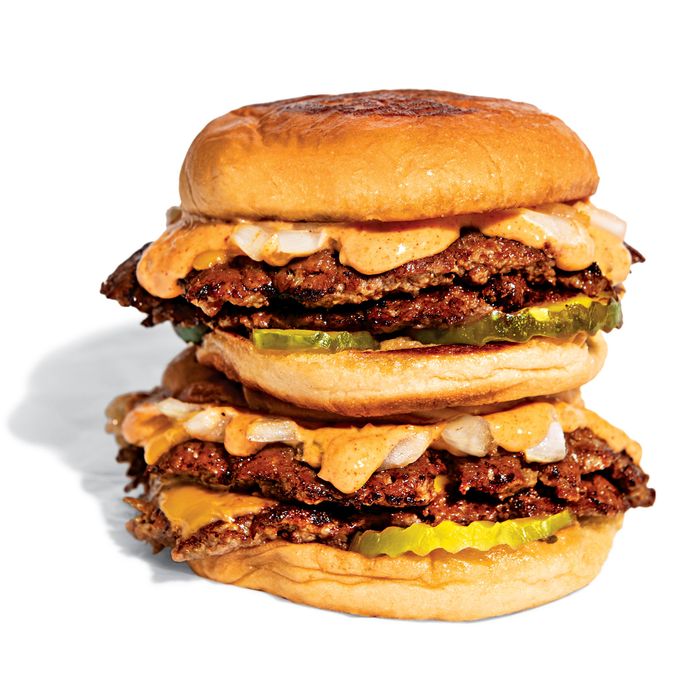 7th Street Burger's double cheeseburgers.
Photo: Liz Clayman
If a time-traveling Henry David Thoreau were ever to find himself in present-day Manhattan craving a cheeseburger, the Underground Gourmet would know what to do. We'd send the reducetarian poet to 7th Street Burger, a counter-service hole-in-the-wall that opened in June in the old Caracas Arepa Bar space. The motto of this bare-bones establishment is "Going Back to Simple," and judging by the length of his menu, owner Kevin Rezvani is wholly committed to the company slogan. The old-fashioned pegboard lists a whopping four food items: a single cheeseburger, a double, an Impossible burger, and fries. That's it. The lack of choice keeps volume up, waste down, and ordering speedy. The burgers are bigger than sliders, smaller than ShackBurgers, and come one way only: topped with American cheese, pickles, and proprietary sauce on a griddle-toasted Martin's potato bun. This is, thinks Rezvani, how God intended burgers to be as well as loosely packed, onion-smashed, crisp-edged, and spectacularly greasy. One bite and you see the man's point. It's one of the best new burgers in town.
Rezvani's aspirations weren't always so simple. Until recently, he co-owned a New Jersey burger chain called Diesel & Duke that he launched as a Rutgers undergrad, but the pandemic inspired him to pare things down. He sold all five branches last year, and like a combination Jack Kerouac-Guy Fieri went on the road in search of America's ur-burger. He found inspiration among the slider shacks of Detroit, and in El Reno, Oklahoma, the birthplace of the onion or "Depression burger." To make an onion burger, you smash thinly sliced onions into the patty, flip it, then let it sizzle on the griddle until, zenlike, meat and onion become one. 7th Street's burgers are a loose interpretation of that style with the onion component manifesting itself in diced, rather than thin-sliced form.
Though Rezvani will tolerate requests to omit toppings, all he asks, unlike the old Burger King jingle, is that you first let him serve it his way with the offer of a refund if it disappoints. So far, he hasn't had to give many folks their money back. In fact, since opening, he's seen volume grow steadily to the point that his crew now flips 900 to 1,000 burgers on a typical weekend night. "We've been so busy we had to disconnect our phone," he says. Beyond the perfect simplicity of the burger itself, what accounts for the success? Rezvani credits low prices ($6.50 for a single); late hours (till 3 a.m. some nights); and the prodigious, appetite-inducing amounts of alcohol guzzled by East Villagers, especially on weekends when "a lot of kids will eat here, go drink, then come back for more." And sozzled or not, when so much is still uncertain these days, having one less decision to make can come as a relief. Single or double? Fries with that? As old Henry David would say: Simplicity, simplicity, simplicity!
7th Street Burger, 91 E. 7th St., nr. First Ave.; no phone