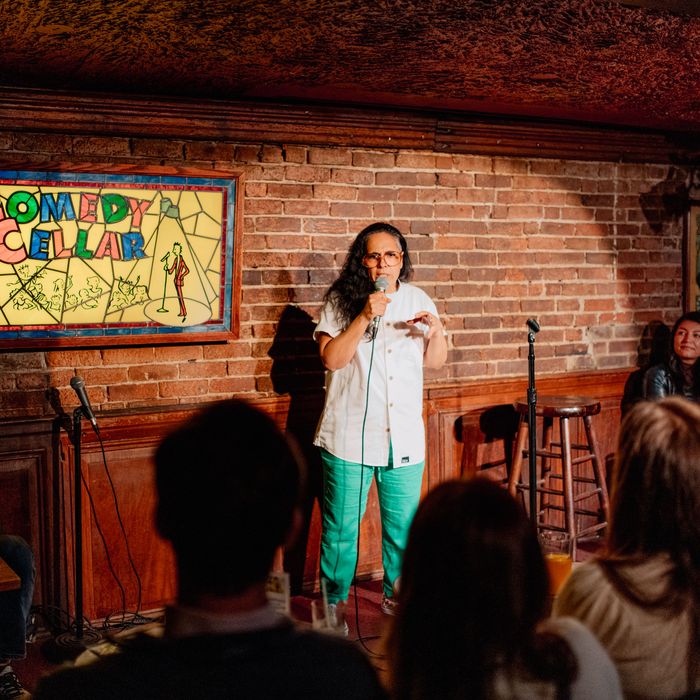 The chef Einat Admony onstage at the Comedy Cellar this week.
Photo: Clark Hodgin
"I own a restaurant named Balaboosta, which is Yiddish for a woman who can cook for 20 guests, keep her kids in line, and give her husband a great blowjob afterward," begins Einat Admony, pausing before she lands the punch line: "Two out of three ain't bad, right?" This is naturally her favorite joke, but until a few years ago, her sense of humor was something known mostly just to friends. Then one day, the chef decided to see whether her jokes would work — or bomb — onstage.
"It was 2018, and I wanted to take some kind of class that had nothing to do with cooking, restaurants, my kids, my husband, or anything familiar," Admony recalls. "I was torn between pottery or comedy." She went for the jokes, taking a class at the Comedy Cellar in the Village. "It was something I realized I wanted to try. For years, every time I had friends in from out-of-town, I'd take them there."
Inside the tiny, subterranean, brick-walled club, Admony honed her set, learning how to build jokes about food, the restaurant industry, and her family, particularly her 15-year-old son, also a budding comedian who gives her "material until tomorrow." What she discovered was she had a freedom onstage that didn't exist elsewhere. "Being an Israeli, I get a lot of hate comments on social media," she says. "Being onstage gives me a little bit more opportunity to speak my mind."
The Comedy Cellar's owner, Noam Dworman, is also Israeli, and his late father, Manny, founded both the club and the attached restaurant, Olive Tree Cafe, which is probably most famous for its "comedians' table," a sacred space that is permanently reserved for comics who perform at the club. Even if the space is famous, the food at Olive Tree Cafe is less so — Jerry Seinfeld once joked that watching a dying friend cough up "a horrible thing" put him in the mood for the restaurant's hummus — and while it's billed as a Middle Eastern restaurant, its dishes include truffle fries and chicken wings.
So when a mutual friend mentioned to Dworman that Admony was taking stand-up classes, he reached out to see if she might want to help in the kitchen. Tonight, she'll roll out her new menu at the Olive Tree, where, yes, she has improved the hummus. "I am very excited about that," she says. Admony has also installed her signature falafel — the same recipe she debuted at Taïm in 2005 — and introduced some vegetarian dishes such as roasted broccoli with red tahini and crispy cauliflower with raisins and pine nuts.
Change is not something that's taken lightly at this restaurant: It was actual news when Dworman had to move the comedians' table a few feet in order to renovate the kitchen, so much so that he rerenovated to move the table back. And some menu staples like nachos and chicken wings will stay. "I tried to take some things off the menu, and they would tell me, 'No, this has been on the menu for years!' or 'No, this comedian likes this dish!' I'd say 'Who cares?'" Admony jokes. "We laugh about it, but I think it's important that they put the comedians first. I understand that."
Admony wants to offer something for everyone, and she'll workshop dishes just like jokes. Whether it's food or humor, knowing your audience is essential. "There's one joke I do about chefs," Admony says. "I say, 'Chefs are very arrogant, egomaniacs, pricks. Not me. But if you haven't heard of me, you're probably deaf.' My friends who know me know I'm arrogant, but in a cute way, but if I don't have an audience of my friends, it lands differently. They just think, Who does she think she is?"
Which brings us to hecklers, whom Admony encounters less frequently onstage than she does on Yelp. "You would think that people would be better in this climate, but they have actually become more demanding," she says. "One night, a woman came into my restaurant. She ordered the branzino, but she said, 'No sauce, no salt, no pepper, no oil.' I'm like, Are you crazy? But this happens all the time. So I just said, 'Okay, I'll just grill it.' And she said, 'No, poach it!'" What happened? The customer went on Yelp to complain that "the branzino was tasteless." Who wouldn't see the humor there?
Along with cooking, Admony is hoping to work in semi-regular sets at the Cellar. She was able to open for Amy Schumer just this week, but she says she still has to work on her stand-up material. She's extremely confident, however, in Olive Tree Cafe's new menu. "I checked my DNA through ancestry.com," she says. "I am 97 percent Middle Eastern, so I fucking bleed hummus."