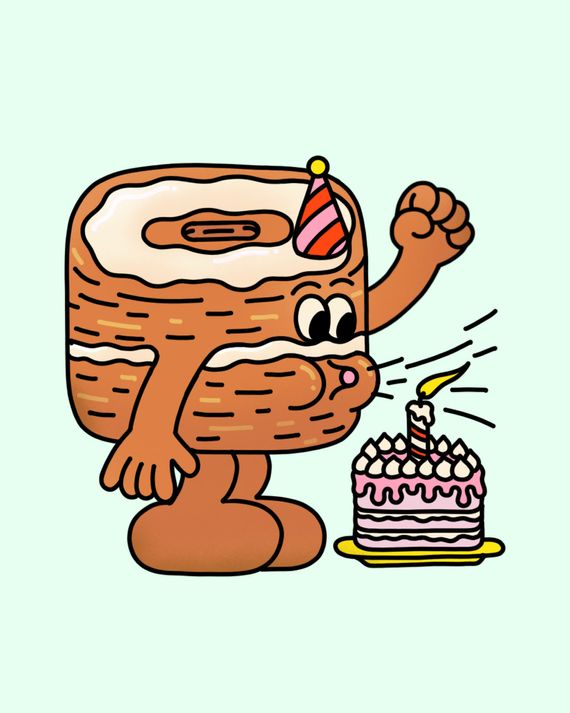 Illustration: Tiago Majuelos
The original viral pastry is one decade old. Dominique Ansel's doughnut-croissant hybrid debuted at the chef's Soho bakery on May 10, 2013, and a new flavor has been released, never repeated, each month since. Joey Lim, a 39-year-old IT specialist, has been there to try them all. To celebrate the milestone, he talked to Hugh Merwin — who introduced the Cronut to the world with a story the day before its launch — about the city's Cronut decade and how the treat has changed over the years. 
Hugh Merwin: Do you remember your first Cronut?
Joey Lim: It was June 2013. I missed the initial month, which still bugs me. But for the first anniversary, Chef Dominique gave out Cronut holes in the original rose-and-vanilla flavor, so I got to try it then. I can't believe it's been ten years.
Me neither.
You wrote the first story, right? You must have had the first Cronut.
I think it was one of the first batches. I had no idea it would take off like that, and now there have been 121 flavors in New York. You've eaten them all: Which were the best?
The flavors that stand out are the combinations I didn't think would work, like matcha and pineapple. Another was clementine with ricotta. And then all of the flavors from 2013 stand out: lemon-maple, coconut, and chocolate-Champagne. It's like a great TV show — the first season is most memorable.
And you've traveled to the bakeries in other cities, which all have their own flavors?
I've had Cronuts in Tokyo, Las Vegas, Los Angeles, and London. I went for the openings. It's like, if it's an excuse to go to London, why not?
Aside from the flavors, has the Cronut changed at all?
I feel like they have less filling now. In the first year, when you took a bite, the cream popped out from the side.
They were kind of messy. Were you ever tempted to try any competing pastries?
Do you know about the Suprême? It's good, but I still prefer the Cronut, mostly because of the texture. The crunchiness of the outside and the sugar coating makes a difference.
A Cronut line in July 2013. Photo: Dominque Ansel Bakery
Did you continue to get Cronuts during the pandemic?
Yes. I started working remotely on March 17, 2020, St. Patrick's Day. When it was time to preorder for the April Cronut, I was thinking, Should I just skip it, or should I go? I live in Murray Hill. It took an hour, but I walked to Spring Street.
It must have felt a little bit strange, like venturing out into the wilderness.
It was. And back then, I wanted to help out as much as I could.
And you've met other fans?
I'm not the only one! It was easy at first, before there was pre-ordering, because we all lined up together. Dominique was always there when the bakery opened, and he introduces himself to everyone. I think that's how they started recognizing me and the other Cronut fans as well.
They definitely know who you are at this point.
They know who I am, but I don't think I ever got any special stuff out of it. Back then, ten years ago, I was poorer, and I only had this one red jacket. I think they just recognized me from what I wore.
There are couples who met in the line who now bring their kids. Has anything like that happened to you?
There have been proposals. Drew Barrymore was in line once; that was cool. In 2013, I saw a guy running out of the bakery with one of the yellow Cronut boxes — he literally stole it. One of the workers ran after him, but I don't think she caught up.
Any other horror stories?
You're only allowed to order two Cronuts per person, right?
Is that still a rule?
It's still a rule. There was a couple who had ordered two apiece. They had their two kids with them as well, so it worked out to one Cronut each. I don't know what happened, but their Cronuts all fell on the floor. They were going to have to wait in line all over again. From what I remember, they just cleaned them up and ate them anyway. When the alternative is waiting for another two hours, you're definitely going to trust the five-second rule.
I have to ask: Why Cronuts?
I'm a regular guy. Cronuts feel luxurious. I just had friends visit; they said, "Why don't we get a Cronut?" I hadn't preordered, so I was like, "I hope the line isn't long." And guess what?
I heard there's still a line.
There's still a line! Definitely preorder, two weeks in advance. Then you get to skip the wait and feel like a VIP.
March 2015
May 2015