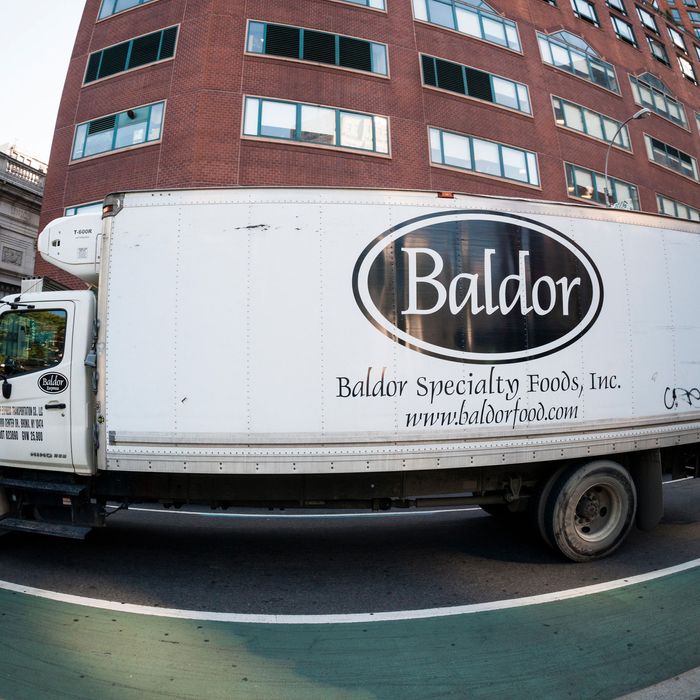 Baldor's delivery trucks are usually a common sight on New York's streets. Photo: Richard Levine / Alamy Stock Photo/Alamy Stock Photo
What happens when the micro-shiso doesn't show up? That's the question that Will Seo, the executive sous-chef of JeJu Noodle Bar, had to answer this week after Baldor, the gourmet wholesaler that supplies hard-to-find ingredients to many of the city's best restaurants, couldn't deliver any. It wasn't an issue of running low on the unique greens. Instead, chefs around New York report they've had difficulty getting any deliveries from Baldor due to a total system outage that has left everyone scrambling to adjust.
"No one's been able to get deliveries, really," says Seo, who points out that he would typically receive about three orders per week, totaling $1,000 in goods. Instead, he's only gotten one delivery, about $300 worth of ingredients. It's not dire — yet — but it has caused problems: "We didn't have to take any dishes off, but we did have to change certain components," he says.
"It's kinda wild," adds Dan Ross-Leutwyler, who is the culinary director of Court Street Grocers, HiHi Room, and S&P. "An email went out on Saturday afternoon, and if you listened closely you could hear the collective groan of chefs around New York City getting screwed."
Seo says he didn't hear anything from his own sales rep until he called, after an order he put in on Monday never arrived. On Tuesday, Baldor began asking chefs to put in orders through a request form, a manual process that Seo says is how clients would normally register complaints. The distributor is also asking operators to place their orders by 7 p.m. each night, which is right in the middle of the dinner rush and three hours earlier than the normal 10 p.m. cutoff time. "I'm focused on something else and then I'm like, Oh, I have to put in this order this crazy way," Seo says. "And I'm stressed out because I don't know if I'm going to get it."
So, what's going on? Nobody is entirely sure. On Instagram, Baldor only says that it's trying "to resolve the system outage that is affecting our website" and asks chefs not to call in their orders via telephone. The outage has been causing problems since last weekend, and Ross-Leutwyler, among others, expresses confusion about what's taking so long to get the system back up.
Naturally, the rumor mill has started to churn, with other operators telling us they've heard stories of "a virus" or possible hack affecting Baldor. When asked about that hacking rumor, a Baldor sales rep replies, "I have no comment on that, sorry." Instead, he describes the problems as an update gone awry: "We're doing some kind of upgrade and we're just experiencing an average system outage," he says. "That's all there is."
But chefs say that any information has come in piecemeal, and there's no timeline to resolve the issues that are apparently plaguing the system. "It's just been a scramble to figure out what we can get from other vendors," Ross-Leutwyler reports. Now, the city's chefs are going into the weekend still unsure of when Baldor will be fully operational again. At JeJu, they're just dealing with it as it comes. "If I do run out of something — I'm just ready to roll with what happens," Seo says. "It's out of my control."