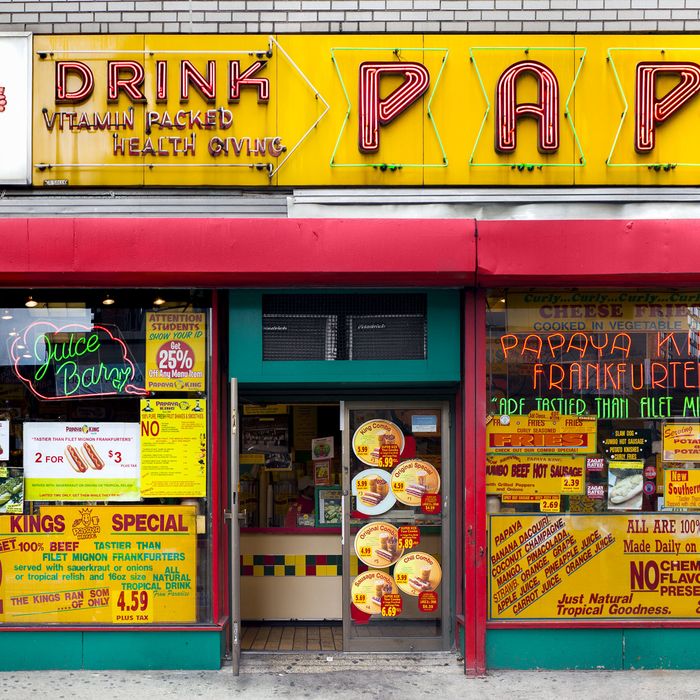 Papaya King's famous facade, as it looked in 2010. Photo: James and Karla Murray from their book Store Front II: A History Preserved
If you read the papers, then you know that Papaya King, the colorful little counter that created the template for other Papayas that have populated the city over the decades, is facing demolition after an impressive run of more than 70 years on the same corner of 86th Street and Third Avenue. This original branch was opened in the late 1940s by a juice-loving entrepreneur named Gus Poulos, who at first sold only his tropical potions but added hot dogs — along with his trademark sweet onions — to the menu a few years later in deference to the legions of sausage-loving Germans in Yorkville. The slim, snappy dog has its charms, but what has long separated the experience from your average street cart is the sweet, tangy papaya drink that, to me, has always tasted like the magic of the big city.
Tastes change, however, and like the hot dog itself, sweet fruit juice from "the tropics" doesn't carry the cachet it once did in local culinary circles. Salads and tacos are the trendy carryout food these days, according to knowledgeable sources in the hot-dog world, and given the rents around town, you'd have to sell a lot of sausages to survive.
The Poulos family cashed out their stake in the operation a while back, and ownership has changed hands a few times since. When I read that Extell — the developer responsible for any number of glass towers shooting up in Manhattan and Brooklyn these days and the current owner of the parcel of land on which Papaya King resides — had filed plans with the city to demolish the building, I realized its days are numbered. So for the first time in ages, I took an express train up to 86th Street with my daughter on a steamy summer's afternoon to pay my last respects.
The neighborhood hasn't changed much since the old days, though there's now a crowded Chick-fil-A and a glittering Lululemon outlet. Ten dollars is the going rate for two hot dogs and a drink during these inflationary times, but the cozy space is exactly the same as I remember, complete with its blinking, half-broken signage, festively colored Formica counters, and zany factoids plastered on the walls and along the gleaming silver juice containers. ("Papayas promote heart health and male fertility," reads one.) A counterman named Hassan said he hadn't heard when or if the store would close, as he took our order — my dog loaded with mustard, sweet onions, and sauerkraut, my daughter's with ketchup only.
"They say a hot dog takes three weeks off your life, but I maintain it's worth it," said a nattily dressed gentleman named Jeff who lives in Westchester, he revealed, but has been coming to Papaya King for decades. Jeff had ridden in on an electric scooter, which was folded neatly under the counter, and we agreed that the classic order remains as impeccable as ever: Two dogs are better than one and always call for a cup brimming with frothy papaya drink, which cools the freshly griddled dog in your mouth and provides at least the illusion of good health in an increasingly unhealthy world. "I've always been convinced that papaya juice keeps you from getting the flu in the wintertime, and maybe it's true for COVID, too," said Jeff, before he unfolded his scooter and sped off up the avenue.
As we finished our Papaya dogs, more citizens of the city drifted in and out of the old space: bike couriers in for a quick lunch; red-faced Yorktown burghers who dressed their frankfurters the old-fashioned way, with mustard only; and two women from uptown who sipped piña colada drinks in their flowing, flower-print summer dresses. My daughter, who occupies her own gastronomic world populated with salad bars and chai-latte chains, politely declined a sip of my papaya juice in favor of her usual tall cup of Sprite. She thought the bun was a little chalky, but she gave four stars out of five to the dog itself, which is all beef, for the record, and touched — in accordance with a proprietary still-secret recipe — with plenty of salt and garlic. "Let's order two more, Dad," she said, as the sky turned gray above the little restaurant and a steady tropical rain began to fall.
Want more stories like this one? Subscribe now to support our journalism and get unlimited access to our coverage. If you prefer to read in print, you can also find this article in the August 1, 2022, issue of New York Magazine.