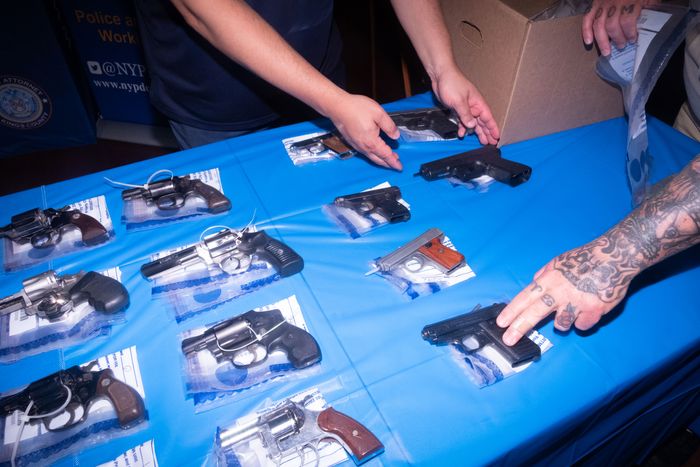 On Saturday, as temperatures in New York City cracked 90 degrees for the first time this year, Brooklyn district attorney Eric Gonzalez was inside Clinton Hill's Emmanuel Baptist Church. Signs posted in the area had advertised the event: a gun buyback put on by the DA's office, the NYPD, and the New York City Police Foundation. What the signs didn't mention was the name of the person who'd thought to host this buyback in the first place and its main sponsor: Alan Rosen, the third-generation owner of Junior's restaurant.
"I've been in New York my whole life, and I don't remember a time where I've heard about this many shootings," said Rosen, who was unable to attend the buyback in person — he was recovering from COVID-19 — but spoke with me on the phone the day before the event. Explaining that he felt "enough's enough," Rosen reached out to Mayor Eric Adams's office, through which he connected with the NYCPF and the Brooklyn DA's office. Originally, he had offered to host the event at Junior's before being informed that's not how gun buybacks are run. "Being a good restaurant today to me is not enough," said Rosen, who helped grow Junior's national profile in part by selling cheesecake on QVC. "If you're part of a community, which we are, you have an obligation to do something."
Rosen donated $20,000 to the event, which went to the NYCPF, which in turn used the money to purchase iPads and offer larger-than-usual sums for the guns: a $200 bank card and an iPad for assault rifles and handguns, a $25 bank card for air guns, rifles, and shotguns. "Like everything else, guns cost a lot more now than they cost in the past," Gonzalez said of the higher totals being offered. "So we needed to induce more people to turn in the guns. And an iPad seems to be a really great way, except they're expensive." He explained that partnering with Rosen and Junior's was unusual but not unprecedented: "For us in Brooklyn, it's been our first really public-private partnership this way."
The buyback comes at a time of rising concern over gun violence in the city. After reaching historic lows in 2018 and 2019, gun violence has increased during the pandemic, and in 2020, New York was one of many cities to experience, as NPR put it, a "massive" rise in homicides. In 2021, the city recorded the most shooting victims on record in a decade. Shootings have risen during the first quarter of 2022, police officials told the New York Times in April, though homicides have declined so far this year. Despite the increase during the pandemic, NBC New York notes, the 488 homicides recorded last year is far below the average of over 2,000 a year during the '90s.
Adams, who has taken a tough-on-crime tone and advocated for a return to broken-windows policing, has gotten some heat for this. Writing about the increase in violent crime, Politico argued his tough stance "is running smack into the reality of increasingly grim statistics nearly 100 days into his administration." And on Sunday, a day after this event, 48-year-old Daniel Enriquez was shot and killed on the Q train as it crossed the Manhattan Bridge in an attack the police say was unprovoked.
"Across the district, one question that constantly comes up: How do we keep our community safe? Programs like buybacks are part of the solution," State Assemblymember Phara Souffrant Forrest said at the event Saturday. "Another part of the solution is actually getting at the root of what causes violence, which is inequities," Forrest continued. "People not having access to what they feel they need to stay alive — and not just stay alive but to thrive."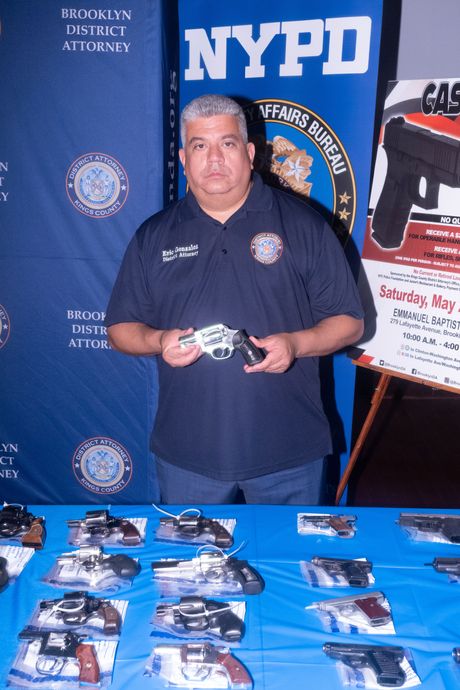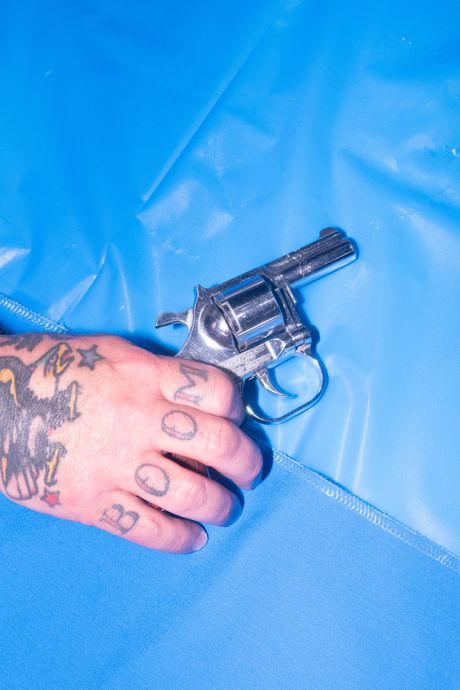 However, the effectiveness of buyback programs has been called into question before. The authors of a 2004 report by the National Research Council called buybacks "badly flawed," though the Johns Hopkins Center for Gun Policy and Research's Jon Vernick told the Daily Beast that gun buybacks are "an effective grassroots method" to raise awareness. Speaking with CNN in April, a retired NYPD sergeant called the programs "good theater." Advocates of the programs have said these programs are part of a "multipronged approach" and could remove guns that might be used in accidental shootings. Gonzalez argues it's a preventive means to get guns off the street without making any arrests.
Rosen has heard criticism, too: "Someone the other day made a comment to me: 'Oh, gun buybacks haven't proven to be the best way to stop gun violence,'" he recalled. "I said, 'Well, it may or may not be the case, but as far as what I do, this is what I can do.'" He also hopes he can inspire others to set up similar programs.
In the end, the buyback collected 68 weapons, two dozen more than a similar buyback held earlier this year, which organizers attribute to community outreach. Gonzalez calls every gun coming off the street — especially the smaller, more easily concealed pistols — a "victory for us," though he acknowledges the sense of hopelessness Rosen and other New Yorkers may have surrounding gun violence in the city.
After the announcement of the final tally was made, Emmanuel Baptist pastor Anthony Trufant took a moment to speak. "I need to say to you I do not believe that we're going to be able to end gun violence," he conceded. "I believe that we will be able to reduce gun violence but not end gun violence."