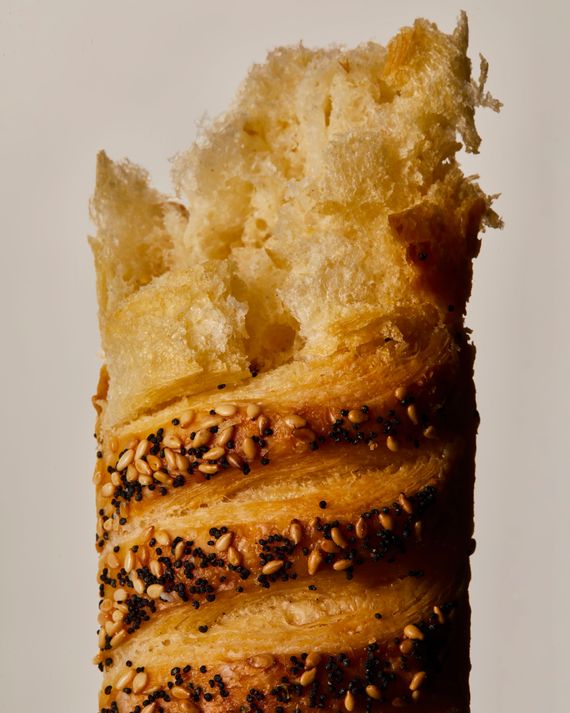 Laminated baguettes, made famous at the now-closed Arcade, are back. Photo: Marcus McDonald
Dozens — or is that hundreds? — of wonderful bakeries have opened across New York in the past couple of years, with lines for triple-stuffed croissants, salty-sweet cookies, or tall slices of swoopily frosted layer cake stretching around our city's sidewalks Still, something has been missing since 2019, when Roger Gural closed his beloved office-lobby bakery, Arcade: the so-called laminated baguette, a singular creation that managed to turn a loaf of French bread into something like an extra-long croissant hybrid. The Arcade space has been reborn as Frenchette Bakery, but the butter-laced baguette has, until now, remained MIA. Finally, it will return, thanks to Amadou Ly, a Senegal-raised pastry chef turned baker who worked at Arcade as Gural's protégé.
In March, he will open ALF Bakery in Chelsea Market, where he'll offer his own version of the baguette, tweaked — increasing the lamination — so that each loaf is now airier, with more buttery layers. But ALF is far more than Arcade 2.0. In addition to the laminated baguette, for example, there is a baguette de tradition (unlaminated), pain de campagne (country style), and a swirly crowned brioche laminé. Ly is plotting some viennoiserie items for breakfast, many of them savory in nature, as is his preference. Also on the lineup: perfectly proportioned pain au chocolat (Ly complains that bakeries in New York tend to skimp on the filling), an irreproachable plain croissant (more elusive in this town than you might think), and a chocolate babka — as well as something that is rarely, if ever, seen here: flan boulanger, an institution at the old-fashioned bakeries of Paris that is, at its core, a very French take on the classic custard tart.
Flan boulanger combines flaky pastry, a burnished top, and smooth vanilla custard. Photo: Marcus McDonald
Ly's flan features a spotted, burnished top, and the vanilla-infused interior is both silky and wobbly. He uses his lamination know-how to engineer the lightest, flakiest possible crust, forgoing the more common rough puff. "The puff here," he says, "is going to be fancy." Fancy is important — Ly says that's what the F in ALF stands for — but the bakery is not, he clarifies, over the top. "I am more into the bread world, the boulangerie world," he says. "I am not going to offer an $80 fancy cake — I'm offering something earthy."
Ly's path to the boulangerie world began eight years ago. He'd worked as a pastry chef at Jean-Georges, Marco Canora's bygone Insieme, and Galen Zamarra's Mas (Farmhouse), among others. Eventually he burned out on perfecting plated desserts in fine-dining kitchens and, in 2015, a few months after its opening, Ly contacted Roger Gural for an internship at Arcade, where he stayed until it closed. "He passed down a lot of information to me, and he coached me," Ly says. The two have remained close. For his part, Gural sees his protégé as being the more creative of the duo because of Ly's pastry skills and cooking experience. "It was beautiful to hear coming from him," Ly says. "He's the greatest baker I ever met."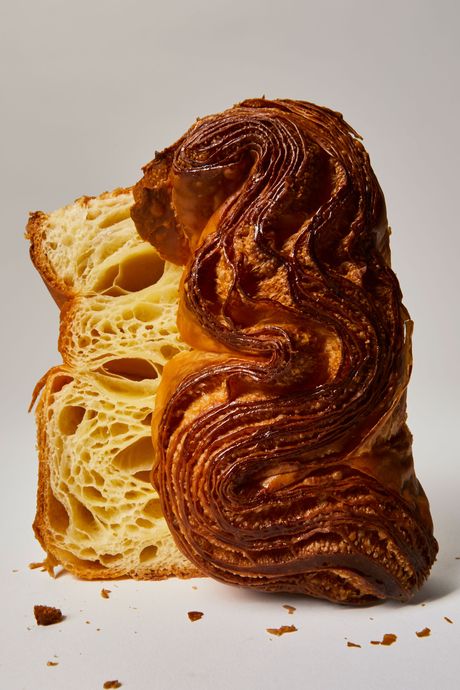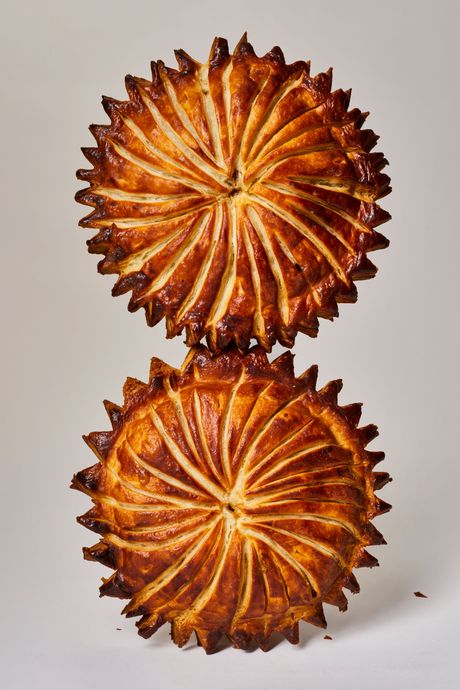 At his own bakery, Ly's ratio of ingredients, the intricacy of his layering, and his fermentation process will all be open for experimentation and envelope-pushing. His willingness and ability to revise age-old formulas are what make each of his breads so distinct and remarkably flavorful. He's also borrowing the boulangerie's system of staggered baking to ensure that all of his items are prepared fresh throughout the day. "There's a schedule for everything," he says. "There's a schedule for a morning sourdough. There's a schedule for an afternoon sourdough. An afternoon baguette, and an afternoon brioche laminate, babka laminate — those kinds of items that customers come to Chelsea Market for."
Customers don't (yet) travel to Chelsea Market for the flan — which Ly will offer whole or by the slice, in two different shapes —  but I suspect that could change once ALF opens and word gets out. Based on its own merits, and its adjacency to both Chinese custard tarts and the ever-popular burnt Basque cheesecake, it's primed to catch on, and to prove that, despite all of the added competition that's arrived recently, the city's bakeries are still finding new ways to innovate.
Grab a loaf on your way home. Photo: Marcus McDonald