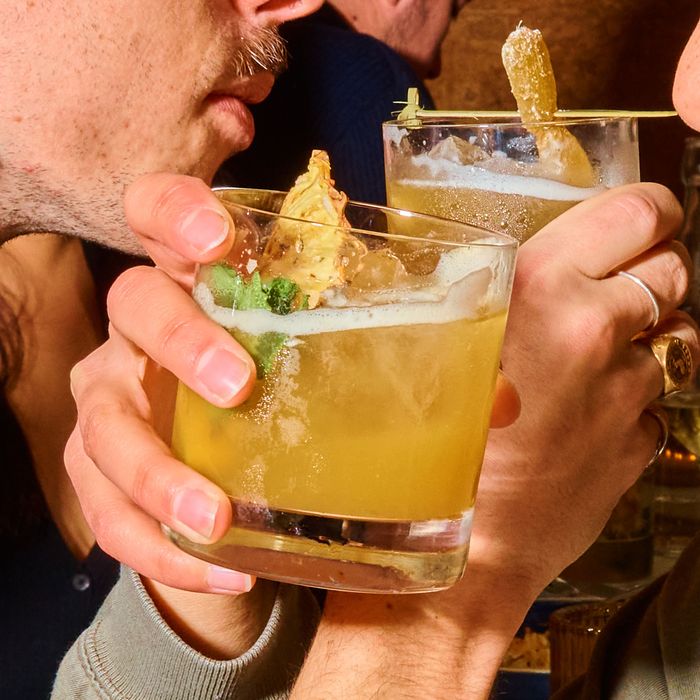 Eavesdrop opens Thursday night in Greenpoint.
Photo: Evan Angelastro
Walking into Eavesdrop, a new cocktail and "listening" bar in Greenpoint that officially opens Thursday night, is a bit disorienting. After you take in the honey-toned wooden walls, you realize that the music seems to be coming from nowhere and everywhere at once. The songs play out of a fully built-out DJ booth and a bespoke system of speakers, but the actual sound waves seem to emanate from the bar itself.
Originally, Danny Taylor — who works with the audio-design firm House Under Magic — was brought on as the sound designer, a role that quickly transformed into including some interior design as well. "I was able to work a lot of acoustic ideas into the actual design of the place to enhance it," he explains, "so a lot of the aesthetics are actually informed by the acoustic properties."
Taylor's design, which features a diffusion wall and acoustic panels, is built to support the music, which serves as the focus of the Eavesdrop experience. Dan Wissinger, a co-founder of the bar and a DJ himself, was inspired by the tradition of listening bars in places like Japan, but Wissinger's vision for Eavesdrop puts a more relaxed twist on the concept, one that involves plenty of talking. "The sound is immersive," Wissinger notes, "but a conversation with a person across from you doesn't require a strain."
The front of the space functions as a traditional cocktail bar, while the back works as the listening room. It features a pair of custom Tom Danley–designed SH60's powered by mastering-studio-grade amps supported by custom Seaton Submersive subwoofers. Vinyl spins on a pair of Technics 1200 MK7's with Pioneer CDJ-3000's handling the all-digital sets. Guest DJs will drop in Thursdays through Sundays with Eavesdrop putting an emphasis on artists with New York ties. "The idea is to stick to local legends, Wissinger says, "I don't expect to be bringing in touring DJs. It's all about the people who have super-deep knowledge and record collections."
Your vinyl collection might get some play, too. "I absolutely want to do a 'Bring Your Own Record' night," Wissinger says, when guests can bring a track they want to hear on Eavesdrop's top-of-the-line sound system. "Open Decks Night" is also in the works, when less experienced enthusiasts can sign up to play a short set on the Eavesdrop decks.
Max Dowaliby, the head of food and drink, has applied a similar level of attention to detail to the menu. Expect spiced nuts, carrots with miso, and larger plates like cod with tamari-braised spinach or sticky rice with bacon and mushrooms served in a lotus leaf. "I'm a half-Japanese kid who grew up with a Japanese mother," Dowaliby says, "so there are a lot of flavors that are sort of Japanese."
And what will you be having to drink? Cocktail director Emma Rubbins-Breen leans toward the boozy and focuses on locally produced spirits. "We made a conscious effort, specifically in our spirits program, to work with smaller distributors" she says. "There's a lot of Brooklyn and Greenpoint spirits on our bar, and we're really, really proud of it." Drinks are serious — the Kaleidoscope features strawberries, cherry-blossom gin, and local makgeolli from Hana — but decidedly unpretentious. "I want to make things fun," Rubbins-Breen says. "I want people to look at the menu and know all the ingredients." The menu is rounded out with beer, wine, sodas, and three homemade spritzes.
"There's an element of the hospitality and restaurant scene that can be intimidating," says Rubbins-Breen, who's bartended for years and now works as a licensed therapist. The team goal, to that end, is to put their expertise to work to make their guests feel as comfortable as possible. "There's a lot of stuff from old hospitality that we don't want to bring," adds Dowaliby.
Guests can swing by starting tonight for a date, a drink, some dinner, or just to hear a couple of ultrarare B-sides in a one-of-a-kind acoustic environment.
Eavesdrop, 674 Manhattan Ave., nr. Norman Ave., Greenpoint; 518-984-3323