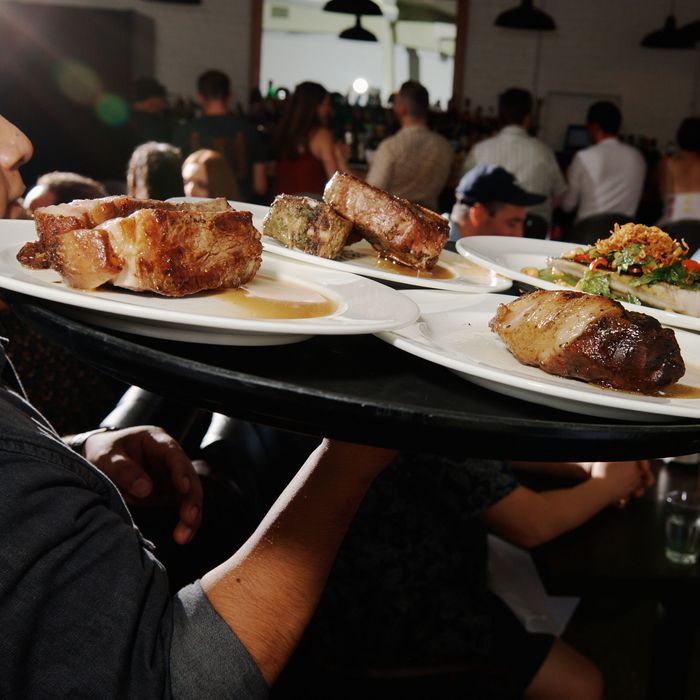 Service during a recent friends-and-family dinner at Gus's Chop House.
Photo: Jonah Rosenberg
When chef Chris McDade and sommelier James O'Brien opened Popina in a postage-stamp-size Columbia Street space, they approached their food in a way that felt unique, even if it was difficult to immediately grasp: classic Italian cooking filtered through the lens of a chef reared in the American South. (Turns out the idea of spicy fried chicken cutlets makes sense in both regions.)
On the surface, their next project — Gus's Chop House — seems much more straightforward, but take note that it is a chophouse and decidedly not a steakhouse. "A chophouse is different from a steakhouse because it's neighborhood-y," says McDade. "It's not an expense-account place. It's a lot of meat, but it also focuses on fish and vegetables."
When it opens next week in the old La Cigogne space on Union Street — a leafy block lined with shoulder-to-shoulder brownstones — it will manage to bring something new to the neighborhood by looking back at places like Quality Chop House, a working-man's tavern in London that dates to the early 1900s, and restaurants that offer straightforward food and comfortable surroundings (white brick, dark banquettes, a working fireplace) without sacrificing a sense of occasion. "There is so much old-school, staunch Brooklyn Italian, which we love," says McDade. "But we didn't want to replicate Popina and do more Italian or Southern — we wanted to offer something different."
McDade's menu will offer three cuts of prime dry-aged beef and a rotating bar steak, all cooked on a plancha; two to three cuts of heritage pork; lamb from Elysian Fields; and a dry-brined, head– and feet–on chicken served with onion jus that's heavy on the sherry. There will be a couple of fish dishes too — like trout cooked on the binchotan — and charred Caraflex cabbage with dried black lime grated over the top. "That dried lime is a little surprise that we want for every dish," McDade says. "A taste that's maybe unfamiliar that will get the table talking and guessing."
As for other vegetables, a starter called leeks à la wedge combines two classics into a singular new idea. Plate-size hash browns will be topped with smoked trout roe. An eggplant pave is a layered casserole of eggplant and zucchini that's pressed down, cooked in tomato béchamel, and topped with fresh tomato and a sprinkle of cheese that gets browned under the salamander.
What to drink? By the glass, O'Brien is planning three sparkling wines, four whites, four to five reds, an orange, and a rosé that will rotate all the time. By the bottle, he has assembled a one-page seasonal value-driven list of wines under $100 —"fun stuff that pairs well with chops and steaks." There will also be a full wine book for anyone who wants to spend a bit more or nerd out. Or have a cocktail! Freezer martinis will look nice on the cherrywood bar, or go for one of the drink specials that's printed on a butcher-paper list.
In the end, McDade and O'Brien want Gus's to be an easy choice — a place where you can drop in for bar steak and a pile of fries on a weeknight or go big for a Saturday feast. "Our neighbors became such a source of support during COVID," says McDade, an Atlanta native who speaks with a soft drawl. "We wanted to do a restaurant that would continue to give back."