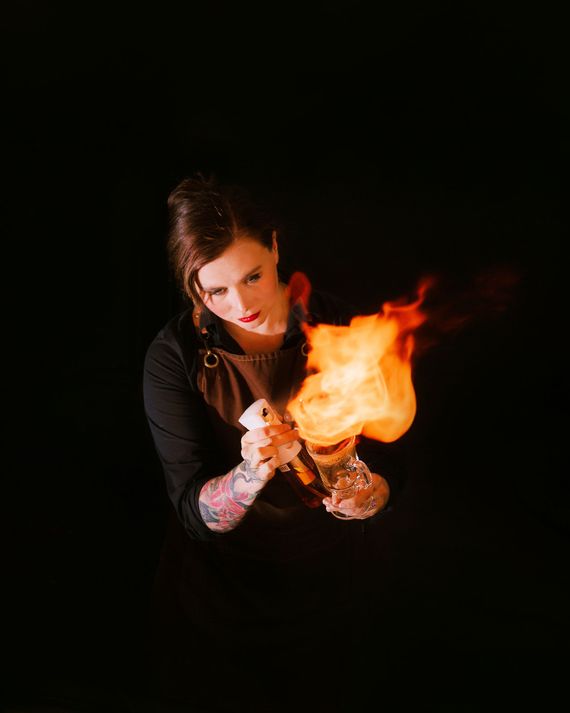 Meg Lazar prepares a Trummer, which pays tribute to the bar world's most famous firestarter. Photo: Tonje Thilesen
Fifteen years after the Penicillin and the Benton's Old-Fashioned appeared on the city's cocktail menus, drink names can still feel like a secret code. Take the seasonal lists at Koloman, chef Markus Glocker's upscale French restaurant inside NoMad's Ace Hotel. There is the Jaqueline Rose, which an educated drinker could understand to be a riff on the apple-brandy classic Jack Rose; the Tennessee Gentleman signals a drink likely made with Tennessee whiskey. And there is the curiosity known as the Trummer.
"Um," I said to Meg Lazar, the head bartender, as I looked up from the menu one recent night, "is this drink set on fire?"
Yes, she confirmed. Yes, it is.
The Trummer is named for Albert Trummer, the Austrian-born bartender whom fans know as an early leading light of the city's cocktail revival, spearheading the drink programs at aughts-era favorites like Danube and Town. Other people might know Trummer's name because he tended to make headlines.
The zenith of his early career came at Apotheke, a hidden bar with a pharmacy theme tucked into the elbow of Doyers Street in Chinatown. Trummer's trademark drink was homemade absinthe, concocted with high-proof alcohol, herbs, and fire — a process that momentarily (and memorably) left the bar top in flames. Eventually, city fire marshals began to take a dim view of this presentation and Trummer was arrested.
The impetus for the Trummer cocktail at Koloman was Lazar's. "The initial idea came from me wanting to put a Spanish coffee on the menu," she says. Spanish coffee is an old-school form of flaming cocktail, where the fiery show is brought about by a combination of overproof liquor and healthy showers of cinnamon. It can get messy. "The bar gets perpetually covered in cinnamon," Lazar says. "I wanted to make a Spanish coffee that wasn't a mess."
Her fix involves a mister, which she uses to spray 160-proof Austrian rum into a glass that's rimmed with cinnamon and sugar. Then she lights the fire, spraying more rum to amplify the flames — which are controlled but soaring — and rotating the glass to caramelize the cinnamon-sugar. To make the drink, she combines dark rum, crème de cacao, strongly brewed coffee, and whipped cream laced with the spiced liqueur velvet falernum
After she demonstrated the drink to chef Glocker and beverage director Katja Scharnagl — both from Austria — they had the same thought. "'We have to call it Trummer,'" Scharnagl recalls saying. "'There is no other way.'"
A finished Trummer. Photo: Tonje Thilesen
Currently, Trummer himself works just a few blocks from Koloman. The bar, called DOM, is in a basement space on East 22nd Street, next door to the British steakhouse Hawksmoor. (It is currently open only for private events but will soon open to the public.) Working alongside Albert is his son Jakob. These days, Trummer remains a showman, but his approach is more restrained. One drink by Jakob, called Aztec Medicine, infuses a mixture of mezcal, lime juice, fruit, and spices with smoking applewood chips.
At Koloman, Glocker didn't ask Trummer for permission to use his name — "I've known him long enough," he explains — but he soon came in to dine. Lazar made a Trummer for Trummer, and luckily he maintains a sense of humor about his combustible past. "He laughed the whole time," Lazar says.
What does Trummer think of his new namesake drink? "I'm very proud," he reports. "They were thinking of the good old times at Apotheke."