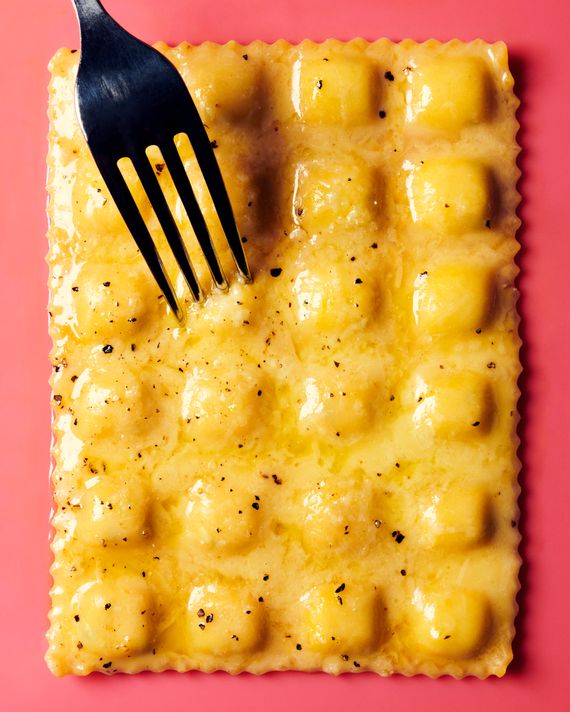 The dish is designed to be shared, but it doesn't have to be. Photo: Hugo Yu
There are enough elegant bouchons, Gallic cafés, opulent brasseries, and rough-edged neo-bistros in New York that it's possible to experience a good chunk of Larousse Gastronomique without ever crossing the ocean: brouillade des escargots at Frenchette; quenelle de brochet at Le Gratin; oeufs mayonnaise at Benoit; and the list goes on and on.
Many of these restaurants are wonderful, of course, but there is nevertheless a sense of sameness that has crept across the French canon as it exists in New York City: pucks of tartare up and down the avenues, vats of soup d'oignon bubbling away across the city's back burners, entire fields' worth of leeks drowned in mustardy vinaigrette.
I was surprised, then, to sit down at the month-old Café Chelsea within the refurbished Hotel Chelsea to find a dish that I have never encountered in New York: ravioles du Dauphiné.
The last time I saw them at all was in the refrigerated section of a French supermarket, where the little cheese-filled pastas are essentially convenience food. Simply boiled, they are adored as a snack by children; layered with cream sauce and broiled, they are an instant gratin. When I worked at a restaurant in Lyon, the cooks would deep-fry them and use them as a topper whenever we had canned lobster bisque for the staff meal — but they weren't ever considered refined enough for the menu.
Derek Boccagno, Café Chelsea's executive chef, also discovered them while on an eating trip to France. "It was the one thing I cooked in my Airbnb," he says, mostly out of curiosity. "There's not a lot of French pasta dishes." He started to think about how he might transform them for his own dining room.
He starts with fresh pasta, sandwiched with centimeter-size dabs of Comté and crème fraîche. Then, the biggest change: Instead of a pile of individual bites, Boccagno's ravioles are presented as an entire, uncut sheet, essentially one enormous raviolo with 24 perforated cells. I pried mine off the grid one by one, swiping each through the butter-rich wine sauce.
The sheets are plated with a sprinkle of aged Comté, a big grind of black pepper, and a judicious dribble of grassy olive oil. It was an excellent, adult-friendly appetizer (and great with a glass of Chenin Blanc), although once the restaurant opens up for service all day, I could see it appealing to younger customers, too.