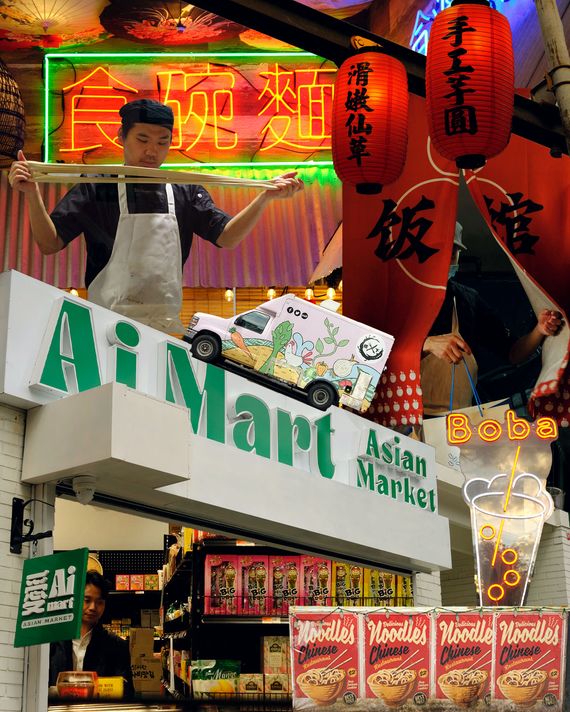 Photo-Illustration: Hugo Yu/
When Spencer Chang set out to try all the bubble teas in Long Island City in March 2021, documenting his journey on his Instagram account, he found 13 shops in the neighborhood serving it. Now there are more than 20. Chang's current favorite comes from Boba & Bean, a stall inside the ABC Eats Food Hall that makes its pearls in-house, but his top choice could change at any time given the variety and the speed at which the stores are multiplying. That's not to say the market is saturated: "I don't feel like there are too many," Chang clarifies. "There are enough people here to support them."
Between 2010 and 2020, Long Island City's population increased by 40 percent, five times the city's overall rate of growth. In addition to that, the latest Census data shows that 36 percent of Queens Community District 2 — which includes Long Island City, Sunnyside, and Woodside — is Asian, compared with 9 percent citywide. And while there is no official data to quantify the trend, young Chinese expats seem to be especially attracted to the neighborhood. Chang, who is Chinese American, says, "I joke that Long Island City is becoming the yuppie Flushing."
If the ease of getting to and from midtown has historically been the area's draw, there is now a growing number of reasons for residents — many of them young and affluent — to stick around. Dozens of new businesses have opened in the past year and a half, most of them smaller, homegrown operations, often on the ground floors of the new condos and glass-walled office towers.
With Noodlecraft, a neon-lit shop just south of Court Square, co-owner Fanny Hsu wanted to create a hangout for local families. Her menu features bouncy, handmade noodles but isn't tied to a specific region. Instead, she and partner Qina Tan take a Pan-Asian approach, including both Cantonese wonton noodle soup and spicy dan dan noodles from Sichuan as well as Singaporean laksa, dim sum, and bubble tea. "The Asian restaurants that are opening are not necessarily those old-school, traditional restaurants that you find in Manhattan's Chinatown or Flushing," Hsu says. "They are more modern."
Mengnan Zhang, who moved to the neighborhood in 2018, waits up to two hours for cumin lamb skewers to be delivered from her favorite Uyghur restaurant in Flushing — "We order in the afternoon so we can eat it for dinner; otherwise, it would arrive wayyy too late," she says — but the lack of options nearby inspired her to start her own business. In 2022, she launched Downstairs, a food truck specializing in straightforward dishes such as five-spice braised pork knuckle over rice and chicken thighs with scallion-shallot sauce, which she parked on Jackson Avenue as part of a group of trucks that line the stretch on warmer days. She was immediately slammed. Now, she updates dessert specials and drinks on WeChat, where 2,000 people follow 楼下, or "Lóu Xià," as the truck is known in Mandarin. Most days, the food is sold out by 7 p.m.
A number of chains (Xi'an Famous Foods, Paris Baguette) have opened in the past five years, and last fall, the Queens-based, Japanese-inspired department store Teso Life unleashed a joyland of rare Asian snacks, such as roast-goose-flavored Lay's, inside a space that had been a Santander bank. A block away, Ai Mart, a family-run grocery, has a bounty of leafy vegetables and meat that is sliced specifically for hot pot or tabletop barbecue, stocked alongside bottles of 100Plus, a hard-to-find Malaysian sports drink, and enough instant noodles to rival H Mart.
Of course, any proper destination for East Asian eating needs dessert cafés, and here, too, Long Island City is covered: Taste Crème fills its cases with chiffon cakes and cupcakes in flavors like blueberry Earl Grey. Multisweet offers custom cakes and tweaks on classic Chinese desserts such as durian mochi and soy-milk-custard shortcake. There's also a new location of Spot Dessert Bar inside the JACX office complex, where the company is planning a full-service breakfast and brunch for the first time.
More restaurants are coming: A soufflé-pancake café, Softbite, just opened, as did an izakaya called Knock Knock and 929, a cocktail bar inspired by the owner's love for Cantopop and Mandopop music. The new stores are moving in so quickly that even residents are having difficulty keeping track. Chang, who runs the boba Instagram, recently asked his mother to translate a new sign in the neighborhood; it was for a jubensha game company, which hosts interactive murder mysteries — like cosplaying Knives Out — that have become wildly popular in China. "They don't even need to cater to English speakers," Chang says.