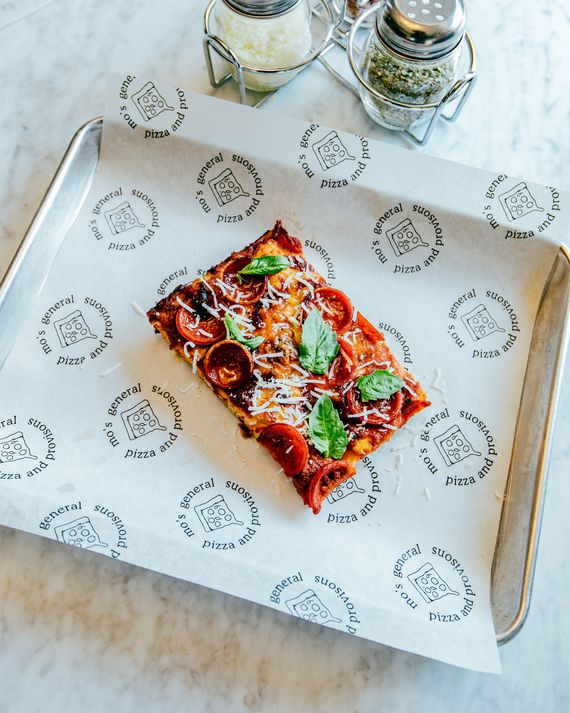 Photo: DeSean McClinton-Holland
Every New Yorker has at some point been asked this question by a friend visiting from out of town: Where do I go for great pizza? Surely the person asking could easily jump onto Google and find the best-of lists that tend to include Di Fara and Lucali and John's of Bleecker Street — the places that people who live in New York don't tend to go to very often, or at all, because waiting in line for two hours to eat some pizza is fundamentally at odds with the point of pizza, which is food to be consumed quickly and with some degree of regularity. Indeed, the true New York pizza experience is served by the slice, preferably from a place that's no more than a block away from your apartment. The tourists who come here looking for a transcendent experience through pizza are missing the point. All the famous pizzerias are good and sometimes great, but our slices, and the countless unfamous places that serve them, are what make New York the best pizza city in the world.
Max Katzenberg and Mac Murdock also think a lot about slices. And they've based their new Williamsburg venture, Mo's General, around them. A decent slice is a neighborhood staple, so they've added other staples to their business, too, like coffee and groceries. But the slice is the heart of the enterprise. They don't serve pies. They might at some point, but for now, you go to the walk-up window or go inside and order a slice just like God intended.
"Slice-shop culture is what sets New York apart," says Katzenberg, an East Coast native who was a founding partner of the Prospect Heights hot spots Olmsted and Maison Yaki. He and Murdock are not alone in thinking this, of course, and they are not the only people who believe that it is time for the slice to finally get its due. Mo's joins a small handful of new-look slice joints — F&F, Baby Luc's, L'industrie, Paulie Gee's — that have sprung up around New York in recent years. Although Mo's might be the only place where you can also grab a bottle of Japanese mayonnaise.
The Kewpie is there for a reason. Mo's General is, you can tell, the product of two very pragmatic operators. It's a slice shop so people can drop in, but the pizza is designed to lure connoisseurs to Williamsburg to give it a try. It's a general store so, if necessary, it can be considered an essential business. It has coffee because the stretch of Lorimer that leads to the subway needed a good coffee shop. There's merch like hats and shirts because any food business opening in 2021, in the midst of this ongoing pandemic, needs all the revenue streams it can get. Who knows what will happen?
But Katzenberg and Murdock are confident in the idea of being, first and foremost, a "neighborhood" spot. The word comes up over 30 times in our conversation outside on their beautiful streetside patio. Murdock lives a block away from the shop, and they both stress that they've taken time to know their neighbors, and that they want to respect its history as a little Italian American enclave. They know that if they're going to serve pizza, it had better be the real deal. "As long as you're bringing something good, something they like," Murdock says of the locals who have lived in the immediate area around the store for decades, "then they're all about it."
Of course you have those sorts of things when you're opening a new restaurant in New York, but look a little closer and the dedication to local businesses pops up again in the shape of glass Manhattan Special bottles, which Mo's sells. It may seem like a small gesture, but carrying the Brooklyn company's bottled iced coffee while also boasting a coffee program helmed by Sey, another small local business — albeit a newer one, especially compared to Manhattan Special, which has been around since 1895 — is a choice. It's a subtle tribute to the place. Plus, Manhattan Special is uniquely delicious.
But the reason you'll go to Mo's General is for the slice. At Mo's, those slices are square. The style sits right between L&B Spumoni Gardens' fluffy Sicilian slices and the crispier crust of Detroit-style pies. Every bite comes with this little shot of fatty goodness that mingles with whatever toppings you ended up getting. Mo's doesn't get too outré in that department, either: there's tomato, cheese, pepperoni, a white slice, or something called "barbeque," which is topped with cumin hot sauce, jalapeños, and red onion. Murdock says it's a nod to a pizza place where he once worked while growing up in Cincinnati. There, it's called "Virginia BBQ," for reasons he could never quite understand. (All slices are available, as the sign inside says, "Until sold out.")
There are purists who will doubtlessly contend that Mo's is an outlier. The place is new, and the slices are not triangles. But that's what makes Mo's such a worthy addition to the always-growing list of New York City pizza joints. Everyone can do things their own way, and as long as the pizza is good, the locals will show up. In New York, the slice is the lifeblood of our pizza culture, and Mo's makes a damn fine slice.