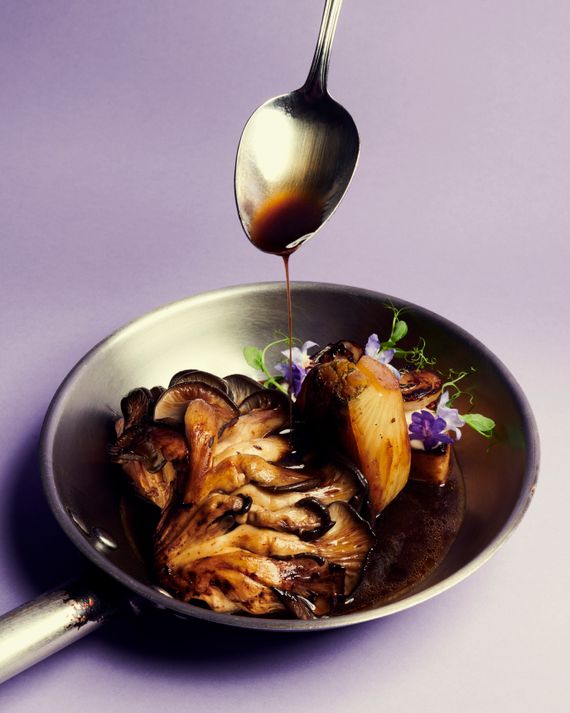 A rich, steak-like mushroom from & Beer in the East Village. Photo: Hugo Yu
Mushrooms are not meat, but they remain the go-to option for chefs who want to make a quick, vegetarian-friendly swap — even if vegetarians aren't always excited about it. ("When somebody hands me a mushroom cap like it's a burger, I want to fight," one friend recently lamented.) Part of the problem might be mushrooms' stigma. "I hated mushrooms my whole life," says Ravi DeRossi, a longtime figure in the New York food world whose company, Overthrow Hospitality, currently runs nine East Village establishments. "I think it's the way my mom used to cook them," he says. "They were sort of slimy and snail-like — I just hated them."
But DeRossi says it was mushrooms — specifically a dish that paired roasted hen-of-the-woods with a mix of pickled and pureed 'shrooms — that ultimately made him reconsider his stance on meat. Upon learning that the dish, developed years ago at a seafood restaurant in Carroll Gardens, was vegan, DeRossi scrapped animal proteins across his entire company. The stance, in place since 2016, is most prominent at Avant Garden, where chef Juan Pajarito Xaltepec took over as executive chef four years ago.
I was intrigued when I heard about DeRossi's latest project, called & Beer, which recently moved in adjacent to Proletariat on East 7th Street. The unusual name offers a glimpse at the original idea: The food would change, but always be designed to complement the beer selection. The first menu has proven so popular that DeRossi is thinking about making it permanent. The gist: mushrooms, lots of them. And no portobello burgers.
Instead, the ten or so items on the menu are listed with the mushroom that is most prominent in the dish: "Lion's mane" is a gyozalike dumpling. "Oyster" is battered and fried, served with "ponzu hot sauce." The early standout is the "Blue Oyster." Xaltepec, serving here as the chef as well, cuts thick slices from a cauliflower-size cluster (cultivated at a warehouse in Brooklyn) that he sears on high heat with a coconut-based oil the restaurant swaps in for butter. Once cooked, the mushroom chops are plated with fennel and celery root, both poached in mushroom broth until tender.
The disparate elements are tied together by the star of the dish: peppercorn jus that Xaltepec makes by reducing dried shiitakes and porcinis, plus any lingering mushroom scraps in a giant stock pot until it concentrates into a deep mushroom demi-glace. It's rich, almost gelatinous, and could easily be served alongside a $100 steak. But it instead amplifies the caramelized exterior of the blue oyster. The idea initially reminded me of the fried maitake mushroom from Place des Fêtes in Brooklyn (perhaps the city's most famous mushroom dish of the moment), but in execution, this vegan entree tastes more like Thanksgiving: fennel, celery, thyme, and deep umami.
DeRossi says he talked to dozens of chefs about starting a mushroom restaurant: "Nobody wanted to do it." It was around that time that Xaltepec started as executive chef at Avant Garden, where he had slowly begun integrating his own dishes into the menu and was intrigued by the concept. He tells me he doesn't see an all-fungus menu as a limiting factor, but I think that's because he's one of the few chefs who aren't afraid to showcase the mushrooms for what they are, instead of just pretending they're a big, floppy burger patty.
The dish, before it's cooked. Photo: Hugo Yu