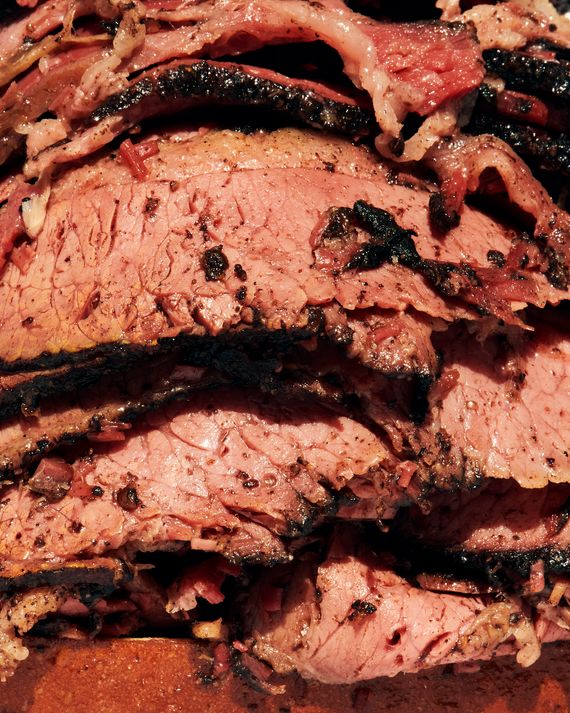 Pastrami from Moe's Pastrami & Burger in Prospect–Lefferts Gardens. Photo: Hugo Yu
I'll admit I didn't expect much when, the other day, I walked past a storefront called Moe's Pastrami & Burger a block off the southeastern border of Prospect Park and saw a "Grand Opening" banner. Pastrami may be forever tied to the city, but the real stuff — peppery bark, tender fat that only comes from hours of slow cooking — is hard to find, and the places that specialize in it tend to be decades-old institutions. Still, it would be a dereliction of duty to write Moe's off so immediately, so I nevertheless made a point to head inside. When I received the warm stack of rosy, sliced beef on soft rye, I knew instantly that the sandwich was made by someone who really cares.
The man behind the meat is Fuad Hassan, who, yes, has always gone by Moe. He first arrived in Brooklyn at the age of 10 after emigrating from Yemen; pastrami has only been a part of his life since 2015. He'd finally saved up enough to join his friend, who was a partner at David's Brisket House. As its fans already know, the storied Bed-Stuy staple had, at some point in its 70-year history, passed hands from the original Jewish owners to Yemeni Muslims, who have kept ownership within their community, even as the restaurant stuck with the original lineup of brisket, corned beef, and pastrami recipes that were inherited with the space.
Moe and his David's Brisket partners next opened spinoff Pastrami Masters in late 2019. A favorable New York Times review arrived a short time later … on March 10, one week before the pandemic shut down the city. Pastrami Masters only made it through August of that year before shuttering, which is when Moe cashed out and formally dissolved his partnership with David's Brisket as well, waiting to find a new pastrami project.
Brisket from Moe's. Photo: Hugo Yu
Prospect–Lefferts Gardens is not historically a place that comes to mind for a delicatessen, and Moe, who scouted locations for about a year, saw an opportunity in the neighborhood. The storefront is sparse, with a banquette and a handful of tables in the front, with a majority of the space dedicated to the kitchen, where you will find Moe, as well as his two oldest sons, Weseen and Mohamed, who have worked with him since Pastrami Masters.
It would require a prohibitive amount of space and equipment for them to make their meats entirely on the premises, so like most old-school establishments, they order briskets already brined for corned beef, and, in the case of pastrami, brined, smoked, and seasoned. From there, Moe and his family take over: The regular brisket, which is uncured, is slowly braised in the oven while the corned beef simmers in a stockpot, and the pastrami gets an extra layer of seasoning before it's steamed for hours. Moe says the approach is pretty much the same way he learned to do it at David's, except "I think mine's a little better."
Still, since opening, he's had to do a lot of work to promote his product in the neighborhood. "There are a lot of people that know what real, authentic Jewish-style delis are," he says, "and some just don't — especially new generations." Moe says that when he first started putting together the business, many people inadvertently assumed the name referred to Boar's Head, or "regular bodega pastrami," instead of the still-warm beef that cooks all day and is sliced to order: "We had to really introduce it to everybody. We had signs in the windows for sampling, we went outside and gave samples." Some customers came back because they loved it; others sought out Moe's specifically because everything is halal. (The burger, meanwhile, has a slight bit of seasoning in the patty that helps it veer, appealingly, into the territory of a kebab; the "Brooklyn cheesesteak" swaps in brisket for the traditional rib eye and is very much worth trying.)
Even for the most dedicated delicatessen fan, there are reasons to try Moe's, like the fact that a medium-size sandwich — prepared with a half-pound of meat — is $17. (A pastrami sandwich at Katz's currently runs about $26.) "Small" is actually Moe's preferred portion, and — even though the restaurant defaults to rye and mustard with customer orders — he likes it best on a toasted roll with mustard and mayo. "Everybody has their own taste," he says.