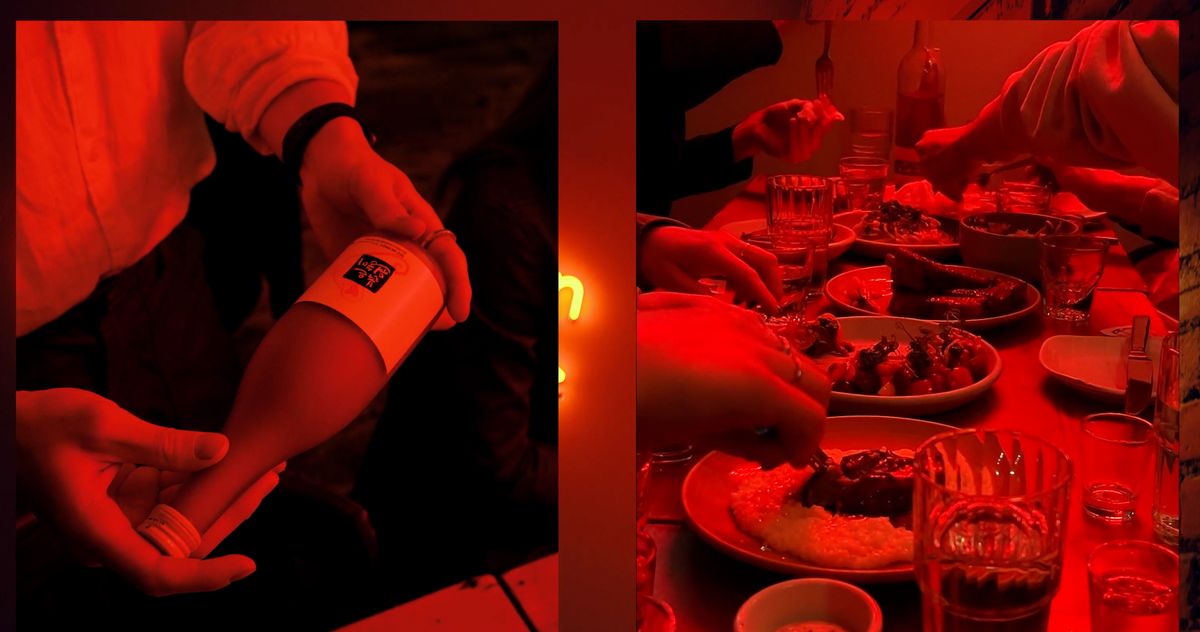 As a chronic sufferer of the phenomenon known as the Sunday Scaries, I find it can be hard to relax at a restaurant with the workweek looming, to settle into a spot where impending obligations don't hang heavy in the air. And to be honest, I don't know what I was expecting when I walked into C as in Charlie — an eight-month-old restaurant with a modest blue awning on the eastern tip of Bleecker Street — around 9 p.m. at the end of a particularly unmotivated weekend. What I found was a spot where career-related anxiety can simply be washed away, often with a few well-timed toasts of sake.
There's no established precedent for how a restaurant serving "Korean and Southern tapas" should look, but this particular one goes for "nightclub in a Wong Kar Wai movie." A neon sign casts a dense red glow across the entire space, making it feel as much like a darkroom as a proper eating establishment. This is not a spot where you'll need to consider the color of your wine ("red"), but that's fine because everyone who sits down is greeted with a clear shot of sake to set the tone.
It would be easy to mistake C as in Charlie for a bar, even though there is no physical bar. The low lights encourage conspiratorial conversations, and the employees enforce a sense of hedonistic camaraderie throughout the meal. At one point, a server approached my table and raised his glass for a random toast in passing, while he treated the Korean couple next to me to a farewell shot of soju on the house.
Drinking is an essential part of the C as in Charlie experience, but I don't think people would be nearly as game for random shots if the food didn't hold up. It's all snacky — edamame hummus, crab-drop soup flavored with Cajun trinity — and the prices top out at a surprisingly reasonable $15. There are steaming bowls of bibimbap with seared hen of the woods mushroom, while tomato salad with tofu-feta spread is plated along the rim of the dish so that it looks like the letter C.
The most lucid example of the Korean-Southern fusion comes in the form of a "Seoul'sbury steak" over gruyere grits, but the signature dish, according to a server, is the oxbone cream pasta, which they explained is a bit like carbonara that's been enhanced with beef broth. The spaghetti smells of bacon and scallions and is cooked to a satisfyingly snappy chew. It's the kind of dish you'd want a chef to make for you at home after a long night of drinking, but it turns out it's just as satisfying when eaten on the premises with a drink alongside it.
I had a similar experience of being in a restaurant with bar energy a few nights later when I walked into Ariari in the East Village, where employees greet every new guest with a rousing salute. There, the food is inspired by the seafood-heavy fare of the Korean port town Busan, and the scallop gimbap — a DIY presentation with rice, seaweed, and thin slices of scallop arranged on a half shell over ice next to a spicy squid condiment, apple kimchi, and scallion mayo — was a great introduction. Ariari is a bit more polished than C as in Charlie (the seafood pancake was lacy and crisp on the circumference, with a tender and chewy interior like a thick noodle), but I find myself thinking more about the late-night-at-any-hour energy of the latter.
C as in Charlie is open until M as in midnight on Fridays and Saturdays and until 11 p.m. the rest of the week, including Sunday. Whatever time you end up leaving, don't do so before dessert. The B as in Banana (I know, I know …) is a malty banana pudding served with a squeeze bottle of vanilla sauce so diners may draw in the dessert's meringue surface. Charlie's deli bagel, meanwhile, consists of cream-cheese gelato encapsulated in a bagel-shaped monaka wafer, served with an individually wrapped grape-jelly packet. At a more straight-faced restaurant, they both might seem too cute for their own good. But here, amid the intense rose glow of the neon, they are an amusing way to ease into Monday morning.