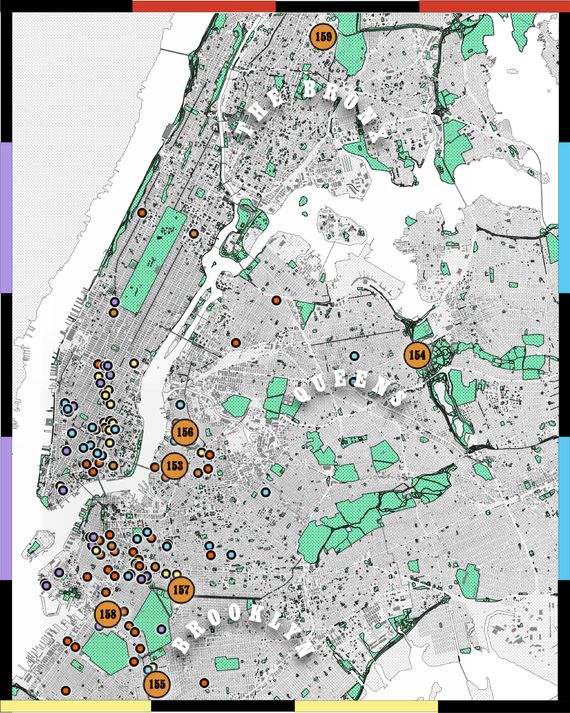 A running list of everwhere I've been, week 15: 153. Chino Grande 154. Queens Night Market 155. Hadi 156. Nura 157. Barboncino 158. Le French Tart 159. Casa Della Mozzarella
I know that, at some point, I'm supposed to go to the Bronx to eat Italian food on Arthur Avenue, yet in all my years in New York, I have never found the occasion to do so. Partly that's because I live pretty deep in Brooklyn, and if I'm going to spend 90-plus minutes each way, it will have to be for something more unique than red sauce and arancini that I suspect will be similar to what I might find at a million joints closer to home.
A legendary sandwich is a different story, especially when that sandwich comes from a shop called Casa Della Mozzarella, which, as you might guess from the name, pulls its own balls of cheese in house all day long. As evidenced by the burrata that has appeared on every menu in town over the past couple of years, fresh mozzarella is beloved by many, so it's no surprise there is often a line at the mozzarella house, having become something of a tourist attraction. Alas, fresh mootz is one of those foods for which proximity enhances quality. Eating just-formed cheese that has never even had a chance to cool down completely is a different experience altogether, one that is — in my book — worth a special journey.
So it was that I found myself on a sunny Thursday afternoon headed uptown on a D train and wondering why I hadn't thought to do this sooner. The trip was perfectly engineered for the late-riser who has some reading or podcasts to catch up on. I just had to make sure my devices were charged so I could zone out for the 80-or-so minutes it took for my train to get to Fordham. From there, it was a 15-minute walk to Little Italy, where I passed all the attractions and — crucially — the bathroom at the public library on 186th Street, and soon enough, I was at the Casa Della Mozzarella.
On a weekday after the lunch rush, the guys behind the counter were relaxed and chatting in Spanish, while I, the only customer in the store at that moment, examined my options on the sign above. Within a few minutes, a couple arrived, followed by another couple of people, and all of a sudden, the narrow space felt sufficiently cramped. I looked behind the stiff woman at the register past a huge window to the room in the back, the lab where curds are manipulated in hot baths until they're the chubby round masses we know as fresh mozzarella.
I perused the list of 15 sandwiches with various combinations of cold cuts, peppers, balsamic glaze, and, of course, cheese, but my mind was immediately made up when I saw one of the specials posted underneath the main sign: "the Pistachio." The menu promised mortadella and pistachio oil with Casa's homemade stracciatella, which is the name of the gooey cheese-and-cream filling inside a burrata ball.
I ordered a pistachio hero for immediate consumption plus a sturdier "Carcio" sandwich composed of artichokes, roast pork, and fresh mozzarella for later since I was planning to run into a friend who I thought would appreciate the gesture of a sandwich imported from the Bronx.
The cashier handed me a heavy bag with my sandwiches, which I supplemented with a bitter little Italian soda and checked out. At the front of the store, there is exactly one seat, accompanied by a school-size desk daring some desperate eater to stake out her or his spot, but I opted for a more welcoming place where I wouldn't have to make eye contact with every single customer who walked through the door while shoving an enormous sandwich into my maw.
Thankfully, it was nice enough that the park on the next block was a viable option with lots of empty tables and benches surrounding the playground where kids were counting to ten and playing tag. I pulled out the hefty hero and unraveled it from the layers of paper, revealing the spectrum of pink mortadella, sun-dried peppers, and verdant pistachio paste topped with gobs of gooey, stringy cheese.
The combination of nutty pesto and pure dairy reminded me of cannoli, though the thick layer of mortadella did enough to halt the comparison in my mind. It was a messy, goopy sandwich, and I was glad I ate it on location before the bread had a chance to get soggy, which it likely would have during the 96-minute trip back home.
Then again, what is time? I've spent longer waiting in line for groceries at Di Palo's or for an entrée in a nice restaurant than it took to get to Casa Della Mozzarella. I spent threeish hours getting to and from a place that sold a sandwich I couldn't have gotten anywhere else, which I got to eat outside during one of the first nice days of the year. Was it worth it? Absolutely, and I know this for sure because as soon as I got on the train to start my trip home, I started to think about what I want to get the next time I go back.