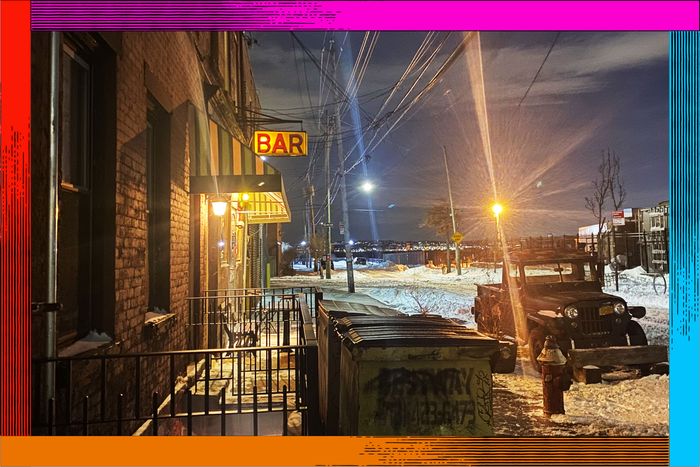 Sunny's, after the blizzard.
Photo: Tammie Teclemariam
This article originally appeared in The Year I Ate New York, a newsletter about eating through the city, one restaurant at a time. Sign up here.
I managed to snag the only open seat at Sofreh just as the first snowflakes began to fall last weekend. A blizzard was bearing down on the tristate area, but you wouldn't have known it from the crowd inside. When I asked the bartender whether he'd expected it to be so busy — even on a Friday — he shrugged. "People think they're going to be snowed in tomorrow, so they want to go out tonight."
The following day, somewhere between eight and ten inches later, the snow started to let up and I decided to get out of my apartment. I wanted to go somewhere neighborly, even if I didn't want that place to be in my actual neighborhood. Red Hook, I realized, would be perfect, because the only people there would be locals, and they would probably be happy about that. When home is only accessible by car or boat, you had better like it there.
When my Uber dropped me off, hardly anyone was out on the sidewalk, except a guy pushing a snowblower. I heard Latin dance music blaring in the distance and followed it to a door with bright lights seeping out of the seams. Thinking it was San Pedro, a Mexican restaurant I knew was nearby, I tried to get in, but despite all the commotion, the door was firmly locked and nobody came out to ask if I knew the password, so I moved on.
Luckily, Red Hook is home to Brooklyn Ice House, which is like the Platonic ideal of a dive bar. Under the warm glow of Christmas lights that hang year-round, some people at the bar were watching basketball, while up front, a group of still-bundled 20-somethings cracked open cans of Pabst. I was waiting for friends, so I ordered a Paloma and some buffalo cauliflower and remembered, too late, that Ice House is cash only.
"We wanna try this place that just opened," said one of my friends when he arrived. "Grindhaus." He lives in the neighborhood, so he knows what he's talking about, but I was confused. Grindhaus is (a) old and (b) closed because of the pandemic, or so I thought.
My friend explained that the restaurant was in "soft reopening" mode. It had been closing at 5 p.m. for a few weeks, but because of the snow, it'd opened late that day and was still serving dinner. The city was filled with restaurants that had closed due to the storm, but here was a spot that felt like it had reopened just for us. Red Hook is magical in ways that other neighborhoods are not.
I hit Ice House's ATM — quietly accepting that $5 in various bank fees is the price you pay for authenticity — and we began our journey across Van Brunt Street. Approximately two minutes later, we were inside the new-old Grindhaus and the owner, Erin Norris, was telling me the story of her restaurant, how it was supposed to be sold just before the pandemic and how, when that fell through, she found herself waiting out the first few months of the pandemic in Europe, where she happened to be at the time. She finally reopened late last year and is still, she says, sorting out her vision. For now, she's happy with a low-key launch that allows the restaurant to remain a work in progress.
We ordered a carafe of warm sake — a surprising specialty at the restaurant — and got to the work of choosing some food. We got a kale salad with "Calabrian kimchi Caesar" dressing (tangy roughage), crispy dumplings filled with purple potato in coconut broth (carbs on carbs are elite), and the "OG GH burger."
I never had the original Grindhaus burger, but I can say that the current version is very good. "I had some bacon, so I added it to the mix," the chef, Kev, revealed to us through the kitchen window. The star of this burger, though, was not really the meat; it was the roll, which somehow lived in the liminal space between focaccia and English muffins. It was chewy and warm and — through another bit of luck — impossibly fresh. "The rolls came out of the oven just a minute before the burgers were done," chef Kev explained. I chalked it up to the late opening, but was happy nonetheless.
After dinner, my friends began their trip home, and I walked down Van Brunt, the wind whipping at my back and pushing me in the direction of the water. I ducked into Hometown  long enough to order Korean baby back ribs and to overhear the regulars clustered at the bar discussing "the biggest asshole in the neighborhood." (Alas, I didn't get the name.)
Eventually, I landed in Sunny's, which, at 8:30 p.m. on a Saturday, was deserted. This close to the shore, the elements were punishing and I wasn't surprised that people had decided to remain even a few blocks inland. "We were full earlier," the bartender said as he poured a spiked cider and obliged my request for a receipt, which he wrote on a sheet of notebook paper (cash only, again). I settled into a booth and looked out at the snowy harbor beyond the window. I took a moment to appreciate the quiet — a luxury for someone who lives with roommates and a dog — and I wondered if there was anyplace else in the city that felt so calm.
A running list of everywhere I've eaten, week three:
34. Sofreh 35. Sharlene's 36. Brooklyn Ice House 37. Grindhaus 38. Sunny's 39. Hometown Bar-B-Que 40. King Mother 41. Burchak Pide 42. Little Mad 43. Scarpetta 44. The Seville 45. Ramen Danbo 46. Kyuramen
More From The Year I Ate New York