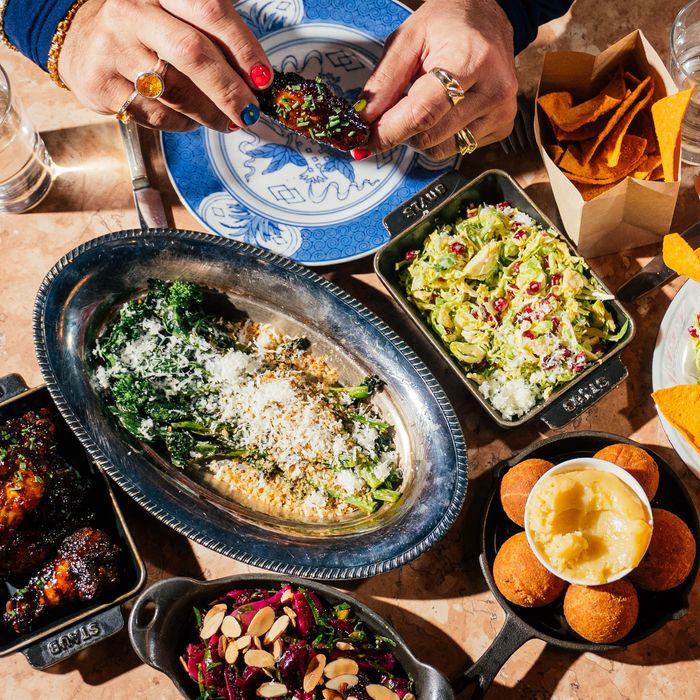 Bird Dog puts a special emphasis on pasta, fried chicken, and bounty. Photo: Jutharat Pinyodoonyachet
The last time I went to Contra, the Nordic-leaning tasting room on the Lower East Side, I overheard the women seated to my right discussing their $125 "carte blanche" menu. "It's a trendy place," said one, gesturing to her dish, "but this should be getting bigger per course." Finally, she'd had enough and called over her server to say something: "Excuse me, the portion for the cauliflower — we're, like, really hungry."
I cringed a bit as I bore witness to the ordeal since "large" portions are the last thing you'd expect to find at Contra, and you don't want to overdo it when a meal might run eight or ten courses long. Then again, if dinner costs triple digits, you don't want to leave hungry, and the preciousness of each two-bite plate might grow concerning after a while for more ravenous diners.
Had I known about it at the time, I might have leaned over to tell this couple about Bird Dog, which has been open for a little over a year in the West Village and offers a $95 menu that is — and I mean this in the kindest possible terms — absolutely bonkers.
That starts with the concept, which is a bit disorienting: Bird Dog specializes in food that is both southern and Italian, but rarely do those influences combine in any of its individual dishes. Instead, the menu — which is also offered as a three-course prix fixe with multiple choices for each course — offers classic pimento cheese, pappardelle with ragù, gumbo, linguine with crab, traditional risotto, fried chicken, and hush puppies. Where to start with a document like this?
During dinner the other night, I decided simply not to, opting to put the kitchen in charge while I focused my attention on the dozens of portraits of dogs painted as historical figures — a labrador Mona Lisa, a pair of Doberman fighter pilots — that populate the comfortable, 14-seat dining room. The server, who was admirably working the entire floor alone, warned me about what I was getting into ("It's gonna be way too much food") with a conviction that assured me I would not be complaining about the size of my cauliflower course at any point in the evening.
Things kicked off with a cropped paper bag of homemade Doritos nicely coated in a dust of orange cheese. I shared them with some people seated next to me who said they'd ordered the prix fixe but were keeping an eye on my tasting menu to see how it looked. I should have asked them to help me.
I was already overwhelmed when the first proper "course" arrived: hush puppies, a salad of shaved Brussels sprouts, and chicken wings. It felt like the best possible expression of an Applebee's sampler platter, but I decided then and there to pace myself, leaving behind a large portion and watching as the server dutifully began the process of boxing things up so I could take them home.
The dining room is compact but comfortable. The fried chicken is exceptional. Photo: Jutharat Pinyodoonyachet
Bird Dog's pastas — nine of which are offered on the prix fixe — lean most heavily into the Italian side of things, though the gnudi is styled like chicken and dumplings, while the ravioli gets some classic chicken-soup flavors such as carrots and dill. I was given two: rigatoni, made with toasty "grano arso" flour that was brightened with a bit of orange zest and given some additional heft with mascarpone, and cavatelli with slow-cooked lamb shank and tomatoes. Both were thoroughly enjoyable, and each had to be pushed away quite quickly (and boxed up to go, of course) so I could save room for a main course of fried chicken.
It's a verifiable fact that every restaurant menu in New York City currently offers some kind of poultry that is breaded and crisped in hot oil — a COVID-era cutlet creep — but at least it makes sense at a restaurant that is ostensibly focused on the cooking of the American South. Really, fried chicken is Bird Dog's raison d'être — in addition to the $95 tasting or the $65 prix-fixe, the restaurant also offers $55 "fried-chicken dinners" — and it appears to have perfected the recipe. My single boneless thigh was painted with an incendiary Calabrian chile butter that managed to evoke Buffalo wings and Nashville hot chicken in equal measure. Fittingly, it arrived with some pickles and a slice of soft white bread. In a shocking turn of events, I ate the entire plate.
A "dinner" that includes Doritos, sprouts salad, chicken wings, and pasta might sound like the kind of thing you put together when you're stoned and scrounging the kitchen for whichever leftovers you have on hand. That's not a bad thing. In fact, as I packed up my assembled pile of to-go containers and headed outside, happy and full, I debated whether that's exactly how I would eat at home the following night.