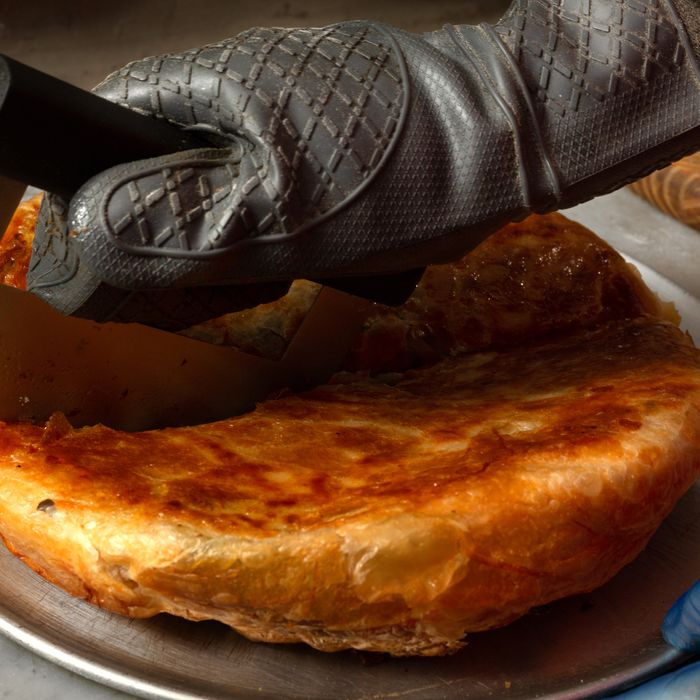 Cutting into the burek at Blend's in Dongan Hills. Photo: Alison Viana
Scrolling through TikTok recently, I came across a short clip of a bronzed burek, fresh from the oven, in the process of being quartered with a handheld mezzaluna. The sight of the flaky cheese pie was enough to stop me mid-scroll, but it was the crisp sound of crackly exterior layers giving way to a molten interior of cheese and buttery dough that made me truly hungry.
Most of the comments were along the lines of "whatever it is, I want one," and I had to agree. But unlike the majority of people who could only experience these savory pies as ASMR, I was in a position to seek out the real thing since Blend's Bakery and Grill, the source of the video, is, I discovered, located on Staten Island. I wasn't going to let the Verrazzano Bridge stand in between me and this burek.
Blend's is an unlikely viral sensation, since it offers none of the vibe that one might expect from a social-media-famous bakery. I didn't see a single neon sign anywhere. Instead, when I arrived with a friend and her 5-year-old on a recent Saturday afternoon, there were just a couple of occupied tables chatting over the Albanian music videos and soccer on TV. I mentioned having seen the popular videos to the owner, Sami Rafuna, who happened to be taking my order. "My daughter did all of that," he said, shrugging. "She works here sometimes."
Blend's inherited its oven from a pizzeria that had been in the space for two decades. Photo: Alison Viana
Sami told me that he runs the bakery with his wife, Hasime, while their daughter (and erstwhile social-media manager), Bliona, was off. The bakery is named for their son, Blend, who is another fixture in the restaurant, helping guests as needed or just talking a table with his tracksuit-wearing uncle. Blend explained that his father had been talking about opening a place for the Albanian community on Staten Island for a while, but it wasn't until last year, after some family members emigrated from Kosovo to Staten Island, that the bakery started to materialize.
Why? "They mastered this profession," Blend says. "My aunt's husband has been doing burek" — a long process of rolling out thin sheets of dough and layering them by hand — "back home for 40 years." Meanwhile, it's their son, Fatlum Martinaj, who presides over peels of pitalk, an especially thick flatbread with a crusty exterior that inflates in the 600-plus-degree brick oven they inherited from the space's previous tenant, the Goodfellas pizza parlor had been here since 1993 before relocating to Great Kills.
The bakery got its start after Sami Rafuna decided to open a place for the local Albanian community. Photo: Alison Viana
At Blend's, there are always three types of burek on the menu: meat, cheese, and spinach, and a slice of each can be comfortably shared between two people, though a lot of customers will simply order a whole pie to pick up. In addition to burek, they make another baked Albanian specialty, fli, a savory layered crêpe dish that takes four hours to prepare and must be ordered at least a day ahead of time.
The rest of the menu consists of simple Albanian versions of familiar dishes, like the qebapa, which are finger-length kebabs of spiced ground meat that are best when stuffed into the cavernous pitalk with shepherd salad and the sharp yogurt they make as well. Another highlight during our visit was the sujuk sausage, which is tart and spicy, like the halal equivalent of chorizo.
The pitalk was the biggest hit, a fact I know to be true because, upon eating it, my friend's son declared, "This is the best bread I've ever had!" as he cracked the exterior and inhaled the steam from within. When Sami overheard this, he sent us home with an extra piece in a brown bag, just for him.
I went back a few days later and met a solo diner who told his server he'd never had burek before. I assumed he'd discovered the bakery on TikTok as well, but he said that he had instead just come in completely by chance after riding the Staten Island Ferry as a "free way to get in a bit of sightseeing" during his last day of vacation before heading back to Canada. When his burek arrived, he took a bite and smiled. "The texture is amazing," he said. "I wish we had this in Montreal."
The restaurant is run, and staffed by, members of the same family. Photo: Alison Viana