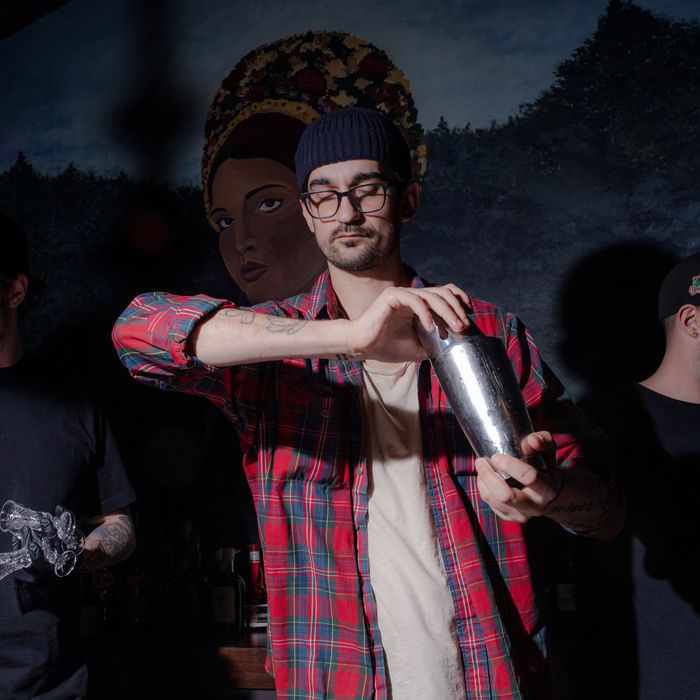 Slava beverage director Nazar Hrab. Photo: Natalie Keyssar
Tonight, New York will get something that — somewhat surprisingly — it does not already have: a Ukrainian cocktail bar. The team behind the East Village bar Pineapple Club is opening Slava in the old Pegu Club space on the second floor of 77 West Houston Street with a national emphasis that is come by honestly: Beverage director Nazar Hrab is from Lviv, while executive chef Oleksandr Shcherbyna is from Odesa. Even the contractor and plumber are Ukrainian, but the bar didn't start out as a Ukraine concept. In fact, in light of current world events, the initial vision was about as un-Ukraine as possible.
"We were originally doing a Russian concept called Babushka," says Travis Odegard, an operating partner along with Hrab, Matthew Sylvester, and Josh Spiezel. The group acquired the space in January; the next month, Russian forces invaded Ukraine. Almost immediately, Babushka went bye-bye. "We definitely couldn't stick with it," Odegard says. "We changed it to Slava."
That name has a double meaning. "Slava Ukraini!" means "Glory to Ukraine!" and is part of the national lexicon, and it has become particularly prevalent since the war began.
But Slava is also short for Yaroslava, the name of Hrab's mother. "She stayed in Ukraine when the war started," says Hrab, who has lived in New York since 2013. "My sister and I did our best to convince her to come here." But Yaroslava, a pediatrician, vowed to stay and has been working in hospitals in various capacities throughout 2022.
With the switch in concept, Hrab tapped into his roots when putting together the cocktail menu. The Kyiv Old-fashioned laces the usual mixture of bourbon and bitters with some homemade chestnut orgeat (chestnut trees can be found all over Kyiv, and the nut is a longstanding city symbol). On the savory side, a cocktail called Borscht is exactly that, a clarified version of the traditional beet soup — it goes through the same process as a clarified milk punch. A drink called Grandpa — made of unaged corn whiskey, Aperol, lime juice, and elderflower liqueur — is a tribute to Hrab's grandfather, who made illegal hooch in Ukraine. "He used to do the moonshine, take the oak bark and drop it in for about a month," Hrab remembers. "Then it wasn't moonshine — it was a cognac."
In keeping with Ukrainian drinking habits, the bar does not shy away from vodka, which is the base of half the menu's cocktails (including an espresso martini; the public must be satisfied), as well as a collection of infusions — horseradish and honey, plum, beet — that will be offered as shots.
What is there to eat? Cabbage rolls stuffed with short rib; mlyntsi, a native crepe, here served with mixed mushrooms, truffles, and herbed cream; and, of course, chicken Kiev, here given pride of place. Odegard describes the food as "Ukraine meets New York," though chef Shcherbyna hasn't had much time to study American cuisine — he and his family fled Odesa only six months ago. But that was enough time for him to come up with a bacon, egg, and cheese pierogi. There is also an Olivier salad with burrata and a crispy potato pancake. Caviar, which has become de rigueur in cocktail bars of late but makes a lot more sense in a Ukrainian bar, can be added to the salad or pancake for $35.
The nationalistic character of Slava extends to the interior design by Roseanna Kegeyan (who is not Ukrainian but is engaged to someone who is). Wallpaper depicts birds and flowers, a theme that is common in Ukraine, according to Kegeyan. Chairs, chandeliers, and antiques were chosen to evoke what might be commonly found inside homes and dining spaces in Ukraine. The back bar is lined with planks of pine, a wood often used for Ukrainian homes. Also behind the bar is a large mural, painted by Kegeyan, of a woman in traditional national attire.
"We New Yorkers are so used to being close to each other and hearing each other's conversations," she says. But in Ukrainian, Russian, and Polish restaurants, when people go out to dine, "they want the sense of privacy. And when they do go out, they go out in big groups. They'll have a bottle of vodka on the table." With that in mind, she designed the seating plan so that large groups are possible but with a decent amount of space between them.
The general layout of the space mirrors that of Pegu Club, the cocktail bar that occupied the space from 2005 to 2020. But aside from the ceiling, nothing of the Pegu design remains. The bar was a favorite of the Pineapple team, and Hrab said he may include a Pegu Club cocktail on a future menu as a sort of tribute. "The place was here for ages, and we used to go after work all the time," he says.
Hrab's mother, incidentally, did not know that her son named his bar after her. But she found out earlier this week when Slava invited in friends and family. "He's going to win a 'Son of the Year' award," says Odegard.
Slava opens tonight. Cheers! Photo: Natalie Keyssar