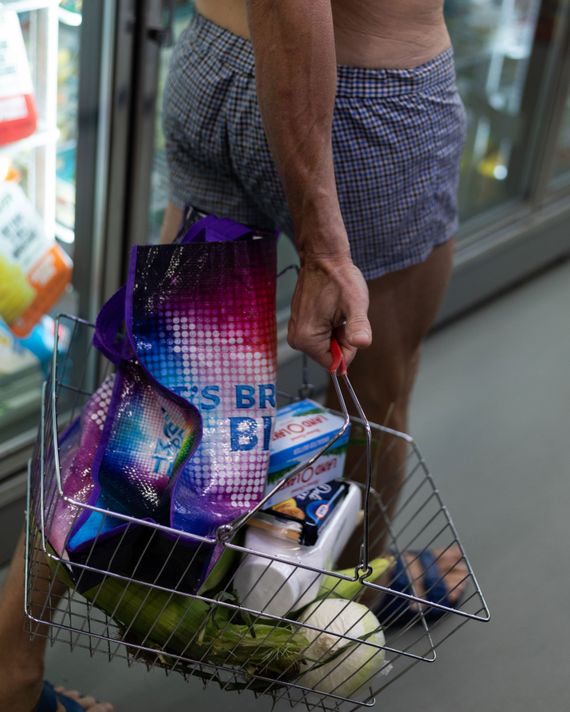 Shopping at the Pines Pantry. Photo: Finn Jubak
The Pines Pantry has everything you could want for a week on a gay beach: sandwiches, sunscreen, cold brew on tap, saline enemas. It combines the charm of a corner bodega with the heft of a green grocer; there's a deli, butcher, fish counter, and a bakery. Study the aisles, and you'll notice care and consistency. The pantry staples are there, and so is whimsy, in the form of pink pineapples and donut nectarines. Seafood comes in on the ferry daily; they make their own sausages. "This store's a diamond," says the butcher George Lenhard, who used to run superettes across the water in Patchogue and Medford. "When you come over here, you see what you can really do. I really like to make my trade shine even more because of the food lovers out here."
One of those lovers is my friend Ian, who bought a house with his husband, Ben, on the bayside a couple of years ago. I like to hang out on his barstools and watch him cook. He's a natural; his autopilot knife work is soothing, like ASMR. Family dinner is sacred in the house and everyone rotates duties as executive chef. The kitchen lends itself to experimentation in a way my one-bedroom apartment does not: there's a luxurious amount of counter space and plenty of gadgets, a grill outside, and people to enlist. Dinner becomes a whirl of chopping, gossiping, cocktail shaking, and dancing. Put on the new Carly Rae and mince the garlic!
I arrived on a recent Thursday afternoon for the start of a weeklong stay, and the first task was dinner. There would be seven of us, and everyone eats. Ben decided to make his patented quickie: chicken thighs marinated in Soy Vay, Caesar salad with homemade croutons, and tahini chocolate chip cookies. At the Pantry we got other essentials: a case of pamplemousse LaCroix, tortilla chips, pita chips, hummus, and a bottle of Espolon tequila. Outside we ran into IJBOLian scholar Hari Nef wearing thigh-high, spit-in-your-mouth leather boots and a bandage top, who was heading in to get one of the açai bowls — sweet and cold and topped with fresh fruit. We would see each other again at the Doll Invasion party at Froot Falls, where I would be rolling a sausage pizza into my mouth like a burrito.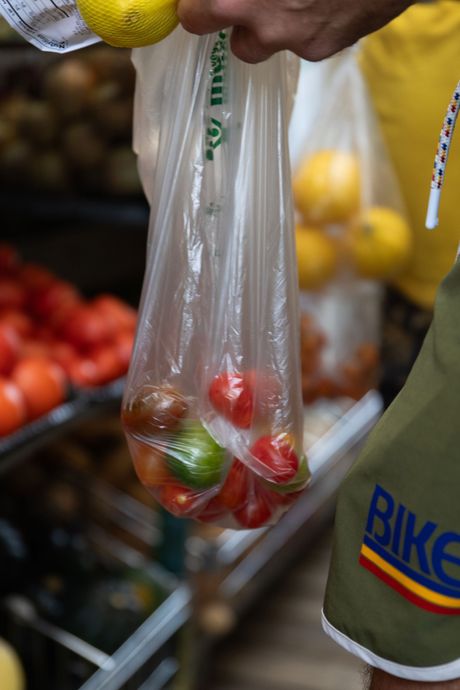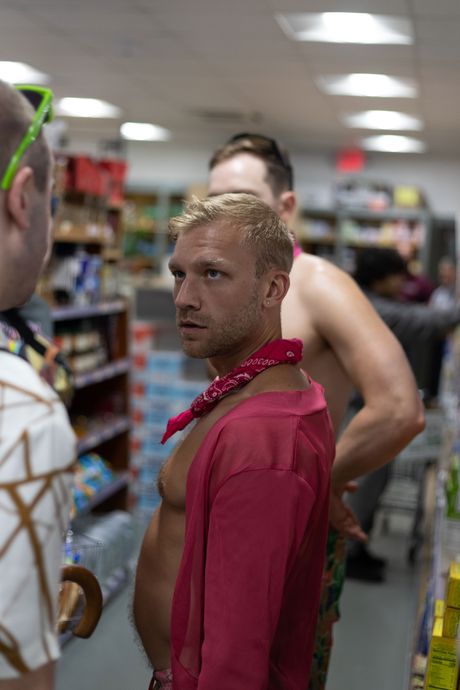 Coming to The Pines is like gay sleepaway camp. There are entanglements and dalliances everywhere, but eventually, you come back to your pod. Observing peoples' food habits for a week can be weirdly vulnerable. Some houses get feral: stealing chicken tenders out of their roommate's bedrooms or dropping GHB into oat milk. Daytime has a fend-for-yourself dynamic, as it was on Friday morning. Everyone is "not hungry" until the cold cuts disappear and suddenly it's, "Who's cooking dinner?" Even then someone (Ben) might start casually fiddling in the kitchen and dozens of pancakes made with fresh corn and cornmeal and a blueberry compote will appear.
Queer people embrace dissonance, which is why we love the Sand Castle, where the bottom of the menu reads "Executive Chef Noelle Grant" like an author's signature. Brunch at the Sand Castle in Cherry Grove might be the furthest we ever venture out. The food is serviceable but random — birria torta, a falafel bowl, a lobster roll in a croissant. We made the mistake of ordering raw oysters, and the shucker, a young man who looked as though he had never touched a shellfish in his life, delivered the mollusks shredded into ribbons. He was very pretty though, like if a cherub went to lacrosse camp. Anyway, this is a long way of explaining why we always go to the Sand Castle: sometimes bad is good, you know?
We went home and made batches of frozen margaritas and lounged by the pool where the ledges are slanted from too much gripping. Ian and I were supposed to cook dinner, but we got waylaid by the martinis at Sand Castle, or maybe it was the piña coladas at Cherry's. So we made a reservation at the Pines' premier dining establishment, the Bistro and Martini Bar next to the Sip n Twirl. Our waiter brought out each martini one at a time with his shaking hands cupping the brim, and we patiently waited 15 minutes to say cheers. For some deranged reason, my friend Jason got a seared ahi tuna, which was arranged in thin spirals like a rose. There wasn't enough heat applied, so the pink flesh was only slightly offset by an unappetizing gray. I had a great time watching him eat it.
We cooked the rest of the time. The Pantry lends itself to daily shopping and improvisation in a way that's very un-American. What's fresh? The branzino were shiny and clear-eyed, so Ben and Eduardo stuffed them with lemons and thyme and put them on the grill. The night of the Underwear Party, Kurt and Tony made something light: a zingy basil and tomato salad and Ali Slagle's salmon escabeche, where they grilled the filets a la unilateral before placing the raw side down in a vinegary fennel marinade. Perfect before heading out to the Ice Palace to strip down to your skivvies with hundreds of strangers.
When it was my turn to cook, I consulted the Sofreh cookbook. Ian and I went over to the Pantry and asked George for some ground lamb so that we could make koobideh kebabs — a meatball of minced lamb, beef, and onions — and we got ingredients for borani bademjan, a dip made from stewed eggplant with cinnamon and walnuts; and a Shirazi salad with summertime cucumbers, sungold tomatoes, and a spray of herbs. We bloomed saffron over ice (per instructions) and puffed some pita bread on the grill (I wasn't making bread, sorry). This was my contribution in name only because everyone helps: keeping an eye on the stove, setting the table, grilling the meat.
There's a deep symbiosis between the Pantry and the residents that began when Broadway producer Myron Tucker and his partner Jack Rohlfing turned the Ship'N Store into what it is now. "We've got good support from the residents, so the rain doesn't kill us," says Eric Schrader, one of the co-owners who started working here as a teenager in 1978. "If the support wasn't there, this would be just another Fire Island store. The hours would be shorter, we wouldn't open up as early in the year, wouldn't have half the stuff we have, wouldn't be staffed. You'd bag your own groceries."
"In the late '70s, everyone was swilling Perrier while they were doing their coke," he remembers. Now they stock kombucha and cold brew. The Pantry is also a place that strives to get whatever its customers want. They love a challenge. They've fulfilled orders for a 120-pound steamship roast, whole suckling pigs, whole baby lambs, sweetbreads, quail, squab, and elk. For the annual firefighter's barbecue this year, they provided 350 pounds of burgers and 700 hot dogs. If you ask for morels, they'll respond, "Fresh or dried?" They got one customer, a Southerner, Duke's mayonnaise because he was craving it. "If we don't have something, we're hurt," says Schrader. "Like, when someone asked for za'atar, it was there the next week. When the guy came in, he was like, 'What, are you kidding me?' I said, 'What else? Give me something else.'"