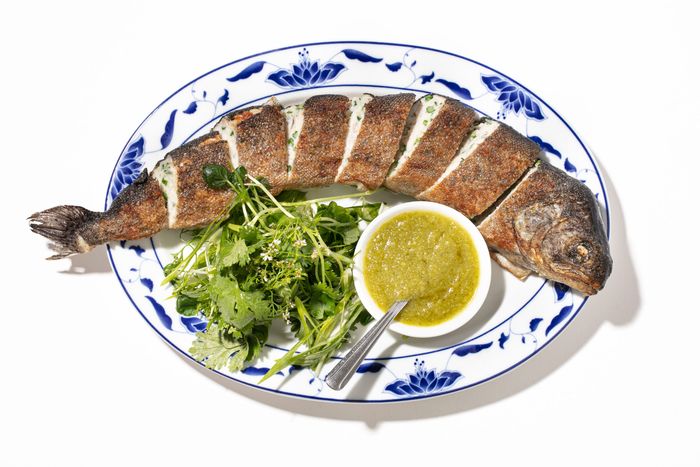 Bonnie's stuffed fish.
Photo: Melissa Hom
"I went to culinary school and worked at places, but everything I know about Chinese food is through my mom," says Calvin Eng, a Bay Ridge native whose grandparents came from Taishan, a city in the Guangdong province of southern China. That's why the 26-year-old chef is naming his first venture, Bonnie's, after his mother and taking inspiration from the Cantonese dishes she cooked while he was growing up. Translating them to a restaurant setting required some effort: For a steamed egg custard that he'll accessorize with marinated Sun Gold tomatoes and sherry, says Eng, "she taught me the exact ratio of water and egg, but she was measuring with eggshells."
Since leaving his chef de cuisine position at Win Son, Eng has tested Bonnie's menu at pop-ups around town, working on scaling and standardizing recipes for dishes like cold-poached chicken, a riff on Hong Kong–style macaroni soup in which crispy mortadella and garbanzo beans stand in for the usual Spam and frozen peas, and an ice-cream sundae made with malted fried milk and Ovaltine hot fudge. Besides Mom's cooking, Eng's biggest influences come from Hong Kong's cha chaan teng, the East-West diners that derived from British colonialism, and from Cantonese banquet fare. The most elaborate dish on his menu takes the form of a whole deboned rainbow trout; he removes the meat and minces it with shrimp, water chestnuts, and aromatics before stuffing it back inside and searing the fish on all sides. "It's like a giant fish sausage," says Eng, who plans to serve it with a pickled-mustard-greens condiment and lettuce leaves for wrapping.
Eng converted a former Williamsburg office space into a 46-seat dining room with a backyard, and if the menu bears a whiff of nostalgia, so does the restaurant's décor. The chef searched for specific shades of tile reminiscent of those found in classic Hong Kong diners and installed a single large round "lazy Susan table" up front by the entrance. "I needed to have one of those," he says. "It's what I love eating on."
Bonnie's, 398 Manhattan Ave., at Frost St., Williamsburg; 914-875-3709; September.
More From Fall Preview 2021