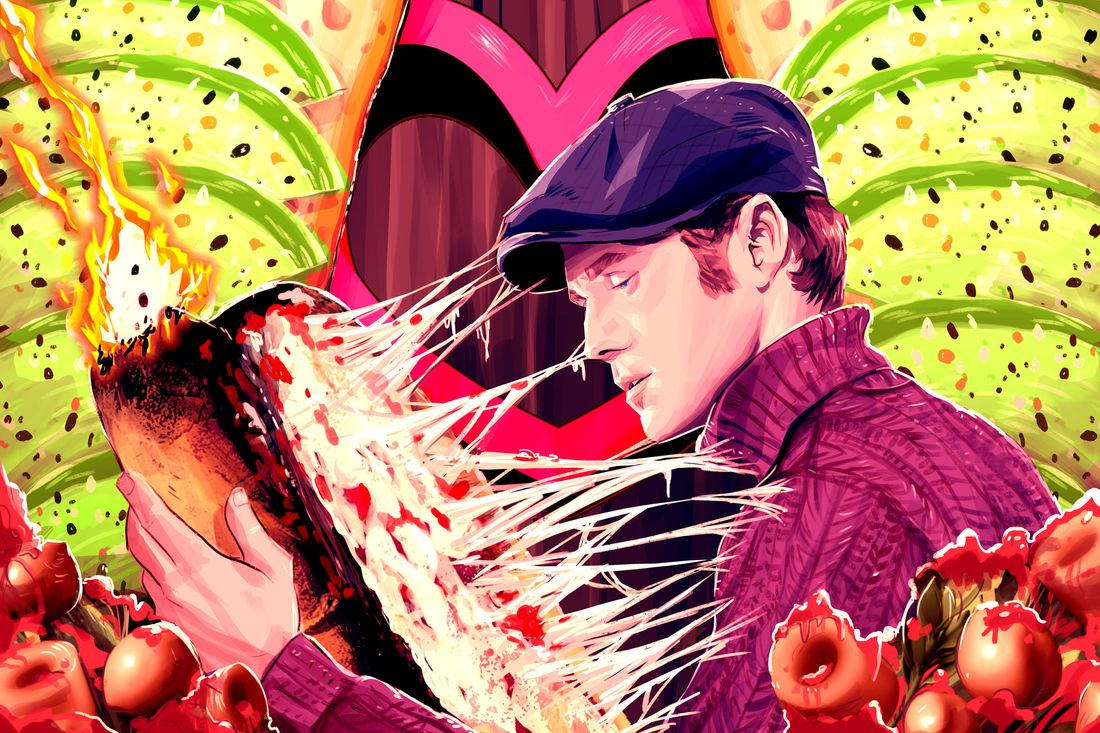 Aaron Tveit's memories of chicken parms past.
Illustration: Ryan Inzana
Since 2018, Aaron Tveit has starred as Christian in the Broadway version of Moulin Rouge! The Musical, a role for which he won a Tony last year. During the Broadway shutdown, Tveit (who acted in the original Gossip Girl) took on roles in American Horror Story and Schmigadoon! In the latter, Tveit plays Danny Bailey, who at one point offers Cecily Strong's Melissa Gimble a very large breakfast spread after they spend a night together. Since Schmigadoon! aired over the summer, Tveit has returned to Broadway with Moulin Rouge, and while his breakfast spreads may come in more normal sizes than on Schmigadoon!, he's still packing in all the calories he can. 
Tuesday, January 18
I start most of my mornings with lemon water and then get out the juicer and try for 16 to 20 ounces of celery juice. Lots of benefits to that on an empty stomach. It's very high in mineral salts, so for me it's the hydrating effects that I really go for on this intense schedule of singing.
I wait 20 to 30 minutes before having anything else. Then it's time for coffee. I use whole beans from Irving Farm and brew in a French press. With a dash of Planet Oat vanilla oat milk.
I don't exactly know what I'm doing, but I always find that I like whatever the Colombian bean is. It's usually darker, less fruity, and more chocolaty — what I'm looking for.
Then it's time to take my dog for a walk. I have a labradoodle; he just turned 6. He's the best, man. He's super-chill in the house but then likes to play outside. He really can do it all. He's a wonderful apartment dog, which you wouldn't think at over 60 pounds, but he's a great lap dog.
Breakfast almost every day is a cup of Bob's Red Mill oatmeal. I've always gotten Bob's. I like it, and I guess I have brand loyalty in the sense that I am definitely a creature of habit. Especially with my eating. I have no problem eating the same thing everyday and then kind of sprinkling in other things for special occasions.
I cook my oatmeal with almond milk. Then I add cinnamon, hemp seeds, raspberries and/or blueberries, banana, and a half scoop of vegan protein powder.
Some days I'll also have avocado toast for breakfast. Two slices of peasant bread or Alvarado Street Bakery sprouted whole-grain bread with half an avocado, Himalayan sea salt, and red-pepper flakes.
I had a bit of extra time coming from our Monday, which is a day off. For dinner before the show, I made a Greek seitan gyro from Purple Carrot, this plant-based meal-delivery service. I sometimes order those. It's a great service. This one is really tasty and filling, and it tastes exactly like a gyro with meat.
I do like Greek food. I mean, I lived in Astoria for 12 years. There's amazing food of all cuisines out there, but especially there are some Greek restaurants that are just something else. Obviously, there's Taverna Kyclades. There was also one right around the corner from my old house, Zenon Taverna. The family ran it for 35 or 40 years. They had daily dinner specials that rotate plus their usual menu and this thing where all the foods are cooked to order; whenever the daily food specials are out, it's out. And there's no more for that night. You'd feel like you were at somebody's home eating. That might have been my favorite Greek restaurant in the city.
Wednesday, January 19
Being in a Broadway show is a tremendous way to work. I've always been so grateful to get to do something I love as a job. But set to what we have all faced, and specifically what the Broadway community has faced over the last 20-plus months, just how lucky we are has never been more clear.
Our show, Moulin Rouge, I guess you could say, we're super-fortunate. We did have to cancel some performances over Christmas and the New Year's holiday, which everyone went through. You could not pick a worse time of year for this to happen. All the tourists are usually here, and it's when a lot of shows make the bulk of their business. It's really, really tough. But, you know, we weathered it. Some shows stayed open; they never had to close. However they did that, I don't know.
I'm very optimistic we're through the worst of it with this. The lack of tourism hurts business, but I do feel like the audience is much more local. It's such a part of New York. Instead of people traveling, they're doing stuff closer to home right now. Maybe we're getting a boost in that tristate, Northeast Corridor of people. That being said, it's quite a unique experience from a health and energy perspective. Every night, and sometimes twice in a day, we are all essentially running our own little three-hour "fill in the blank with your favorite tough workout": marathon, WOD, HIIT, Barry's class, cycling session …
My diet has changed drastically over the past few years. I was for a long time following what I read in health-and-fitness magazines was the way a super-active person should eat. Superhigh protein, superhigh fat, lots of veggies, and minimal carbs. While that worked for a couple years, and (I thought) I felt good, I started to see some real negative effects. My yearly blood work began to come back with some surprising things, namely superhigh cholesterol, which was so counter to what I thought was happening in my body. Over the last three years, it's been a slow trajectory toward me becoming 97 percent vegan.
I had a late interview for the show, so I ordered delivery to the theater. A wonderful place I order from a lot is NuLeaf. I ordered their scamble bowl. It's a tofu scramble, brown rice, sweet potatoes, kale, corn salsa, and avocado. I always add another side of farro. Lots of calories, lots of protein and good carbs and healthy fats before the show. It's just a really quick, easy meal that's all plant-based. Then it doesn't have a lot of extra — excuse my French — crap in it. And I can eat it, feel good, and do the show.
Thursday, January 20
For lunch, I usually have a big smoothie or a salad bowl from Sweetgreen. I opted for a smoothie. I usually make it with a couple frozen bananas, two dates, chia seed or flaxseed, some vegan protein powder, spirulina, barley grass, a big handful of spinach, and sometimes raw broccoli or kale (it blends up and you'd never know it's in there).
Sometimes I need a burrito from Chipotle, and this was one of those times.  I get mine with white rice, pinto beans, sofritas (tofu), and tomatillo salsa. It is, again, all about max calories.
Most nights I may have a Dave's Killer Bread's everything bagel with Kite Hill chive cream cheese, which is almond-based.
Dave's is one I learned about — the guy who started it was in prison for a long time and got out and only hires people in the same situation. It just happens that they make amazing bread and great bagels. The last couple years, it's now everywhere. I learned about it watching Top Chef because they were in Portland and using all the Dave's products.
Friday, January 21
Had a nice, big pasta. Rigatoni, Beyond Italian sausage, red pepper, onion, and garlic. Really hearty and tastes just like any "regular" sausage pasta. Even better for my money as it's not as heavy.
One of my best friends was born in Italy, and I was very much exposed to his mom's cooking. They made very authentic Italian meals. His dad had a pizzeria, and so I obviously ate at the pizzeria, which is where I got my love of chicken parm sandwiches. That was my favorite sandwich before I went vegan, and I always liked 'em a little burnt. The food that my friend's mom would make was much more simple Italian. Not American Italian — we're talking pasta with just sauce, you know what I mean? No cheese and meat added.
Before the show, I have a dish of fresh watermelon, which is wonderful for instant hydration. Because it's been so freezing and so dry, it's impossible to sing. As much as watermelon and pineapple are delicious, they provide a wonderful functionality for my day to day because I have to sing, and we have a thermometer and approximate-humidity thing backstage. And there are days in the past couple weeks where it's been 10 percent relative humidity on stage, which is like singing in a desert essentially. If I had it my way, it'd be like when we played Miami and it was 85 percent humidity. You're like, Oh my God. I feel like a God. I've never been able to sing like this. The preferable situation would be singing in a jungle.
I also usually have a coffee from Bird & Branch — they keep our theater very caffeinated. And during intermission, I always have a rice cake or two with some hummus, a small glass of Wyman's wild-blueberry juice (superhigh in antioxidants), and some fresh pineapple (another instant hydrator)
I always eat cereal before bed. Some version of mostly Nature's Path Heritage Flakes or Flax Plus with a tiny amount of a treat cereal on top. A nice thing about eating a ton of carbs is it helps you sleep — sending myself off to dreamland with a stomach full of carbohydrates.
Saturday, January 22
Before our matinee, I ordered a vegan egg sandwich from Om Juice. It's Just Egg patty, tempeh bacon, avocado and tater tots in a spinach wrap with a side of their hot sauce.
I love potatoes. I do. Sometimes I want to go to a Greek restaurant and just order two sides of lemon potatoes. That's all I want. But also the tater tots are very nostalgic, and that breakfast sandwich is a treat to me because, I have to say, since I stopped eating meat, eggs are the one thing I crave from time to time. Or I'll walk by somebody cooking a steak or really good food trucks in New York. Those are the three things that spin me out and make me crave things I don't eat anymore.
With this vegan egg patty, you totally get the sensation that you're eating a breakfast sandwich without eating an actual breakfast sandwich. This hits the spot, and the tater tots really put it over the top. First of all, they're delicious. And second of all, we all ate tater tots during school lunch, right?