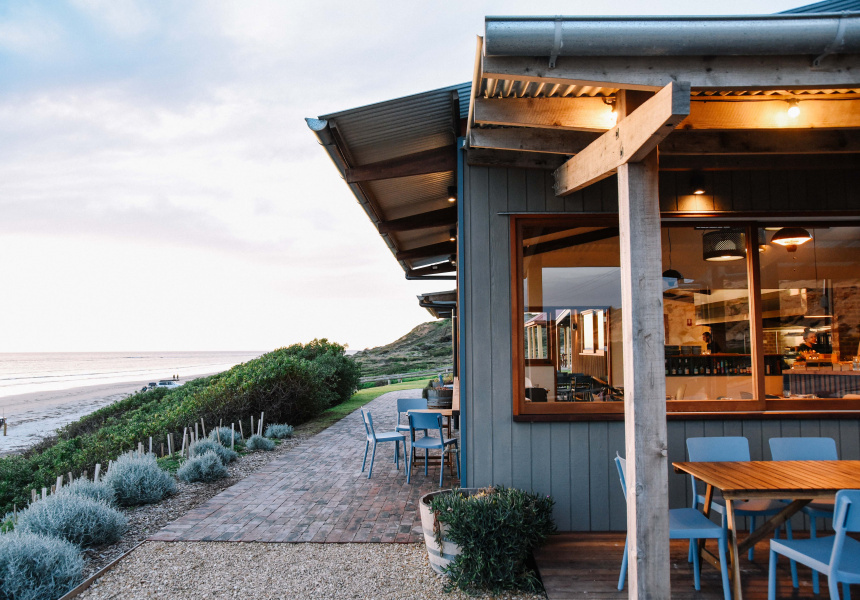 What a year, huh? 2020 has continued to throw more than a few curveballs our way and, while it's been a topsy-turvy time for all of us, few have had to weather as many challenges as those in the hospitality industry. Restaurants closed temporarily and permanently. But despite the chaos, doom and gloom, we've seen some outstanding new eateries emerge.
It's time to raise a glass to the front-of-house staff, the kitchen crews, and those who pivoted, hustled, stood up, showed up and changed up to keep Adelaide's dining scene afloat. More than any other year, 2020 has shown the special part dining out plays in our lives, and how even the most fabulous venues are nothing without people filling them with laughter. And while this is a list of places we love that have opened in the past 12 months, there are of course plenty more great restaurants that have brought us joy this year.
Fino Vino

Before the pandemic, there were the bushfires. And it was amid this – at the close of last year – that Sharon Romeo and David Swain opened Fino Vino, the CBD spin-off of their Barossa icon Fino Seppeltsfield. After a Covid-enforced reset, the restaurant re-opened with a stronger offering than ever. The pair's 14-year partnership (which has gained a dedicated following since their early days at Fino Willunga) is woven through the menu: Swain's signature crema catalana has been on the menu since day one at Willunga, and dishes such as the braised rabbit with rice and morcilla and the pan-seared brussels sprouts with eggplant, lentils and almonds all share DNA with dishes served at the OG location. Swain draws inspiration from Mediterranean – largely Spanish and Italian – peasant food, albeit jazzed up. "It's all based around grains, pulses, vegetables and stocks full of flavour that turn little bits of food into lots of food," he says.
Kuti Shack

This humble kiosk overlooking Goolwa Beach is backed by Goolwa Pipico. Trained chef Vanessa Button (ex-Bombora) works front-of-house, and Brendan Roach (ex-Osteria Oggi) is behind the pans, serving local pipis, Coorong mulloway and mullet with produce such as saltbush and samphire foraged from the surrounding dunes. In fact, all the produce is foraged, caught or harvested by local companies, including Goolwa Pipico, Hoad Fisheries and the Ngarrindjeri owned and operated Kuti Co. Pipis ("kuti" in the local Ngarrindjeri language) are the star of the menu here, which has built a reputation for inspired dishes such as sashimi pipis with samphire and Bloody Mary sorbet, and pipis with XO sauce and crusty bread. There's also fried Coorong mulloway wings inspired by Korean fried chicken and saltbush-crusted baby squid (their take on salt-and-pepper squid).
Angler

This new spot in Stirling might be Adelaide's most ambitious fish'n'chipper yet. Owners Amanda Prance and head chef Sam Prance-Smith (Amanda's nephew) were spurred by a lack of quality seafood options beyond the coast. Their menu features the classics (grilled and beer-battered fish, chip butties, scallop pies) alongside smoked sashimi, seafood sausages and snook red curry. All the fish are dry-aged, a process that enhances the flavour. Angler is sourcing its produce direct from local fishers through Fair Fish SA, which supplies more sustainable species such as carp and blue weed whiting (the Angler chefs recently experimented with "carp bacon", which is dry-aged, smoked and then cooked on the woodfired grill.) Waste is minimised by using parts that would otherwise be discarded – prawn shells go in the stock used in a Spencer Gulf prawn and carrot soup, and fish scales are turned into crisps.
Pearl

Jules Rydon starts receiving texts from his fishmonger at five in the morning. Daily market updates are vital for the chef, whose menu changes regularly depending on what's available – there might be nannygai one week and leatherjacket the next. "We're looking to utilise by-catch as much as possible and promote the underdogs of seafood," Rydon told Broadsheet earlier this year. He and and partner Bec Seidel opened the beachfront restaurant in late January, taking over the long-vacant Aldinga Beach kiosk site. Then Covid hit. The restaurant reopened to diners in spring with a casual menu of Mediterranean-influenced dishes: a bowl of steaming Port Lincoln mussels wok-tossed with garlic, white wine, tomato and smoky chorizo, say, or crispy school prawns tossed in tapioca flour with house-made saltbush and nori salt. There's also fish'n'chips, and daily specials such as oysters, locally caught squid and stingray. On Friday nights the place opens for dinner with a focus on whole fish, share plates and local wine.
Shosho

There's no denying Adam Liston's new neighbourhood izakaya has strong Shobosho DNA. But its identity is all its own, with a clear focus on tempura alongside a line-up of dumplings, wontons, noodles and more. The restaurant opened in July in the former Joybird site following a refit by designers Studio -Gram. The vinyl floor is gone, and the space has been softened with carpet and Japanese noren curtains. It's warmer and more mature, and a better fit for its Hyde Park setting. The aforementioned tempura menu features crisp, lightly battered veggies and seafood, including species seldom spotted on local menus such as whole coral prawns, toothfish and scampi from West Australian supplier Fins Seafood. Another highlight is the shallot pancake, enriched with creamy Laughing Cow cheese. As for the drinks, there's a wine for every palate (and wallet) – from a smashable Delinquente house wine to a wallet-bruising bottle of Charles Heidsieck Brut Millésimé – alongside Japanese beer, sake and umeshu.
Fishbank

The latest addition to Adelaide's fresh wave of seafood opened in the old Jamie's Italian space on King William Street in spring. At the restaurant's raw bar, you'll see chefs preparing freshly shucked oysters (Pacific, Sydney rock, angasi), as well as sashimi and crudo. There's also mackerel tartare, sugar-cured king salmon, and Abrolhos Island scallops. The raw bar is just one new feature of the grand, former bank. Perhaps the most obvious addition is a bespoke 10-metre-long video installation above the main bar, playing ocean-themed footage on a loop. The ambitious new restaurant is the brainchild of Martin Palmer and Ed Peter, the partnership behind upstairs bar and restaurant 2KW. The menu spans everything from fish'n'chips to beluga caviar. Smaller dishes might be pickled squid salad with black pudding and burnt apple, or wok-fried pipis in an XO sauce, while larger options might include wok-fried mud crab in a chilli-coconut broth or Murray cod with Sichuan eggplant.
Koomo

Koomo is situated on the 10th floor of the new Crowne Plaza hotel on Frome Street – now the tallest building in Adelaide – with sweeping views of the surrounding city and parklands. The menu doesn't scream Japanese at first glance, save for a few stars of the cuisine: ramen, Wagyu, tempura. Head chef Patrick Chung is eager to lean into the fusion side of Japanese-fusion. Dishes include gyoza filled with pork and pine nuts; grilled broccoli with white miso, crispy garlic and carrot kasundi (a Bengali relish); and kingfish with pickled kohlrabi, avocado puree and wasabi oil. There's also a chicken katsu sandwich and a Sapporo-style ramen (our picks if you're ordering room service). Japanese whisky is the drink to go for. Koomo is on the House of Suntory's allocation list – meaning it has access to bottles that are difficult to find elsewhere in the state, including Hibiki's 17-year-old blended whisky.
Comida

After soft launching in December, Comida's Hahndorf restaurant officially opened its doors earlier this year. Situated on an expansive block on Mount Barker Road (previously occupied by the Seasonal Garden Café), it's the brand's first bricks-and-mortar venue (following its now closed Central Market stall). The spacious property has a lush garden out the back where owner-chef Brad Sappenberghs grows tomato, zucchini, cucumber and eggplant and a variety of herbs, plus fruit trees producing apples, cherries and a wide range of plums. All of this produce – in some form – makes it onto the menu, which includes a signature tortilla, croquetas and patatas bravas plus an evolving mix of larger plates. Diners can also grab a rug and buy picnic snacks and a bottle of wine to take out into the garden, where Sappenberghs' signature paella makes semi-regular appearances.
Low & Slow Leigh Street
Port Adelaide's destination diner Low & Slow set up shop in the city earlier this year – days before the government mandated shutdown. Back up and running, the lunchtime joint (in the former Pink Moon Deli site on Leigh Street) is a homecoming of sorts for the team that launched the Low & Slow brand eight years ago as a food truck in the CBD. The hole-in-the-wall joint turns out fast lunches to go – burgers, sandwiches, and plates of barbequed meats and vegetables. There's smoked brisket, pulled pork and wood-grilled chicken alongside apple slaw, potato salad and mac'n'cheese. With no sitting room save for a single bench and a couple of chairs, Low & Slow Leigh Street is designed to keep people moving. But those looking to linger can stretch out to Pink Moon Saloon on Friday nights – and order a boozy drink if so inclined.
Blue Velvet
Until last year, Paolo Rosina made pizza one way. A dedicated student of the biga method, his dough was always mixed to a meticulous recipe. "Roughly, all up, it takes 72 to 90 hours, so the dough is really airy, light [and] crunchy," he told Broadsheet. The biga dough is perfect for alla pala (rectangular Roman-style pizza), he says, because the majority of the condiment is in the middle, and it can get soggy with standard dough. It's one of the stars on the menu at Blue Velvet, his Mile End pizzeria and dessert bar that opened on Henley Beach Road earlier this year. He's also using autolisi (a "more elastic, smooth and fluffy" dough) for smaller, round pies. Rosina's wife Ilenia Scuderi is equally as meticulous. She's been baking since she was 16 and specialises in healthy pastries. Many of her desserts use rice milk and rice flour, soy milk, olive oil and other vegetarian and vegan-friendly ingredients in place of butter, eggs and milk. Her menu includes vegan shortbread tarts, puff-pastry cannoli and a tea-misu – Scuderi's take on the traditional tiramisu with Dragon Chai tea, homemade gluten-free savoiardi-style biscuits, Italian meringue and soy-milk custard.