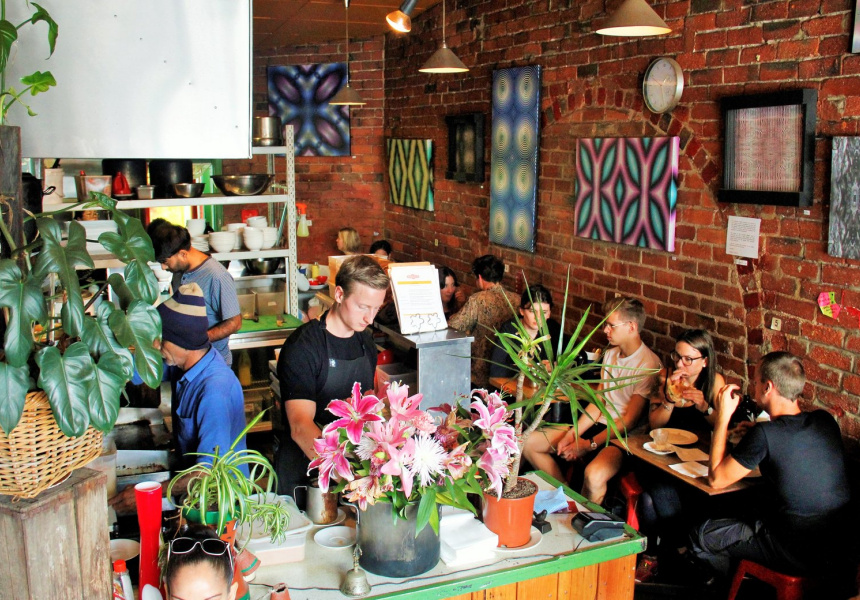 After 21 years, pay-what-you-can vegan restaurant Lentil As Anything will close its three Melbourne locations at the end of the month.
The news comes after the sole Sydney store, which opened in 2014, closed suddenly in January. Head chef and manager Nishat Merchant arrived at work to discover the locks has been changed. "It feels like there's been a death in the family," she told Broadsheet at the time. "We're in shock, we're in mourning."
The closure of Lentil's restaurants in St Kilda, Abbotsford Convent and Brunswick (previously Thornbury) will leave a hole in the city's hospitality offering. The business has been providing food for the hungry, cultural meeting spaces for the community, and work for asylum seekers since it was founded by Shanaka Fernando in 2000.
But the Covid-related lack of international travellers and students has taken its toll. "The backpackers and uni students were about 70 per cent of our clientele, and they made up a similar number of the 5000 volunteers we needed annually as well to supplement our paid workforce," Fernando said in a statement today.
"But with the closing of the borders, our numbers dwindled considerably. We still provided about 100,000 free meals during the lockdowns, but we are now in a position where our income is not meeting the cost of our outgoings."
The socially minded enterprise has struggled with financial hardship throughout the pandemic. It raised upwards of $370,000 via a crowdfunding campaign in 2020, but earlier this year reported it required another $400,000 to keep its three Melbourne restaurants open.
But there have also been allegations of financial mismanagement. An audit commissioned by former board members was leaked to the press in 2021, alleging Lentil As Anything founder Shanaka Fernando had committed financial mismanagement, used the company for personal gain, abused government grants and listed a friend as a "ghost" employee. Auditors noted that the state of financial records made it "difficult to assess for or against improper conduct".
Fernando denies all allegations.
"We have tried to hang on as long as we could, but it is now untenable," his statement continues.
"I am very humbled to see how far the concept has come and I know it has helped out many thousands of people, whether they are local or from overseas. And to see how many people have worked or volunteered at Lentil and gone on to successful lives and careers is very satisfying."
Lentil As Anything's three Melbourne restaurants will close at the end February. Watch Fernando's statement on the closure here.