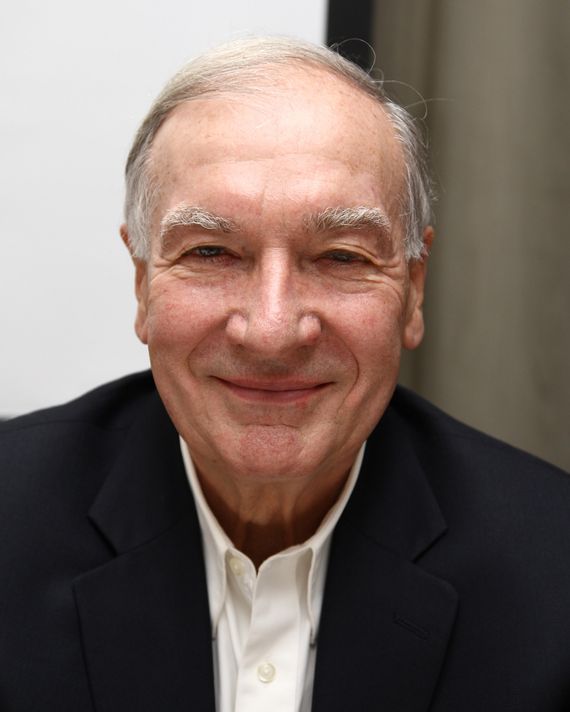 Alain Sailhac in 2009. Photo: Neilson Barnard/Getty Images
On July 15, 1978, Alain Sailhac reported for his first shift as the new chef at Le Cirque, which had been closed for summer break. Except for the butcher and a lone saucier, the entire kitchen staff had walked out with the previous chef. Sailhac spent the next 15 days recruiting a brigade of two dozen cooks. On the restaurant's reopening, Le Cirque owner Sirio Maccioni assured Sailhac that he planned to run the dining room way below capacity. Instead, the 92-seat restaurant did 190 covers for dinner. It was the start of an eight-year run that advanced Le Cirque toward an assured place in restaurant history and put Sailhac on a course to transform food culture in New York.
"He was already changing the stereotype of the classic French restaurant, which was stuck in the '60s and '70s," says Daniel Boulud, the chef who took over Le Cirque's kitchen from Sailhac in 1986. Sailhac was 42 when he landed at Le Cirque, and he immediately settled into a rhythm: 600 covers per day, six days a week, offering a preposterously large menu with an additional eight to ten daily specials.
At one time, he was poised for superstardom, but Sailhac, who died at home in New York City on November 28 after a long illness, never ascended to the celebrity heights of his contemporaries. Instead, friends and those who worked with him see Sailhac's legacy as a chef and craftsman who possessed a unique flair for nurturing talent. In a career that spanned half a century, he trained hundreds of cooks — Geoffrey Zakarian, Terrance Brennan, David Bouley, and Michael Lomonaco among them.
"I always thought Alain was a poet — I don't think he cared to be an entrepreneur," Boulud says. "He was a good mentor and a good man who took good care of his people in the kitchen."
Sailhac was born in Millau, France, in 1936. During the German occupation of France, the six Sailhac children survived on black bread, which often was rationed out by troops with a thick shell of mold. Alain's mother trimmed the loaves and served them with lung, the cheapest offal the family could find, simmered in béchamel. At one point, his older brother spent six months in prison for stealing gasoline from the Nazis.
At a family wedding, a 14-year-old Sailhac encountered a chef who had stories of cooking in exotic places like New York and Singapore. When Sailhac told his father, a glove manufacturer, that he wanted to be a cuisinier, his father said that only women cook. He eventually changed his mind and arranged an apprenticeship for his son at a friend's restaurant, which had a Michelin star.
In 1965, after stints in Guadeloupe and on cruise ships, Sailhac moved to New York to work at Le Mistral and Le Manoir. He was among the first chefs to receive four stars from the New York Times — at Le Cygne. "This is a restaurant where even the simplest, most mundane menu selection gets superior treatment," wrote Mimi Sheraton in 1977. Even then, Sailhac was keyed into the quality that would become his trademark.
In fact, Sailhac was confused to learn that the Times was coming to take his photo at all. He thought star counts for restaurants stopped at three as with Michelin. "I didn't know what that meant, because I didn't read the paper," he said. Nevertheless, the glory was short-lived: Ten weeks after the review, the owners told him they'd found someone who could do his job for a fraction of the pay.
Sailhac went back to France, where he planned to stay, until his friend André Soltner called. Soltner — who bought the famed Lutèce from Andre Surmain in 1972 and famously missed only a handful of services over the course of 40 years — had once walked into the kitchen at Le Mistral to meet Sailhac after sensing an immediate connection through his food. Now, over the phone, Soltner told Sailhac he had "something interesting" and to expect a letter from Maccioni.
At the time, Le Cirque had some culinary credibility — famous for its spaghetti alla primavera, for which Maccioni took credit while nodding to his former chef and the artist Edward Giobbi — but it was mostly a place where self-appointed VIPs and bona fide power brokers collided over what must have seemed like perfectly fine carpaccio. After all, this was the dining room where Richard Nixon perpetually outlined his comeback plan over stuffed Dover sole, exiled royal families siphoned inlays of caviar out of ice blocks, and A-list actors swooned over lobster salad.
Shortly into the Sailhac era, however, Maccioni quadrupled the truffle budget and reluctantly built a pastry kitchen, which served crème brûlée that was so ultralight that no fewer than six maîtres de cuisine flew in from France to learn the secrets of this dessert.
Alain Sailhac with a student at the International Culinary Center, where he was a dean. Photo: Bennett Raglin/2016 Getty Images
Geoffrey Zakarian, the chef and future Food Network fixture, was in the kitchen as well. "I'd worked around the corner at Quo Vadis for a couple of months, but I had heard through the grapevine that Le Cirque was where you wanted to be," he says. "I initially walked in without an appointment and asked Alain for a job. I even offered to work as an apprentice just to learn, and it worked."
Sailhac, who enjoyed biking to work, was suddenly able to source all the ingredients he'd ever read about and wanted to cook: Hawaiian blue prawns, New Zealand gooseberries, samphire from coastal France, cèpes from Italy, and scallops in the shell with the roe still attached from Maine — sometimes all on the same day. Those would turn into each evening's specials.
"You just got some marvelous new ingredient you've never worked with," Zakarian recalls, "and Alain would tell you about it and give you one sentence of instruction and walk away."
The pace for cooks on his line was almost impossibly fast, says Charles Dale, who would later become Food & Wine's Best New Chef. Instead of taking the time to read each ticket, they learned to memorize every new order, six orders at a time, or risked losing track of what they were cooking. "I can still hear his voice in the back of my head," Dale says. "It was short and clipped. You didn't really even have time to say, 'Yes, Chef.'"
Michael Lomonaco, a native of Bensonhurst, Brooklyn, says one of the first things he noticed on arriving at Le Cirque in 1986 was that the diversity of kitchen staff "reflected New York in the mid-'80s as I know it," who were joined by veteran French cooks. "One thing I learned from him was this sense to accommodate the guest. If it could be done, it would be done." For example, Sailhac made coulibiac of salmon and off-menu veal kidneys with mustard sauce for guests who requested them. One former cook remembers Sailhac hand-sculpting tiny ducks from clay and filling each with duck confit and a duck egg.
"I never saw Sailhac get flustered by anything that was thrown at him. He knew it all," says David Shack, who worked at Le Cirque from 1982 to 1983. Shack remembers a time in Le Cirque's basement with Sailhac "in a rain slicker, wielding a chainsaw on a huge block of ice to make a sculpture that a party had requested," he says. "Hard to imagine a chef today with that ability."
Sailhac developed a reputation as a cook's cook — so much so that he was able to draw the most famous European chefs across the ocean. Paul Bocuse made repeat visits and was stunned by Sailhac's lamb champvallon — an obscure, literal meat-and-potatoes dish from the 1800s. One night at Maccioni's apartment, Sailhac folded perfect tournée potatoes and carrots into a bollito misto of tongue and brisket for a freshly landed delegation that included Bocuse, Jacques Maximin, Alain Chapel, and Roger Vergé. (Pastry chef Gaston Lenôtre was supposed to attend, but his plane was stuck circling the airport.)
Eventually, Sailhac needed a break. Unfortunately, his next gig was at 21. His co-chef was a former anthropologist and wunderkind named Anne Rosenzweig, and the Times described the duo as "sort of like pairing Madonna and Yves Montand in a musical." They were walking into a mess. The restaurant had recently changed hands. Sailhac fired 23 line cooks and hired 39 replacements. While former FOH staffers set up a picket line on West 52nd Street, millionaire regulars who had lost their go-to lunch spot during the fracas protested in the pages of the "Style" section of the Times. (Eileen Ford: "This thing just has to end fast.") In the kitchen, Sailhac and Rosenzweig did what they could. They replaced the beloved creamed chipped beef with pan-fried sweetbreads with roasted tomatoes and "truffle-freckled" potatoes. They put herb butter on the burger. Business soon crescendoed back up to 800 covers a day.
The third of the three outsize institutions in which Sailhac found himself was the Plaza during the hotel's Donald Trump–owned, Home Alone 2: Lost in New York era. Maccioni had connected the chef with Ivana, a Le Cirque regular who demanded he start as culinary director the following day. The Trumps ran the place together while Donald courted tabloids to brag about his impending divorce. (As a stunt, he once posted a pair of armed guards outside Ivana's office to stop her from working.) Sailhac didn't seem to understand the Trumps: "They were very, very generous with me," he said later, "but it became very uncomfortable."
In the early '90s, Sailhac met Arlene Feltman at De Gustibus Cooking School. Lomonaco, who had taken over 21 as chef, said the couple would come in on date nights to order pasta and veal scallopine. "These weren't even on the menu," he says, "but they knew I would make anything for them." The pair soon married and traveled the world.
It was Dorothy Cann Hamilton who first convinced Sailhac to start teaching, in 1999, at the French Culinary Institute (which later became the International Culinary Center and eventually merged with the Institute of Culinary Education). At the FCI, Sailhac crossed paths with a surfeit of talent while they were students — Wylie Dufresne, David Chang, Christina Tosi, Dan Barber, Lee Anne Wong. He formed a French-chef supergroup with Jacques Torres, Jacques Pépin, and André Soltner, who came out of post-Lutèce retirement to teach.
"For me, he was like a brother," Soltner says of their 60-year friendship. "We became friends right away and stayed friends." The two would cook together both at the school and at their summer homes in France (Sailhac's in Menton, Soltner's in Cannes). The two cooked together so many times, Soltner says, that it would be impossible to single out any one meal as the most memorable. "We cooked our whole lives," he says. "Really, our whole lives."