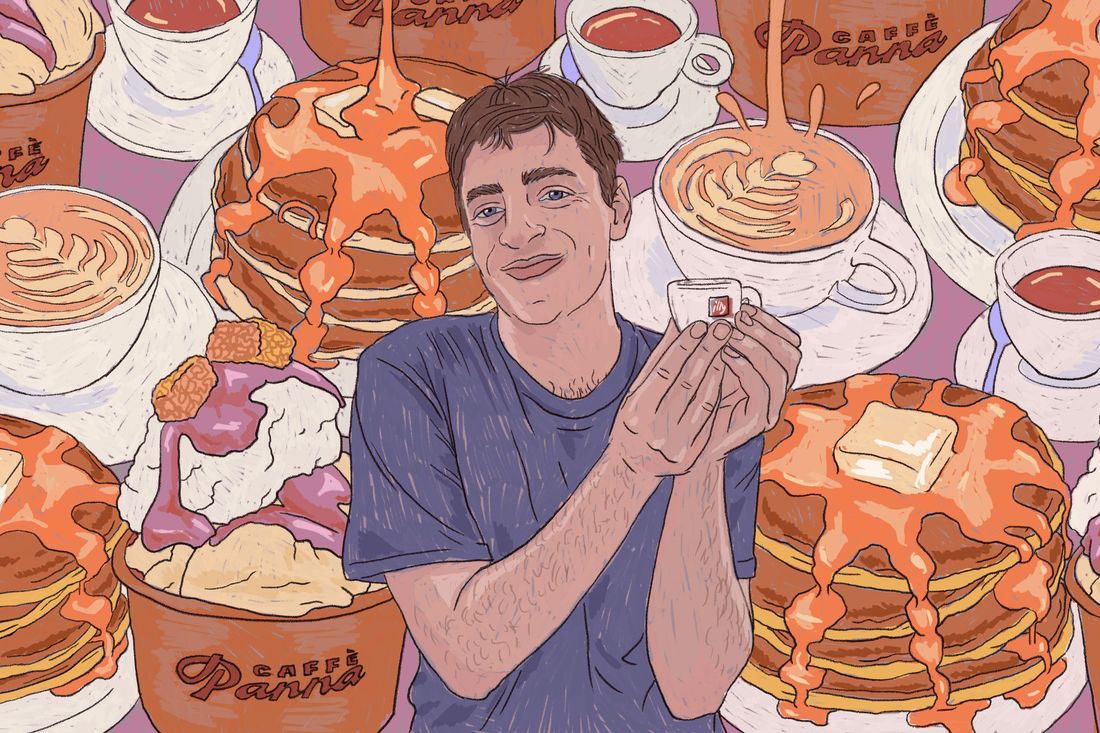 Illustration: Margalit Cutler
Alex Edelman needs to come clean. "Why am I writing my Grub Street Diet in June fully about a stretch of food that happened in April?" the comedian asks. It's for your entertainment, he explains: "A few weeks earlier, I'd finally caught the lung demon COVID, and post-pestilence, I was Floridian about my COVID safety — I was maskless, eating out, going to raves, inviting strangers to spit on me, and licking the floors on the subway." It was, in other words, a good week, and it was also the last leg of Edelman's Off Broadway show, Just for Us, at the SoHo Playhouse: "Whenever the end of a run is in sight, I white-knuckle my way through the final week." And don't worry if you missed it because the show returns this Monday, June 13, to the Greenwich House Theater, so you've got just about six more weeks to catch it.
Sunday, April 24
Breakfast. Sunday is my off day. We do at least two shows on Saturday, so I woke up, exhausted, around 9 a.m. The day before, my girlfriend, Hannah, had taken off for Los Angeles, so I was a bit of an Eeyore, really feeling her absence. If Hannah had been here, we'd have something healthy for breakfast, but given that I was alone, instead of having the most important meal of the day, I played video games on my phone, which is my worst habit.
I don't know if any of y'all are like this, but I eat most excitingly when friends are in town, and David and Sophie were here from the U.K., so there was good stuff about. They're not going to be spending their vacation at a Sweetgreen, are they? David knows what he's doing gastronomically, and we wound up at Quality Italian in midtown. The atmosphere was "Our lawyer and his wife love this place," but the food was indeed top-notch. The table ordered entirely too much stuff, and no one was sorry. There was a Caesar salad that transcends, some Broccolini, a chicken-Milanese pizza with honey, and a corn crème brûlée that gives your sorry tuchus the excuse to order a "side" that is essentially a dessert.
Dinner was with Benj. You know the folks in your life where if they invited you to hang out with them at the DMV, you'd do it? Benj is one of them. He could make a Siberian train station feel like your local coffee shop. He exudes friendliness. A bunch of friends were there, and afterward we wound up at Blue Ribbon Sushi in Columbus Circle. I'd never been there before. The sushi was delightful and simple — and expensive.
My little gripe with New York City sushi is that I can't seem to find many middle-class places. Do you want to pay $800 for an omakase that you might tell your grandkids about? Okay, here are a bunch of options. Oh, does that not work for you? Well, your alternative is a place that does all-you-can-eat sushi for $6. The only catch is that the sushi is bad and instead of toro, they use your childhood goldfish.
L.A. has a place called Fumi Sushi. It's a smidge expensive but not ruinously so, and it's filled with Persian Jews every time I go, which I love. I find that a lot of the places I identify as hidden gems in Los Angeles have previously been discovered by Persian Jews.
Please don't eviscerate me in the comments if I'm wrong about this sushi thing. I'm happy to be productively contradicted via a direct, in-person recommendation.
Monday, April 25
It was a show day, so I had a handful of dry Honey Nut Cheerios for breakfast. I really needed to settle on a breakfast ethic for the week. Without Hannah, I'm useless. I pulled it together enough to go to Hutch + Waldo for an espresso. I think a few years ago, the world decided that Australians were allowed to call themselves coffee experts because of the flat-white thing, and Hutch + Waldo — on the Upper East Side — really nailed it. I thought about a pastry and decided to keep myself hungry for …
… A late lunch. I met up with Rabbi Angela Buchdahl from Central Synagogue. She's one of my favorite New Yorkers, and I was more than happy to meander around where her shul is on 57th Street and kibitz, but it was that dead area where restaurants had stopped serving lunch and hadn't quite started serving dinner. We struck out at a few places before we wound up on 60th Street at a Greek restaurant called Avra that I'd never been to before. I had spanakopita, which was really nice and with a lovely texture.
After I did my show and wound down, it was 9 p.m. My energy to hang and eat had been sapped, and my appetite had been ruined by the YumEarth Fruit Chews that I snacked on preshow. Dinner was half of a matjes-herring sandwich from Sherry Herring in the dressing room of my theater. The midtown bougie-ness was but a memory.
Tuesday, April 26
I decided to rebound on the breakfast front. I cooked myself eggs and tossed in tomatoes and spinach I got from Fairway. I congratulated myself mid-prep for being so adult and responsible. The pan would sit in my sink, uncleaned, until the following afternoon. Leaving stuff in the sink? My worst habit.
I went downtown for some meeting and decided to wind up at a place called Golden Unicorn in Chinatown. Okay, so usually in my relationship, I'm the guy who sniffs out fun restaurants and adventurous hikes like a truffle pig and Hannah — who leads a busy life of her own — has to indulge her boyfriend and get dragged along, but my knowing about this great place is fully her doing. Her friends Bella and Sasha told her about it, and now I've been twice on my own. Golden Unicorn has been around since 1989, which makes it as old as I am, but it's much tastier. They serve dim sum to a mostly Cantonese crowd, and when Hannah was there last, she had a bunch of steamed buns that were literally decorated like piglets, and we both screeched when they arrived. On this day, my appetite was tiny, but I had vegetarian dim sum that I felt like I ate at the exact perfect time.
The show was at seven. A screenwriter I revere was in the audience, and I had a banana before to fill my stomach and myself. I also used this thing called a mechanized neti pot, which literally is something that plugs into your nose and rinses your sinuses. It's like being gently waterboarded, and I perversely love the sensation, which leaves a saline feeling in the back of your mouth. Also, it was our company manager Claudia's last day, and our producer, Lavoie, had bought Magnolia cupcakes. I had one, but just in solidarity. And a second, to lead by example.
Dinner. After the show, I went to Via Carota, which I'd been dying to try. My friends live down the street, and they put our names down while I was still onstage. By the time it was our turn, I'd showered and changed and I was on my way. We ordered a bunch of stuff and split it all, which is always the way. The star was the insalata verde and a running joke about octopus. In the middle of the week — if I can manage — a carb-y Italian dinner is what I have after shows.
Wednesday, April 27
Breakfast. Coffee. Then I had a meeting at a hotel near Central Park. I forgot I'd had a coffee, so before the meeting at Maman, I had coffee. Maman is a New York City chain that I didn't realize was a chain until it was far too late, and now I'm a fan. I Citi Biked across town for a meeting. I take a ton of Citi Bikes, and I find that I'm a riskier cyclist than you might figure me for. It's my worst habit.
For lunch, I met my friend Rabbi Iggy. Two rabbis in a week. My Orthodox ancestors would be proud — and maybe a bit shocked by the variety. Iggy's a rabbi with wonderful kids, an accomplished husband, and a sleeve full of tattoos. We've eaten at seven different places together — we keep track — and we've never had a bad meal. Our previous one, Hutong, was unforgettable because of an impressive duck and a server who was replaced halfway through the meal by someone who continuously trash-talked his predecessor.
On this day, we went to a place called Her Name Is Han, a small and delightful Koreatown spot. Iggy got budae jjigae, a spicy beef stew with three kinds of ham — the ancestors clutch their pearls — and I got a chicken bapsang, a soup boasting boiled chicken, chives, black sesame, and yuzu.
Yuzu is the new truffle. It's in fucking everything. I'm serious. We're a year away from yuzu in eggs.
For dessert, we tried for mint-chocolate-chip ice cream at the Odeon, but it was closed for filming. We settled on kouign-amanns at a bakery in an office building called Frenchette. It was my first time.
Dinner: Jill Kargman and her husband, Harry, two of the coolest and most wonderful people, were having their anniversary party late at night at Sadelle's. The invitation said to wear pajamas and that there would be breakfast for dinner. I arrived from my show not really wearing pajamas. Everyone else was. There was a lot of dancing, and I wouldn't have felt comfortable if I hadn't just had COVID, but because I was swimming with antibodies, I ate approximately 100 French-toast sticks and danced until I was blue in the face.
Thursday, April 28
This day was fully haimish. It's a lot of Jewish food.
First, Barney Greengrass. There are some great new Jewish delis in the city (Gertie in Williamsburg, I see you!), but I still love the sawdusty-floor vibes of Barney Greengrass. I love it. I love the hefty menu and the brusque waiters and the horrific lighting and the Jewish clientele and no music. I went with my buddies Sammy, Maude, Syd, and Romilly. Gary Greengrass — yes, relation — was on the phone when we went in. He's always on the phone.
I had latkes, a sandwich with sable, and eggs. I also had coffee. I never drank it, but early in the pandemic, Hannah got me hooked and then, mere weeks ago, discovered she was allergic. Now I'm the only coffee drinker in our house.
I'd like to be more supportive because there's been a spate of anti-Semitic violence directed against kosher restaurants. In 2021, someone threw a brick through the window of Pat's on Pico Boulevard, which was confusing because it could've been either disgusting anti-Semitism or someone who had recently eaten at Pat's.
In the midafternoon, I went to Chelsea Market and wound up at Miznon. I love Middle Eastern food, and Miznon is part of the constellation of Eyal Shani restaurants spreading across New York. They've got this cauliflower that they bill as world famous. I got it. I've never gotten elucidation on exactly how globally renowned it is — friends in Reykjavík tell me they have never heard of this specific dish — but it is brilliant. It's just sea salt and olive oil and cauliflower, and I had it in a pita.
I love Chelsea Market because you can sort of bounce around and try stuff. Dessert was vegan oat milk and tahini soft serve topped with crumbled halvah from Seed + Mill. It sort of fit in the profile of an Israeli lunch. I was positively thrilled. It's vegan! So it's healthy!
That night, I had a set at the Comedy Cellar. The Comedy Cellar is for sure my favorite club in New York City — maybe the planet? — and it's not just the crowds that pack into the lyric little bandboxes on Macdougal and 3rd but also the food and company. I got the wings, some tea, and watched two-thirds of the Charlie Chaplin movie they were showing on the wall of the café as Gary Gulman and Ryan Hamilton — two of my favorite comedians — kibitzed. Fuck, I love to kibitz.