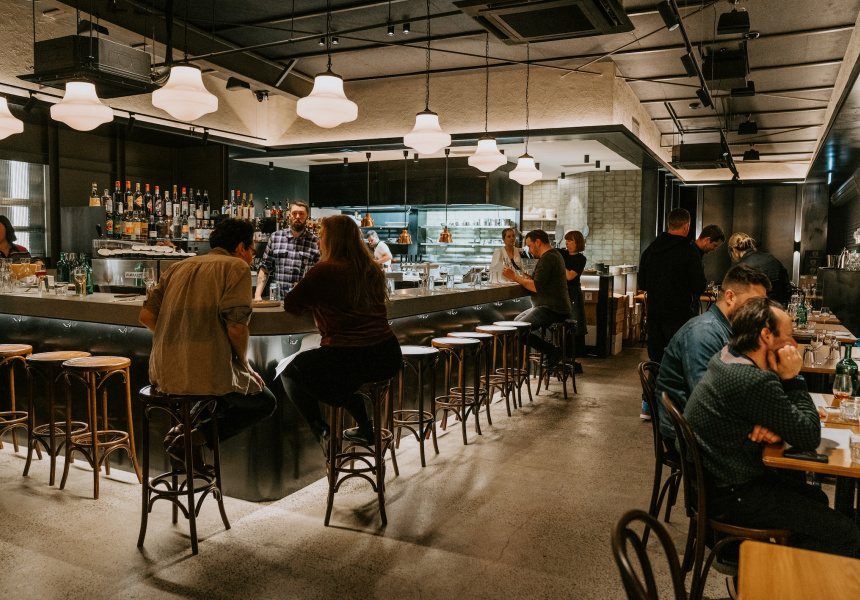 • First Look: The pizza is anything but standard at Figlia, the third restaurant from Tipo 00 and Osteria Ilaria. Sit at the big bar and snack on duck mortadella and barbeque king prawns, or book a table and share pizzas topped with Moreton Bay bugs, fermented cabbage and other left-of-centre ingredients.
• Could Lorne's Little Picket, by pioneering chef Jo Barrett, be Australia's most remarkable bowlo restaurant? Formerly of the Yarra Valley's Oakridge and Melbourne's zero-waste Future Food System, Barrett has struck out on her own, taking over a nostalgic diner on the Great Ocean Road and keeping the local community at its core. Plus, there's a market garden in the making. Expect dim sims with house-made chilli oil and a by-the-slice dessert buffet.
• We've lost Anchovy (for now) but gained Jeow, a new Laotian restaurant that really brings the heat. Thi Le and Jia-Yen Lee want to ditch the formality and blanket your table in a family-style feast – "as if you were eating at Mum's". Think punchy larb, whole grilled spatchcock and durian-and-white-choc Swiss rolls.
Broadsheet Access members get special tables at busy restaurants, tickets to exclusive events and discounts on food, coffee, brand offers and more.
• First Look: Hidden in a heritage Melbourne hotel is a tiny gluten-free bakery that deserves big Kudo(s). By ex-Sunda pastry chef Felix Goodwin and his wife Elena Nguyen, Kudo is serving all sorts of coeliac-friendly creations – like baguettes, cakes and cookies, and chewy, custardy canelés in left-of-centre flavours.
• The March of Ides: a frontrunner in Melbourne's fine-dining scene opens a sexy 26-seat bar on Smith Street. It's a chance for chef and owner Peter Gunn to serve dishes that don't fit the brief for his acclaimed Collingwood restaurant – and for you to try them without a hefty degustation price tag (in the space next door).
• First Look: Mega Moonee Ponds cafe Convoy is primed to become a neighbourhood favourite. Right across from Queens Park, the Terror Twilight and Tinker team is going beyond the rudimentary with its brekkie offering – expect cinnamon-scroll pancakes and curried-scrambled-egg muffins.
• It's just off Swanston Street, but Leonie Upstairs – Carlton's new sake and sushi sanctuary – feels a world away. It might take you a minute to find the door, hidden inside Hareruya Pantry. But up the discreet staircase lies a beautifully minimalist bar with expertly crafted (and DIY) temaki rolls, and a 50-strong sake list.
• First Look: The Mile End empire expands as its supreme Montreal-style bagels arrive in Richmond. It's the brand's third (but certainly not final) location. "We're really only just beginning." Go for woodfired bagels schmeared to within an inch of their lives and filled to the brim with all sorts of deliciousness.
• A North Melbourne icon has a fresh look: Bobbie Peels now offers vintage wines and hand-rolled pasta. "We tried to leave a little nod to all its previous iterations and reflect where North Melbourne has come now," says co-owner Phil Gijsbers. "The pub has been awesome for so long. We thought we'd bring it up to speed."
• First Look: Scale the spiral staircase to Harvie's svelte rooftop bar – in an art deco Armadale gem. Check the website for the next sunset time, then secure a spot to soak up golden hour and wrap your hands around an overflowing lobster-and-prawn roll. It's in a historic former dairy on Wattletree Road.
• More seats, and more warmth, at the new-look (and newly expanded) Albert's in Armadale. The buzzy wine bar has doubled its footprint, with more indoor dining and a beautiful new bar. And with a new chef, the menu will look different every month or so – just like the wine list.
• The queue speaks for itself at the Japanese-inspired Kōri, Hawthorn's new coral-coloured ice-creamery. In short, it's bang-on. An ex-Coda chef is serving 24 flavours – eight of them vegan – that really run the gamut. There's tart fuji apple, creamy matcha pistachio and interesting savoury options like nori and sweet potato.
• Now open in Collingwood: cult bakery Tarts Anon finds an unlikely second home in a cycling-apparel store. They may seem like strange bedfellows, but co-owner Gareth Whitton – Dinner by Heston's former head pastry chef – is an avid cyclist. "It was a far-fetched concept until it wasn't."
• Now open: three hospo talents – from Lume, Black Pearl and Bondi's Rocker – bring Mediterranean vibes to St Kilda. Inspired by European coastal dining, with a native Australian twist, Loti is a nod to the building's history as the former St Moritz ice-skating rink. Come for butter-poached scampi tail, red emperor cured in desert lime, or barbequed ribs with old man saltbush.
• First Look: She's beauty, she's Gracie – introducing Hardware Lane's new 14-seat sake and wine bar. It's a snug, shadowy space where you'll also find fried-fish sandos and gingery dumplings.
• There's house-made mortadella and Wagyu bolognaise at Abbiocco's second pasta palace, in St Kilda. The swish Italian restaurant has gained so much traction since it opened in Highett that the team has replicated the concept in a moody space on Barkly Street. Now, they "essentially bookend the bayside area".
• A self-effacing shed bakery among the gum trees is churning out some of Victoria's best sourdough. Including loaves, danishes and croissants that take five days to make. Since opening this dedicated spot in mid-2020, the team behind Ket Baker has been making waves – and pulling crowds – on the Bellarine Peninsula.
• First Look: A Cambodian sibling duo brings real-deal family recipes to a snug eatery in Melbourne's CBD. At Cambodia's Kitchen, Ivanra and Linna Hun want to help us get better acquainted with dishes from their homeland – like deep-fried chive cakes, stir-fried "pin" noodles and a fragrant rice-noodle soup.
• First Look: Slim's, a retro, rowdy Italo-American pizza parlour by the Wowee Zowee and Loosie's team. With super cheesy pizzas, smashable "Nonna Italian Pilsners" and plenty of '70s style.
• Neon neighbourhood pub The Gertrude Hotel, by Fitzroy royalty Tracey Lester, is a living artwork for the publican. There's movie-theatre carpet, triangular chandeliers and walls covered in 1800 hand-blown glass domes.
• Big burger news: legendary US chain Five Guys has opened its first Melbourne store. Look for the diner's signature red-and-white subway tiles.
• A lofty 600-square-metre North Melbourne warehouse is reborn as new multicultural food hall Ezistreat. Among the warren-like "laneways", find a Japanese convenience store with bento boxes, a Korean street food joint, a Turkish-inspired stall specialising in stuffed mussels, and a whole lot more. It opens this Saturday.