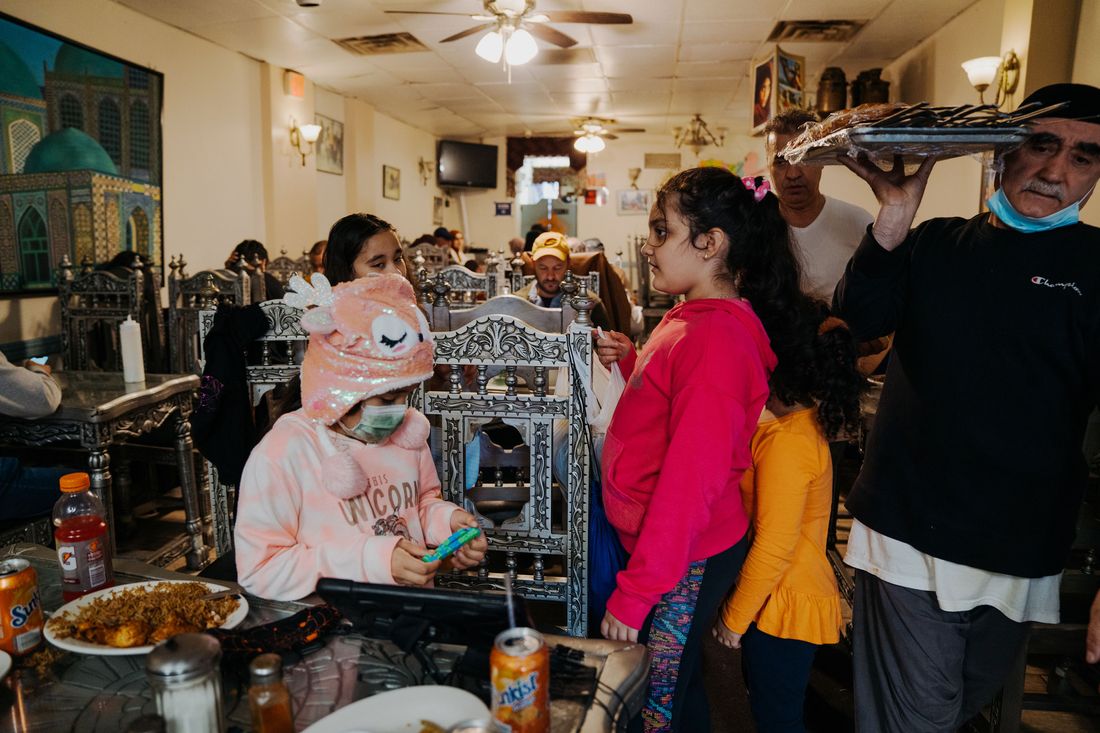 Mohammad Nasim and Abdul Jabeer opened Balkh Shish Kabab House in 1997. Now their daughters, pictured, are frequent visitors.
Photo: Janice Chung
On a brisk day in late October, Mohammad Nasim and Abdul Jabeer are inside their Astoria restaurant, Balkh Shish Kabab House, chatting with customers and switching from Farsi to Pashto in conversation as many Afghan people do. Nasim shakes hands ("Brother!" he inevitably says as he greets people), while Jabeer, playing recitations of the Quran on his phone's speaker, checks on the kebabs that sizzle on the grill, an impressive redbrick structure. "We cook our own, me and my partner," Nasim says. "It's not like we have to hire another chef — we can jump to the kitchen or the front grill."
Balkh Shish Kabab House has been open since 1997 and is more or less the same now as it was then. New York's restaurant industry is filled with stories of fractious relationships, bruised egos, and real-estate deals gone bad. But Nasim and Jabeer, who met in New York after separately emigrating from Afghanistan, offer a counternarrative: a solid business relationship that has lasted more than two decades, a testament to their mutual love of the food they grew up eating, and a desire to share it with as many people as possible. They also hope that, during a time of unrest and upheaval in their home country, their restaurant can be a gathering place for other Afghan immigrants — the estimated 10,000 who live in New York as well as the hundreds of refugees expected to settle in the city before the end of the year.
The thing to eat at Balkh has also been the same since 1997: kabli palow, a traditional dish of basmati rice baked with cumin seeds, carrots, and raisins before it's topped with a massive slow-cooked lamb shank. It's Nasim's favorite dish, one he remembers watching his mother prepare at home, where he first learned to cook for himself. "Afghans, all the time, three times a day, they cook at home," he says. "We were always around family and seeing them, watching them, how they cut the onion, how they cook."
Before moving to a Brooklyn apartment with his cousins in 1990 when he was a teen, Nasim lived in Kunduz, a city tucked into the slope of the Khanabad River valley in northern Afghanistan. "It was difficult, being a teenager and moving from a country which is very tiny, very quiet, and very dangerous," he concedes. In New York, he found a job working the night shift at a fried-chicken spot, as much an introduction to the restaurant world as it was to life in this city. "Thank God, you know, I learned how to support myself, and I learned how to survive," he says.
At the same time, Jabeer moved to New York from Balkh — the namesake of the duo's future restaurant — a city near the Afghan border with Uzbekistan, about 100 miles west of Kunduz. Eventually, he landed in the kitchen at Speengar Shish Kebab House in Woodside, a since-closed Afghan restaurant that had become one of Nasim's regular haunts after he began making the trek from Brooklyn to Queens for the Afghan restaurants that were sprouting up in the area. In Balkh, Jabeer had been a street vendor known for his manto, steamed beef-and-onion–filled dumplings topped with sauces of tomato, yogurt, and garlic.
"There's something special about the way he cooks," says Maria Cevallos, a regular at Balkh Shish Kabab House who has known Jabeer since 1993, almost as long as Nasim has. Cevallos met Jabeer when — as a recent immigrant herself, from Ecuador — she was working at Speengar as a waitress.
Nasim stopped working at the chicken restaurant, tired of the rowdy nighttime crowds, and moved from Brooklyn to Queens to be closer to the cooking he missed. Eventually, he and Jabeer met and began to talk about starting a restaurant together, something for families, where the pair could showcase the food they grew up on.
Their menu includes dishes like tandoori chicken, tikka kababs, and steamed dumplings, all of which are served with a deeply enjoyable yogurt-garlic sauce. "We weren't intending for just the Afghans to come," Nasim says. "The majority of customers we have are Greek, which is similar to our food."
The dishes at Balkh are a testament to the range of influences in Afghan cooking; the country was a midpoint on the Silk Road trade route, and through centuries of cross-cultural dissemination, Afghans adapted their favorite traditional foods and made something new. Nasim says he and Jabeer could take a chance on a business here because, "we were young — we didn't have that much responsibility." (Now he often serves lunch to his own kids in the restaurant while they watch TikToks on their phones.)
When they opened, Jabeer taught Nasim all of his recipes — a special marinade, the secrets to his famous manto — and nearly a quarter-century later, their particular take on Afghan cuisine is as much a part of Astoria as any of the Greek tavernas for which the neighborhood is largely known. The community that earlier Afghan immigrants created in Queens has provided a cushion for Nasim and Jabeer, and they know their restaurant and others will be able to do the same for anyone settling in the city now.