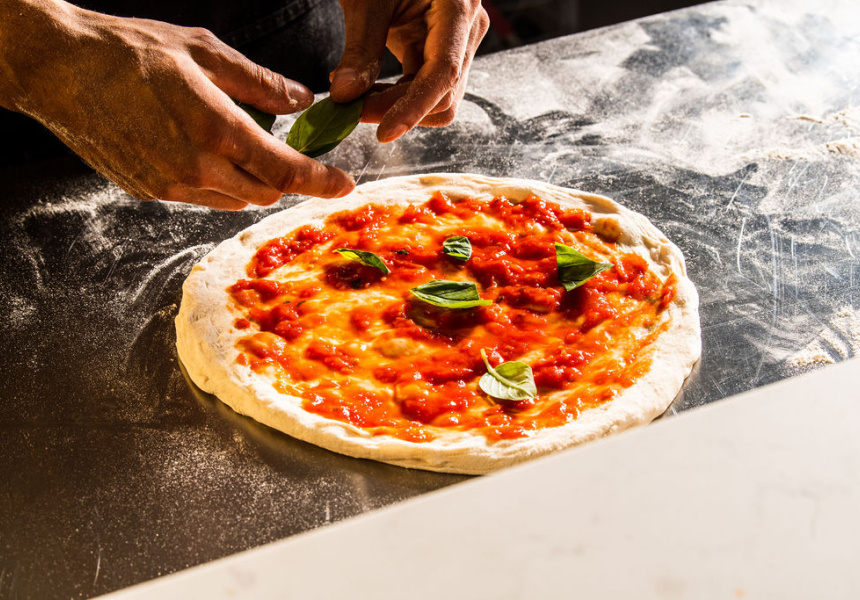 Around six years ago, a Colombian, Brazilian and Sicilian met through their work at Teneriffe Italian institution, Beccofino. The trio – Mauricio Zarate, Pedro Sanson and Stefano Spataro – formed a solid friendship that's culminated in Elementi, a new Italian restaurant that opened in Paddington last month. It's currently takeaway-only while they wait for their liquor license.
"We're all good friends and go on holidays together," says Zarate, who's also spent time working front-of-house at Maeve Wine Bar and Julius Pizzeria. "At one point we thought, 'Why don't we [open a restaurant together]?'"
Between them, Zarate, ex-Julius Pizzeria sous chef Sanson, and ex-Beccofino pizza chef Spataro make a well-rounded team. Earlier in the year, the trio came across a space on Given Terrace, formerly Arrosto, which was already fitted with a Marra Forni woodfired pizza oven and a beautiful exposed brick fit-out.
"We walked in and even though it was in the middle of coronavirus, we couldn't let the opportunity pass," Zarate says. "We enclosed the pizza area, built a long bar, and gave it the feel that it's a restaurant but you can also [sit up] at the bar if you want."
Spataro handles the pizza menu, which is divided into classic rossa options – including the Salsiccia (scamorza cheese, pork sausage and onion) and Marina (mozzarella, white anchovies, artichokes and watercress) – while the pizza bianca get a little more creative, with choices such as the Trevisana (mozzarella, gorgonzola, radicchio, cherry tomatoes, walnuts and ham) and the Piemontese (mushroom puree, mushrooms, buffalo mozzarella and artichokes). Sfizio (which translates to "whim" or "fancy") options include a calzone; a panini stuffed with fresh tomato, truffle stracciatella and basil; and Baciata (a crisp pizza sandwich filled with buffalo mozzarella, mortadella, pistachio and lemon).
Sanson is responsible for the rest. His menu includes pea and fontina cheese arancini; fried stuffed olives; and a trio of pastas, including artichoke, potato and sweet onion filled ravioli, and linguini with tiger prawns, garlic, chilli and bottarga. Eventually, Sanson will add more dishes such as a raw fish crudo with Brazilian peppers and a cut of the day with potato puree, crème fraîche and sautéed broccolini.
Once their liquor license comes through, Zarate's wine list will include a solid selection of Italian wines but also venture into lesser known varietals and wines from South America, Turkey and Slovenia. Expect drops such as Crémant du Jura (a French sparkling wine made from a blend of poulsard, trousseau, savagnin, chardonnay, and pinot noir), a pét-nat made with pecorino (the grape, not the cheese), and a skin-contact grechetto.
Elementi

257 Given Terrace, Paddington

3217 5667

Hours:

Mon, Wed & Thu 4.30pm–9pm

Fri 4.30–10pm

Sat 12pm–3.30pm & 4.30pm–10pm

Sun 12pm–3.30pm & 4.30pm–9pm