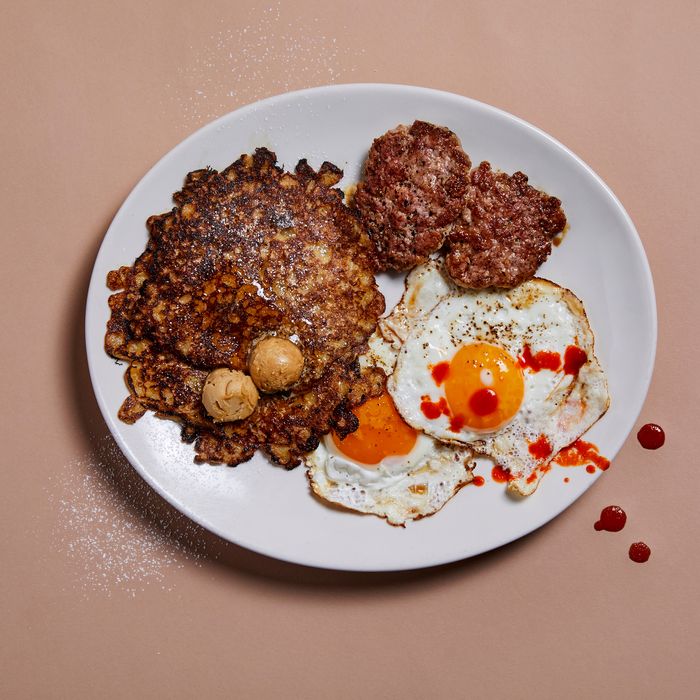 Breakfast by Salt Cure's Classic Platter: eggs, griddle cakes, and housemade sausage.
Photo: Andrea D'Agosto
Some chefs spend years perfecting a dish, but Chris Phelps, the 41-year-old owner of Breakfast by Salt's Cure, has been working on his signature oatmeal griddle cakes his entire life. Apparently Phelps, who opened a West Village outpost of his three-branch Los Angeles enterprise in September, started cooking before he turned 2. Eager to discover how one goes from learning to eat solid food as a baby to cooking it as a toddler, the Underground Gourmet contacted the chef at his restaurant. But because early memories are often unreliable and Phelps's recollection of his days as an infant sous-chef is fuzzy, he put us in touch with someone with all the facts at her fingertips: his mom, Kathleen Alexander, whom we reached in Baltimore by phone the other day. "Chris was in the kitchen at 18 months helping me make the oatmeal-pancake mix," she confirmed. "I saw the recipe in a magazine at my doctor's office when we lived in Johnstown, Pennsylvania, where Chris was born. I was always into nutrition—pickling, canning, making everything from scratch," she said. "As a single mother, this just seemed like something that would work for me and get some oats in the kids."
The recipe made such an impact on the family that one day a then-4-year-old Chris—who, by this time, must have considered himself a seasoned veteran—woke up early and surprised his mother with a lavish oatmeal-griddle-cake breakfast in bed that included orange juice and hot tea with milk and sugar. What surprised Alexander even more than the fact that the kitchen was not on fire was the quality of the pancakes. "They were perfect," she says. After that, wherever Phelps went, so did the pancakes. When he left home for college, Mom sent him off with a year's supply of the mix. When he began cooking in fancy restaurants, he'd sneak his oatmeal griddle cakes onto the menu as a special alongside, say, duck confit and blackberry compote. And when he opened his own restaurant, Salt's Cure, in 2011, he naturally served the griddle cakes for brunch. A week after the opening, the Los Angeles Times critic S. Irene Virbila named Salt's Cure one of the seven best brunch spots in town. That encomium helped inspire two Los Angeles spinoffs Phelps named Breakfast by Salt's Cure ("Breakfast" for short) and now the new West Village location where the U.G. went recently to give these highly ranked hotcakes a test drive.
The first thing we noticed is that oatmeal griddle cakes don't look like regular pancakes, which is to say they won't win any beauty contests. They're thin not fluffy, full of webby holes, practically burnt in parts. Some breakfast aficionados believe that the first pancake of any given batch is doomed to failure and should be summarily tossed into the trash, and the thing about oatmeal griddle cakes is that every one of them looks like the first one. But looks aren't everything. Taste is another matter, and these pancakes are delicious — crisp-edged, rich and creamy, not too sweet. Brutti ma buoni ("ugly but good") is the Italian phrase (and the name of the cookie) that springs to mind when you ruminate on Chris Phelps's oatmeal griddle cakes.
They come in five flavors, each with its own custom adornment: a crunchy flax crumble on the blueberry, coconut flakes and walnuts on the banana, and so on. One thing you won't find anywhere near a Breakfast griddle cake, though, is maple syrup, a brand-defining quirk that Phelps gets away with by sweetening the batter (and the butter). The pancakes are even better on a platter alongside eggs (nicely fried or scrambled) and the housemade sausage of your choice (the chickpea, which Phelps describes as "breakfast-sausage-flavored falafel," is surprisingly tasty). You could visit Breakfast and have an entirely pleasurable pancakeless experience. There are good things to eat here besides the signature dish, including a runny-egg-and-sausage sandwich and a double smash-burger made with grass-fed local beef, both served on Bien Cuit buns. There is allegedly a salad, though we never saw anyone eating it. But oatmeal griddle cakes are the thing, and not ordering a stack is like bringing a vegan to Peter Luger.
With its casual counter service and relatively affordable prices ($3 to $15), Breakfast by Salt's Cure has the unfussy look of a country kitchen and the soul of a diner. It's a formula that has real potential in a town with few options between greasy spoon and glitzy brunch joint, and Phelps is already scouting future locations. He has relocated to Brooklyn to plot local expansion and has identified a "pancake-size hole" in his Park Slope neighborhood. Mom must be proud.
27½ Morton St., at Seventh Ave. S.; no phone; breakfastbysaltscure.com