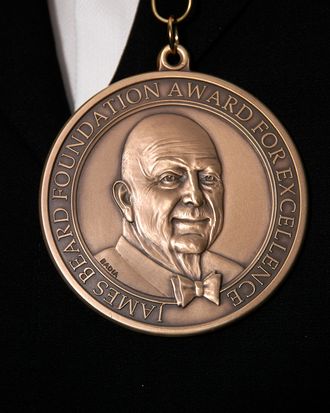 Photo: Victor Spinelli/WireImage
As the James Beard Foundation ramps up for its annual awards celebration, a new dispute has arisen regarding a nominee. On Friday, AL.com reported that Alabama chef Timothy Hontzas, a finalist for the Best Chef: South category, was disqualified from this year's awards for violating the organization's new ethics rules. In the ensuing fallout, at least one JBFA plaque was smashed and accusations of le wokisme have been made. Others have supported the James Beard Foundation's moves, saying it is a necessary change. Here's how it all breaks down:
Who is Timothy Hontzas?
Hontzas is owner of Johnny's Restaurant in Homewood, Alabama, which the Southern Foodways Alliance has described as a "Greek and Three." It's a place that both celebrates National Baklava Day — the ancient Greek holiday — and serves southern dishes like Creole red beans. It has been widely covered by the southern press, including Garden & Gun, and featured in the show TrueSouth, hosted by SFA director John T. Edge.
What's the issue?
According to the Washington Post, the James Beard Foundation's ethics committee received a complaint about Hontzas shortly after his nomination was announced. (He had been nominated for the same award once before — last year.) Hontzas tells AL.com that he spoke with an independent investigator in early April, and he was asked "about yelling at an employee … and about yelling (at customers) about shutting the front door."
According to Hontzas, one complaint against him originated with comments made by his friend and mentor John Currence. In a 2022 profile of Hontzas published by AL.com, Currence commented on Johnny's receiving a semifinalist nod for Outstanding Hospitality, recalling times when Hontzas had yelled at customers. Speaking with AL.com last week, Currence said the comments were not meant to be taken seriously. On his Instagram, Currence described Hontzas as "a high-strung, Greek, tornado of passion … Can you expect to hear his booming voice whenever you go into Johnny's to eat? Absolutely fucking YES."
Hontzas is defending himself.
When asked about yelling at an employee who hadn't kept the ice machine full, Hontzas tells AL.com that he "started laughing." He cited employees who had worked for him for years, asking, "It doesn't sound like too awful of a place to work, does it?" He argues to the Post that one accusation, in which it's alleged that an argument with an employee became physical, gets it backward: It was actually one of his employee who "flipped out" on Hontzas. (That employee, he says, continued to work at Johnny's for a year after the incident.)
How are other chefs reacting? 
Currence, one of the South's better-known chefs, rushed to Hontzas's defense both in interviews and on social media. Speaking with AL.com, he called the James Beard Foundation "spineless" and "cowards." On Instagram, he has posted about Hontzas three times — including a photo of his own JBFA smashed by a bric, writing in the caption that "it is way past time to stop this cycle of insane blame and shame through arbitrary accusations and NOTHING approaching due-process." Cole Wagoner, a private chef, commented, "I have no idea what happened but this reads like an unhinged MAGA rant so…wtf?" Another commenter sarcastically described the brick as "a healthy and normal and well-adjusted response."
Snackbar chef Vishwesh Bhatt posted that he had taken down his Best Chef: South medal from the restaurant's wall. Commenting on Bhatt's post, writer Wright Thompson wrote that "it's pretty clear that it was enemies using the Beard Awards naive policy to settle old scores," while Kathleen Purvis, a Charlotte-based food writer, added that she feels "the foundation has lost its way."
The organization's handling of the investigation has caused its own problems.
It seems that the foundation didn't bother to give everybody a head's up on recent developments. Journalist Todd Price, the only Southerner on the Restaurant and Chef Committee, tells the Post that he heard about Hontzas's disqualification after the news broke, and the James Beard Foundation didn't tell him about the investigation.
Food journalist Hanna Raskin revealed in her newsletter, The Food Section, that Price quit the foundation over the absence of communication — with another committee member saying they've been kept in the dark and "leadership has given us almost nothing."
Bhatt resigned from his position as a judge, Raskin reports, calling the lack of communication "disrespectful." His criticisms offer a broader critique of the James Beard Foundation's recent efforts to diversify its awards and, some would argue, burnish its image. On Instagram and in his resignation letter, Bhatt wrote that he feels the foundation only sees him "as a person of color that fills their new diversity and inclusion initiative and has no use for or trust in my ability to contribute or my ideas."
The foundation's past makes this more than an isolated event.
It doesn't help that the James Beard Foundation has a history of controversy, as rumors and gripes continue to swirl about the awards. In 2004, seven of 18 judges resigned after a financial scandal involving its former board president, Leonard F. Pickell Jr. This came after the foundation admitted that, after raising $4.7 million in 2003, it had spent only $29,000 on scholarships.
In 2020, the foundation canceled its awards, reportedly because there was not a single Black winner. (This caused drama and fallout of its own among discontented nominees and others. Again, some said it was a necessary decision.) An audit was conducted in 2021, and the awards returned in 2022 with stipulations including the code of ethics that Hontzas allegedly violated.