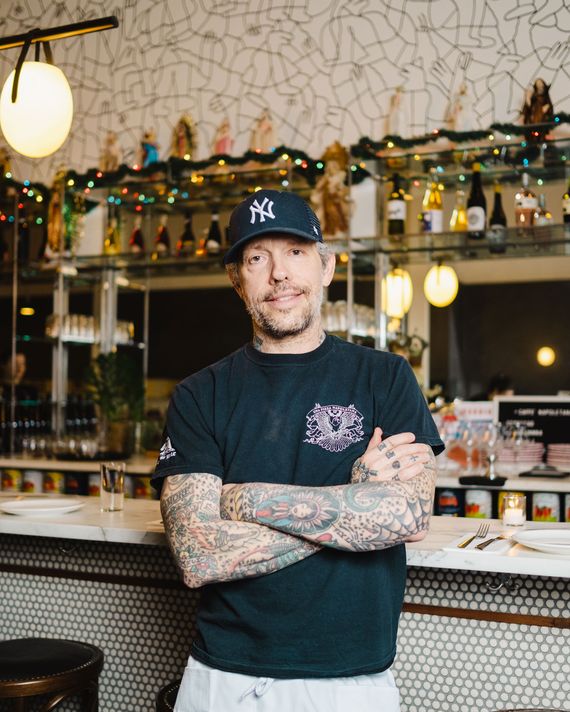 Anthony Mangieri has reopened his acclaimed pizzeria, Una Pizza Napoletana, on Orchard Street.
Photo: Lanna Apisukh
In a profession filled with slightly off-kilter perfectionists, few cooks have built a reputation for single-minded obsession and devotion to craft like New York City's (and New Jersey's) great pizza master, Anthony Mangieri. He opened his first bakery at the age of 20, and helped usher in the great Neapolitan pie craze with the opening of his first East Village version of Una Pizza Napoletana way back in 2004. He spent seven years honing his craft on the West Coast in San Francisco before opening another version of Una several years back, down on Orchard Street. That restaurant closed during COVID, but now it's open again with a slightly new look and the same roster of puffy-edged marinaras, margheritas, and pizza biancas. Mangieri took a break from his routine — which begins, usually with dough-making, at 8 a.m. — to chat with Adam Platt about the roots of his grand pizza obsession, his favorite classic pies, and the perils of chasing perfection.
Would it be fair to describe you, as some have done over the years, as a "maniacal perfectionist"?
I tend to lean towards doing things the hard way, it's true. My parents took me to Naples when I was 15. I was just a kid, but after that I sort of became obsessed. There was no internet, so back in Jersey I went to the library. I read all the baking books I could find. I decided I was going to make pizza the way they'd been doing it in Naples for 100 years — no yeast, no refrigeration, cooking with straight wood, mixing everything by hand. I did that for ten years after I opened my first bakery, but I use a machine mixer now.
Who were your New York City pizza gods growing up?
Even before Naples, I would go to all the famous OG spots around the city. I used to love John's, on Bleecker. I loved the original Grimaldi's where they put fresh basil on their pies after they came out of the charcoal oven. I loved Lombardi's. I loved Patsy's up in Harlem with the famous picture of Sinatra on the wall. They were all different. At one place, the crust was thinner and more charred, at another it was salty, at another it was softer and wetter. I was nuts for them all. For a shy kid from Jersey, they just exuded the mystique of it all and the magic of the city.
Which place had the most magic?
Totonno's out in Coney Island was the place I was most nuts for. You could argue that their pizza was the most Neapolitan in style, but I always felt when I was visiting there that you were entering somebody's home. It was a mom-and-pop business, and they were horrible at customer service. So you'd just wander in, and if you went towards the back, by the oven, you were almost in their actual home, and I used to wander by, this shy obsessed kid, and I'd wonder, "What's going on back there?" "Where do you get your tomatoes?" I'd do anything to know, but you'd never dare ask. It wasn't like today where you're sort of obligated to be an open book to everyone who walks in the door.
So let's talk about today. These kinds of mom-and-pop operations have been under threat for years because of the crazy rents, among other things, and then COVID came along and wiped many of them out. Is there room anymore for dreamers and obsessives, operating on a modest scale like yours, especially in the Manhattan dining world, which is increasingly dominated by real-estate money and franchises?
It's a good question. After all that's happened, are there still people who are going to take chances, who are going to say, "I'm going to follow my dreams and put my life into this and pray for the best"? For me, opening Una again on Orchard Street, the answer is obviously yes. For a lot of smaller business people who've been at it for a long time like I have, it's always been tough. I've been in and out of business so many times over the last 25 years that in some ways, COVID has been just another thing to overcome. It's been the biggest and worst thing, no doubt, but my mentality was, We're going to have to figure this out. We're going to have to stay focused, stay healthy, and stay strong, and we're going to have to try to be grateful. Most of us are living great lives if you stop and think about it, although it's sometimes hard to see that when you're wrapped up in your own head.
You ran a successful operation out in Jersey during COVID, but you've closed that down to return to Orchard Street. Has the neighborhood changed in your absence?
The city is getting busy again, especially with the warmer weather, and since we've opened, Una has been crazy busy, so like most people in the business, I'm as optimistic as I can be and hoping for the best. But to be honest, down where I am on the Lower East Side, the neighborhood feels a little busted up right now. There are empty spaces on the block. People are selling drugs down here again. It feels like things have slid a little backwards towards the 1980s when I used to go to CBGB and there were heroin dens in the back of the bodegas. If the rents were the same as back in the '80s, it wouldn't be so bad, but the rents are still insane.
So what's the key to a perfect pizza?
It's the dough, of course. Making the dough and baking the dough, that's the endless nightmare. I've been trying to master the process for decades and get to a point where I cross the finish line to perfection, but now I realize I'll never get there. I get up every morning to make the dough, starting at around seven or eight, and when I go to sleep at 2 a.m., I'm usually still thinking about it. I could talk about pizza dough for seven or eight hours straight probably, much to the general disgruntlement of the people around me, including my daughter.
Why after all these years is dough still such a fascination?
It's still hard for me to say. The hardest part is getting it consistent, which sort of never happens because it's a little different every time you make it, and you're making it every day, and the way you make it changes over time, sometimes in ways you don't quite understand. Then, like anything, you develop your own style. I had a fellow come in the other night, a pizza-maker who was one of the guys originally behind Roberta's, and he was like, "Dude, your dough is so puffy, I don't know how you're cooking it, it's solid, but also light and it's not burning on the top." Me and him are probably the only two people in the room who get any of this, or care, but I'm in it right then at the moment just trying to do it. I don't know if I answered his question in a coherent way.
I suppose we've entered the mysterious, imponderable realm of creativity and art.
I've always thought of myself as a blue-collar, manual-labor kind of guy, and what I make happens to be pizza. I'm just trying to learn the craft and do the best job I can. If I were an auto mechanic, I'm not saying your tires wouldn't fall off while you're flying down the parkway, but I'm just going to try to make sure that doesn't happen by doing the best that I can at my job. When I started out, I had no employees and you just came up to the counter, and you ordered your pie and I made it, but over the years I've had to learn how to run a restaurant, which requires other skills that I'm trying to master and get better at. But at the end of the day, I'm a pizza-maker, and I'm just here making my pizza.
If Anthony Mangieri had one last slice of pizza pie to eat on earth, what kind of pizza would it be?
It would probably be the simple cosacca, one of the oldest original pizzas of Naples. It's basically dough, toasted and puffy around the edges, more tomato sauce than normal, sea salt, fresh basil, and then, as it comes out of the oven, a light sprinkling of Pecorino Romano. It's one of the pizzas that I've always loved. It's very pure and very simple, and also complex because of the dough, but to me it has all of the basic elements: the warm dough, the tomatoes, the bite of cheese, the basil. It tastes like the kind of food that you'd feed to a child. It's super-old, super-simple. Maybe that's what people want right now. We put it on the menu at the new restaurant and it's just been flying out the door.
This interview has been edited and condensed for length and clarity.