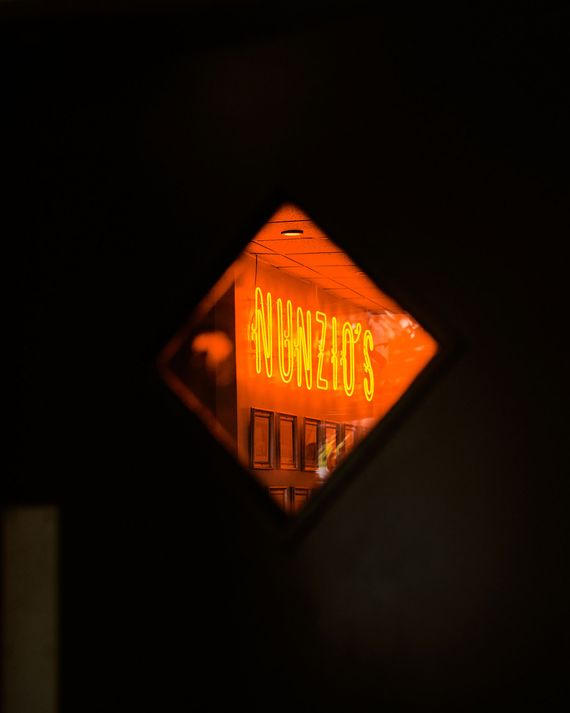 The neon is as good as the pizza.
Photo: Christian Rodriguez
Nunzio's is not the best-known pizzeria in Staten Island. That's probably Joe & Pat's or Lee's Tavern, the famous bar-pie spot. Denino's is a destination for its clam pizza. There's also the local chain Goodfella's, and Campania got a boost in the news when Kim Kardashian stopped by last year. But the thing about Staten Island is that even its fifth- or sixth-most-famous pizzeria has a history that would make it an icon anywhere else. Nunzio's has been around for 80 years but — you already know where this is going — is now set to close by the end of the week.
The pizzeria itself is nondescript, a blocky building on a stretch of Hylan Boulevard. Inside, the counter looks like that of any other pizzeria, this one decorated with historic photos of Staten Island, and the dining room has, as is practically required of Italian restaurants in the borough, a signed photo of Sopranos cast members. (Nunzio's features one of Michael Imperioli, Tony Sirico, and Vincent Pastore.) A neon Nunzio's sign glows on one wall, and a painting of owner Robert Whiteaker slicing pizza hangs above a fireplace.
The closing has been rumored since the spring. Fans might have been hopeful that someone else would take over the place — a family friend, say, or longtime customer — and keep Nunzio's alive, but that's not the case. After making it over hurdles like the damage done by Hurricane Sandy a decade ago and the early wave of the COVID pandemic, Whiteaker confirmed to Staten Island Live that he has sold the building.
"As soon as we run out of dough, we're closing," said Madison Hurtado, a member of the family, referring to the literal mixture of flour and water, not necessarily cash. "We're praying that we're open until Friday, that supplies last that long."
I took a trip over on the ferry as soon as I saw the news, and I wasn't the only customer stopping in to say my good-byes. "We're really backed up," an employee said when I tried to order a slice. Fair enough — a whole pie, then! A TV was tuned to a replay of Sunday's Braves-Mets game.
The pizza didn't take too long to arrive, and when it did, it was exactly as I remembered: the dough crackerlike but not as thin as other places around the borough, the sauce sweet, the pepperoni flat (no 'roni cups here). The cheese is plopped onto the pie in islands.
"We came here to pick up our last pies," said longtime customer Melanie Langworthy, who had just left the pizzeria with her fiancé, Steve Higgins. They were each carrying two pies. "I've been coming here for decades. We used to celebrate all of our family occasions in the back room." Langworthy was upset that the location is slated to become a cabinet showroom after Nunzio's closes. "We don't need another cabinet showroom," she lamented. "I guess you could make the argument that there's enough pizza on Staten Island — but a place like this, a cabinet store? It makes me sick."
Higgins, who described himself as a "Lee's guy" and said Langworthy introduced him to Nunzio's, agreed: "In Staten Island, it's either that or a gas station or a bank."
Inside, an older man shared that he'd heard about the closing on the radio, while a former employee scarfed down a few slices by the counter and chatted with the guys working the ovens. After receiving his order, another customer said his own farewell. "Have a good one, buddy. Where are you gonna wind up?" he asked an employee working the dough.
"I dunno, maybe on the news," he replied.
"Let me know. I'll open up a pizzeria with you any time," the customer said before he picked up his pie and left.