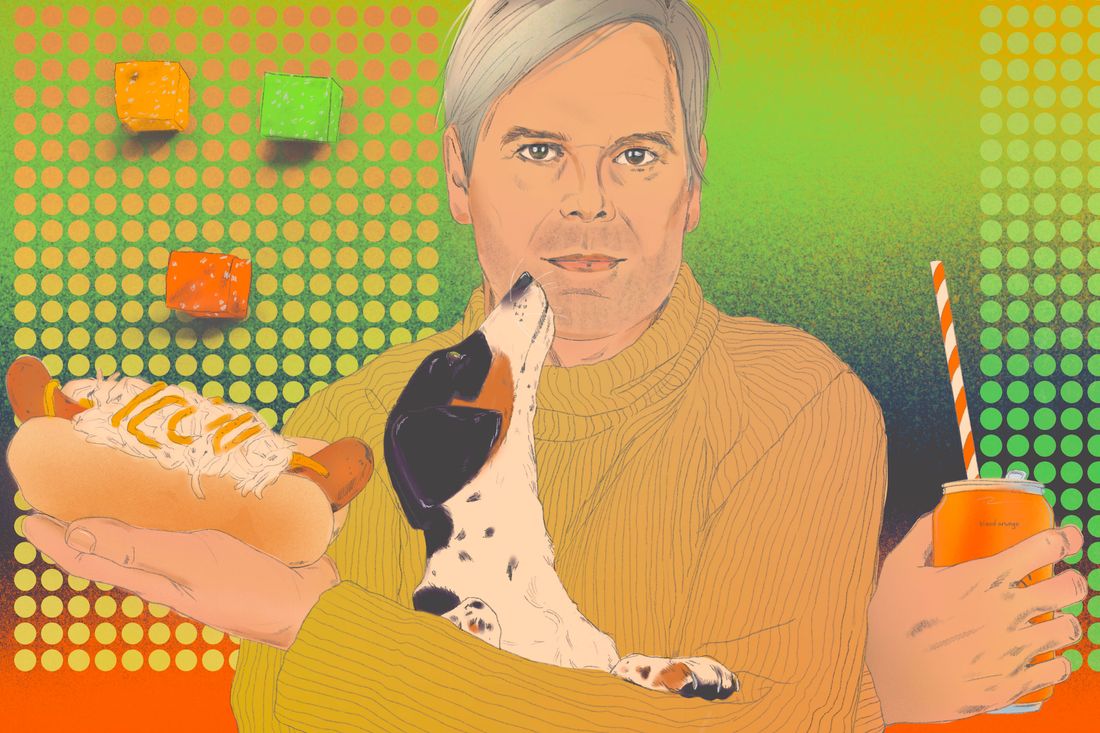 Rob Pruitt and Gilda Pruitt enjoying some of their favorite food and beverages.
Illustration: Lindsay Mound
The artist Rob Pruitt is happy to admit that he's susceptible to good design. Take, for example, the clean-looking pastel cans of Recess seltzer. "I enjoy the flavors, but it's really that seductive packaging that I like so much," Pruitt confesses. "The cans look just like my painting — maybe it's the narcissist in me, but I like having them around the studio." Pruitt's been a leading figure in New York's art world for years — he's still remembered for his 1998 installation "Cocaine Buffet," which was exactly what it sounds like — and his latest show is "These Are the Days of Our Lives," a collection of his work over the last two years that's on display at 303 Gallery through October 30. 
Thursday, September 23
I was running late for a Zoom meeting at my studio in Sunset Park, so I skipped breakfast, but fed my three-year-old dachshund, Gilda. She's named after both Gilda Radner and the Rita Hayworth movie Gilda. After she finished, we walked to the car and headed over the Brooklyn Bridge. It's a quick drive to my studio.
All pandemic long I've been giving haircuts to one of my studio assistants. I'd given him a fresh cut the day before, and when Gilda and I walked into my studio on this morning, he had a jalapeño-cheddar corn muffin on my desk waiting for me as a thank-you. My assistant lives near my studio and picked it up on his walk to work from a great little coffee shop in Greenwood Heights called Southside Coffee. They make all their pastries the perfect size — much smaller than other coffee shops — which accomplishes two things: It always leaves you wanting more and it doesn't make you feel guilty like you do after eating your run-of-the-mill gigantic deli scone. Gilda didn't get any muffin because she's on a diet and doesn't like spicy food.
After the Zoom meeting, I went to Duggal to approve some test prints for a project I'm working on for a hospital lobby in Miami. The prints looked fantastic, but no one at Duggal was wearing a mask, so I put on a second mask to play it safe and got out of there as fast as I could. The printer is in the Brooklyn Navy Yard, which gave me the opportunity to grab carry-out on my way back to the studio from my favorite Thai restaurant in Brooklyn. It's called SkyIce and it's a Thai restaurant and an ice-cream-parlor combo. It's a real treat to get this for lunch, because a few months ago SkyIce rezoned their delivery area and now considers my studio out of range. I ordered the boiled chicken served over garlic brown rice with fermented soy-ginger sauce, cucumbers, and a side of chicken broth. The dish is called khao mun gai and Gilda really loves the boiled chicken.
Before leaving work, I fed Gilda her second handful of kibble for the day and added some of the chicken I saved for her from my khao mun gai. With her tummy full, Gilda and I headed for home, where my husband Jonathan already had dinner preparations under way. He made a big salad consisting of lots of organic produce: Boston lettuce, radicchio, endive, tomato, carrot, red pepper, and radish, with a lemon-juice-and-olive-oil vinaigrette. While he was chopping all that up, I boiled some water for whole-wheat pasta, which I finished with roasted cherry tomatoes and cannellini beans.
Friday, September 24
I fed Gilda her breakfast and I had Heritage Flakes with sliced strawberries and oat milk, I also ate the half banana Jonathan left me from his breakfast that he had earlier.
Last week when I was scrolling through Instagram, I saw that my friend Raina posted a story about her daughter teething and how she feeds her frozen chunks of watermelon to help soothe the pain in her gums. It inspired me to put the watermelon cubes I had picked up at the corner bodega into the freezer, to have after work.
I always pick up on things on Instagram, and I always follow new trends. Four years ago when I first read about turmeric lattes, it was like I had a mission to go out and find one within the next 24 hours. I really had to know what it was about. That kind of thing I'm very susceptible to. I'm interested in taking the daily temperature of shifts and movements.
None of my studio assistants work on Fridays, so Gilda and I were there alone. I picked up a Tunaberry sandwich from Court Street Grocers in Carroll Gardens on my way to work and put it in the fridge upon arrival. The sandwich is one of my favorites. It's tuna salad with cranberry sauce, horseradish mayo, white onion, and arugula on wheat toast. Before I ever tried it I thought it was completely weird, but that's why I had to order it that first time. I read that putting cranberry sauce on a tuna sandwich came from a sandwich shop somewhere in New England, but this is the only version I've ever come across.
Before lunch, my book editor from Phaidon came by the studio to check on my progress on the panda-themed children's book I've been working on. The meeting was fun and energizing, and I ate my sandwich at the table still covered with all of the book materials. Gilda stayed in her bed nearby, knowing she would be rewarded for her good behavior with a little tuna fish.
Later at night, Jonathan was working late so I walked over to get takeout for myself from Ajisen Ramen for dinner. It's a national chain but it's really good. I got the salmon ramen. Before eating I put aside a chunk of salmon for Gilda's breakfast the following morning. Usually, I only ever drink water, but tonight I had a Gus's Cola with dinner. It's 12 ounces and only 95 calories, so even Mike Bloomberg would approve. I got the frozen watermelon out for dessert and Gilda, as usual, was curious. I got her to roll over for a piece.
Before getting into bed, I had two Martha Stewart CBD Gummies: One Persian lime and one kumquat. And then I read a chapter of a book I started last week,To the One I Love Best: Episodes From the Life of Lady Mendl, by Ludwig Bemelmans.
I first bought the gummies for my mom, because she hasn't been well for the past few years. She's been fighting cancer. I thought maybe this could help with her pain, and she's always loved Martha Stewart. My mom is definitely not a stoner, and I knew this could be a way she could dip her toe in it. It would be a fun afternoon for us to try all the flavors. 
When I saw the actual gummies I thought, It's like a painter's palette. This array of beautiful colors, they're bigger than you would expect, and really cool flavors. I know it may not be cutting edge in that world, but the way it's been Martha Stewart-ized really gets me. I think I liked it more than she did.
Saturday, September 25
Gilda stayed at home and I went to 303 Gallery to meet with Lisa, Cristian, and Sarah to talk about my current show. We noshed on bagels from Zucker's. I only ate half a poppy-seed bagel with scallion cream cheese, trying to look and act thin, and I had a cup of nettle tea. We were all sitting on the rooftop terrace and I spotted a very beautiful bug which I pointed out to Lisa. She said it was called a spotted lanternfly. It was maybe an inch long, gray with black dots, and had purple-and-pink iridescent wings. Lisa said that the bug was first observed in NYC in 2020, and that the state is urging people to kill them because they're invasive. Lisa said she wouldn't kill it until I left, which was nice.
I had a great parking spot in Chelsea so I decided to go to galleries and see all the new shows: Lisa Yuskavage, John Currin, Philip Guston, and Jeffrey Gibson at Sikkema Jenkins, which I liked a lot.
It's rare that I do this these days. I did spend decades of my life doing it with ease, but now, with my studio in Brooklyn and my apartment downtown, it's not so common — getting to Chelsea sort of fell out of convenience for me. Not to mention that Jonathan and I always try to do something on the weekends that doesn't really have anything to do with our weekdays. We drive out of the city and do nature-y types of things. But it feels good to keep up with what everyone is doing — art engages in a dialogue with other art — so I just look for these opportunities, like an invitation to have a meeting at the gallery, to just seize upon doing it. 
I then went uptown to see Anne Collier's new work at Anton Kern, which I thought was great. Before heading home, I stopped by Schaller & Weber's takeout window to grab a chicken brat with sauerkraut and mustard. If I could eat in a German train station every day and there would be no repercussions, I think that's what I would do.
Later at night, I got takeout from Bar Pitti: cheese ravioli in butter and sage and a green salad. It's a place I've been going to for a long time. When I was in my 20s, I worked at this fancy gallery right out of college called Sonnabend, and that's how I first learned about the restaurant. They would go there for lunch a couple times a week. And I knew I wasn't fancy even back then, but I was fascinated. When I was in my 30s, I went there myself and it wasn't expensive and it was really delicious. It's feels like a portal to Italy right in New York. There's something so nonchalant about it. I mean, I know that there's a whole other way that people think about it. But I just glaze over that part because my introduction to it was so long ago.
I had Ciao Bella Sicilian lemon sorbet for dessert. Gilda had her eye on my ravioli, but she didn't get any. Instead I gave her leftover salmon and avocado with a few pieces of kibble.
After dinner, I took Gilda on a long walk. Back at home, I drank a can of blackberry-chai-flavored Recess and read another chapter of my book before bed.
Sunday, September 26
I slept in, fed Gilda, but I didn't have any good human food to add to her breakfast. When this happens, I mix in some tiny pieces of dehydrated chicken-breast strips — dog treats from Trader Joe's pet section.
I took Gilda and walked to Golden Diner which is about four blocks from my apartment. I ordered the Chinatown egg-and-cheese sando (soft scrambled eggs, American cheese, hash-brown patty, served on a sesame-scallion milk bun) and ate it on a bench outside the restaurant. I didn't feel too guilty even though it was thoroughly decadent, because I had to walk eight blocks round trip to get it.
After our late breakfast, Gilda and I drove over to my studio to work on my children's book. I spent about three hours making sketches, skipped lunch and went home at around 4. I walked Gilda around the neighborhood before giving her her dinner.
For myself, I picked up some vegan sushi from Franchia. I had a mango-and-avocado roll, a tempe roll, and a combination roll with crispy tofu skin, all made with brown rice. To drink with the sushi, I had a pomegranate-hibiscus-flavored Recess.
That night, I watched A Special Day with Sophia Loren and Marcello Mastroianni from 1977. I had always wanted to see it, but never managed to. I thought it was incredible. It's about an unlikely friendship between a married woman and a gay man, set in fascist Italy. Had a chamomile tea and went to bed.
Monday Sept 27
Gilda and I basically had the same breakfast: banana and apple slices, hers with kibble, mine with Heritage Flakes and oat milk.
I was a little distracted at work because I had made a last minute decision to take a much-needed break and fly to Palm Springs the next day. My two assistants chose Court Street Grocers for lunch, and I got the Vegitalian sandwich, which is roasted butternut squash, Swiss cheese, mozzarella, pecorino, arugula, white onion, CSG hoagie spread, and mayo on a gluten-free hero. It was really delicious, but I only ate half, saving the rest to eat on the airplane the next day.
Jonathan, Gilda, and I had dinner at the Odeon, our fave neighborhood spot. We always bring Gilda, as they have a nice outdoor seating area. I had the pan-seared salmon with artichoke barigoule, roasted cipollini onions, and tomato-garlic persillade and a mixed greens side salad with roasted shallot-sherry-vinaigrette dressing.
We rushed home to pack for our flight the next morning. I ate a couple more of Martha Stewart's CBD gummies in hopes that they would help me fall asleep, but they didn't. Too excited, I guess.