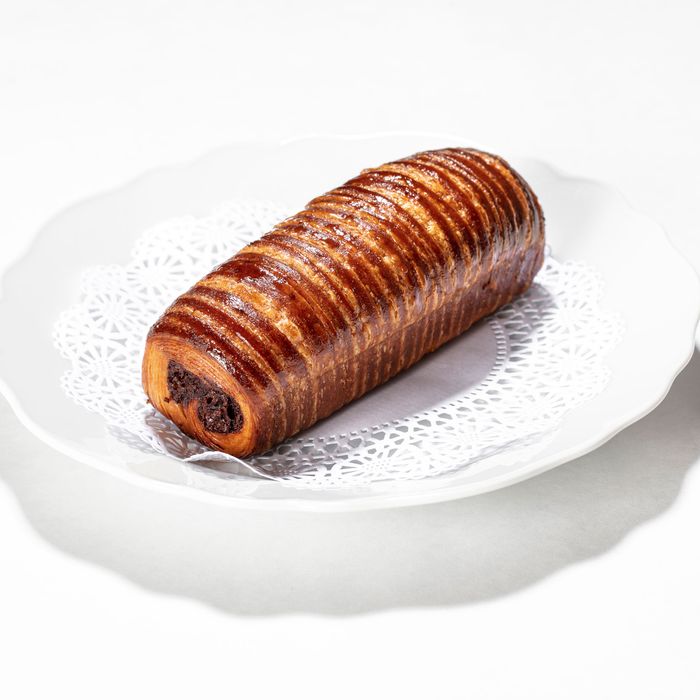 At Lodi, the chocolate croissants are made with ancient wheat.
Photo: Melissa Hom
When the powers that be in the Rockefeller Center leasing department first approached Ignacio Mattos to help usher in a new culinary era for the midtown landmark, he was up for the challenge. And then when the prime Bouchon Bakery corner location became available, he started planning the Italian ideal of a caffè — the kind of place that is ready to serve every quotidian need, from morning coffee to afternoon panino to evening aperitivo and light supper. He named it Lodi, not for the city in California or the borough in New Jersey or even the province in Lombardy but for a conjugation of the Italian verb lodare, meaning "to praise."
Mattos wants Lodi to be an anchor for the neighborhood, and to that end, he's established an ambitious baking program that incorporates a variety of house-milled flours in breads like the fermented rye used for tramezzini and in pastries like einkorn chocolate croissants. The flours will also be offered for retail sale, along with Italian pantry items and sliced-to-order salumi and cheese. Mattos is making fresh ricotta and mozzarella daily, and delving into Italian aperitivo culture with the goal of opening a spritz bar on the plaza next spring.
To make the space both elegant and flexible, Mattos enlisted architect Richard H. Lewis and designer Ian McPheely, whose past work includes frequent collaborations with Keith McNally. They refreshed the existing café-bakery layout with curving counters, a barrel-vaulted ceiling, and wheat motifs in the millwork. They took cues from the Art Deco surroundings for details like the floor's snazzy black border. And they installed big new windows looking into the kitchen, so customers could see all the dough kneading, shaping, and laminating in action.
There are bar stools inside, tablecloths and waiter service outside, and a few substantial main courses, like vitello tonnato and baccalà alla Livornese. But Mattos says he'll be just as happy selling takeout sandwiches to the office crowd as providing theatergoers and museum browsers with a polished pit stop that's neither as structured as a restaurant nor as impersonal as a coffee shop. You might think of Lodi as something like Frenchette Bakery crossed with Sant Ambroeus. Midtown is short on places like that, according to Mattos. "It makes such a difference in your day to be able to stop and have an espresso and a cookie, if you like," he says. "You know what I mean?"
Lodi, 1 Rockefeller Plaza, at 49th St.; no phone; September.
More From Fall Preview 2021