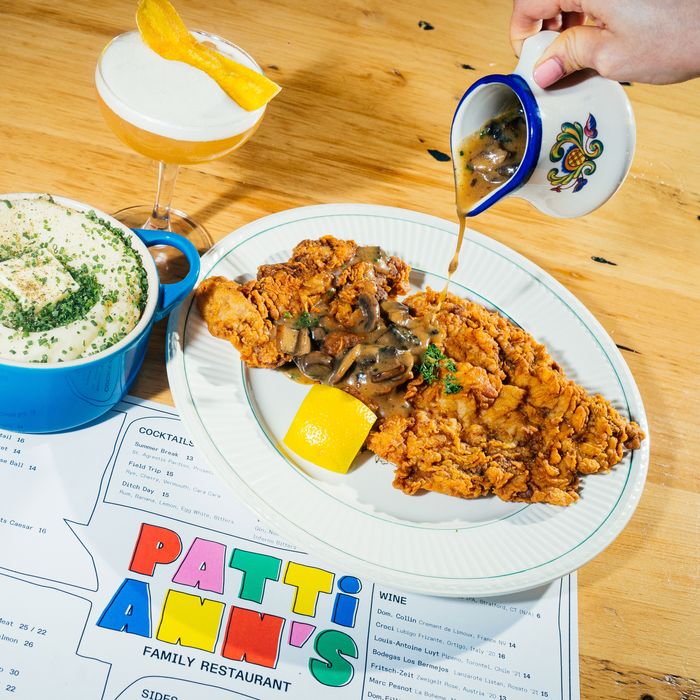 Chicken-fried pork chop and mashed potatoes with chive butter.
Photo: Jutharat Pinyodoonyachet
With every new spike in infections, it's clear the COVID era will be with us a little while longer, but you can already tell that chefs and restaurateurs have formed strong opinions about what their customers seem to want (or not to want) after subsisting on pantry recipes and packets of ramen in their darkened apartments. Modestly priced, comfort-oriented home cooking is most obviously in fashion (unless you're a member of the increasingly furtive underground thousand-dollar omakase sushi-bro set), and if you happen to have a beloved family cook to name your new venture after, that's even better. The talented Cantonese American chef Calvin Eng named his excellent new Williamsburg brasserie for his mother (Bonnie's), and Victoria Blamey, at her excellent new downtown restaurant, gave the honor to her Chilean great-aunt (Mena).
Now comes Patti Ann's, Greg Baxtrom's wacky, somewhat stilted homage to his down-home midwestern childhood (Patti Ann is his mom, and he grew up outside Chicago), which opened a couple of months ago on Vanderbilt Avenue in Prospect Heights, not far from the other popular Baxtrom restaurants, Olmsted and Maison Yaki. The room is decorated with all sorts of antic schoolhouse touches (crayon-colored menus, chalkboards and maps on the walls, water-filled milk jugs at every table). The sturdy, wood-topped tables are the kind you might see in a kindergarten classroom, the menu is filled with kids' favorites (pigs in a blanket, macaroni and cheese), and even the $15 cocktails have been named (Field Trip, Ditch Day, Parent Teacher Conference) to evoke the kind of Ferris Bueller reveries we all remember (though possibly never actually experienced) back in high school.
"I can't tell whether this is supposed to be satire or not," someone said as we announced our drink choices to the server, who was dressed, as if for a ye olde midwestern cookout, in a neatly tied waist apron and blue denim shirt. Baxtrom is a topflight classically trained chef, however, and as dinner progressed, it quickly became clear that his idea of "home cooking" is a little different from that of your average mom in the wilds of suburban Chicago. I have never been a big fan of cheddar-cheese balls, but the one we enjoyed here was laced with port wine, among many other elevated things, and served with a stack of crunchy, warm crostini. The house mac 'n' cheese is bombed, for good measure, with overwhelming gobs of Swiss-style raclette, and the large pastry-encased pig in a blanket contains deposits of gourmet belly bacon instead of the usual processed-pork dog.
"This is Mom's cooking the way Mom never made it," our cheery server said as she delivered to our table a crinkly chicken-fried pork chop garnished with a single wedge of lemon and a little round of duck meat loaf sweetened with a slightly treacly "ketchup" made from cherries. Any form of chicken-fried pork has its charms as far as I'm concerned, but after three or four bites of this rich creation, even the most rabid American fried-food aficionados at the table were gasping for breath. "I don't know if I can finish this," said the poor soul who ordered the modestly portioned (and generally delicious) meat loaf, though it wasn't clear whether this was because of the dish's gourmet interpretation or because his constitution for this kind of amped-up food isn't what it was pre-pandemic.
The answer to these questions, we found, as one relentlessly flavorful recipe succeeded the next, is probably a little of both. My Caesar salad was drowned in too much dressing and cheese, and instead of Mom's simple Sunday roast chicken — or any number of roast chickens being served at restaurants around town during these comfort-addled times — the "Royale" roast chicken at Patti Ann's is a muddled amalgam of chicken cooked in so many different styles (fried, confit, baked) that none manages to register in any significant way. The same is true of a technically interesting Cobb-salad "dip," which involved all the classic elements of Cobb salad (rows of bacon, boiled eggs, tomatoes, etc.) set not on a bed of lettuce but on a kind of foam that appears to be designed for dipping crudités, though after a dip or two, our band of tasters politely shoved it aside.
With the exception of the grimly realistic reimagining of a dreary midwestern shrimp cocktail, I never tasted a bad thing during my visits to Chef Baxtrom's curiously twee new restaurant (yes, diners are given "report cards" at the end), but the menu could have used a bit of Mom's old-fashioned touch along the way. Aside from those first two bites of fried pork chop, my favorite dishes were the short-rib pot roast (call for the mashed potatoes with chive butter to accompany it) and a simple plank of salmon smoked over cedarwood and rolled in a dusting of crushed saltines. The roster of kid-friendly desserts includes chocolate-and-peanut-butter bars and a frosty root-beer float (poured with Chicago's own Dad's Root Beer), although if you ask for the mammoth, predictably delicious cherry cobbler, along with four extra spoons, you (and your family of five) won't need any more dessert for at least a week.
Recent restaurant reviews