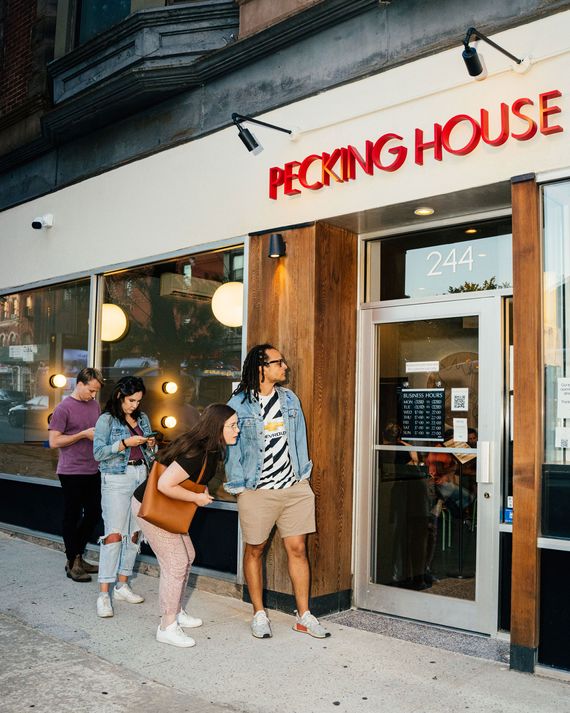 Photo: Jutharat Pinyodoonyachet
In more ways than one, chef Eric Huang's fried chicken has been the hottest thing in town for roughly two years, and not only because of the heavy dose of Tianjin chilies he uses to season the bird. After Huang and business partner Maya Ferrante launched Pecking House as a pandemic-era pop-up (operating out of Huang's uncle's then-closed restaurant, Peking House, in Queens), word of the chicken's excellence quickly spread, and at the height of its popularity, the waiting list stretched thousands of people long.
One person on that list was Liam Henry-Tam. "I put myself on, and I forgot about it," he says — because months passed before he heard anything. "When they emailed you, I remember you got excited," Liam's husband, Jeremy, adds.
The Henry-Tams were among the first customers to check out Pecking's House new brick-and-mortar location in a former sushi restaurant on the corner of Flatbush Avenue and St. Marks Avenue in Park Slope. Huang and Ferrante opened the space about a week and a half ago, and while there is a line, it's more like a few dozen people tops — a development that seems to make Huang happy. "I don't even think we realized how difficult it had been until we got into our own space," the chef says. "Now we can do things the way we really want to. Our food has been the best it's ever been."
With the new space, Huang has expanded his menu. In addition to the original southern-style fried chicken (drenched in buttermilk, fried with a thick and craggy crust that's seasoned with those Tianjin chiles, Sichuan peppercorns, sugar, and MSG), there is now a not-at-all-spicy chicken sandwich with pineapple jam, charred cabbage, and dark soy caramel. There are wings, too, an oyster-mushroom po'boy, and, for the vegans, a mapo tofu sandwich. Called the Sloppy Po: It's messy — you can't imagine the bun faring well during delivery — with yuba and avocado. There are some new sides as well, including fries with roast-chicken salt, and he's still doing his version of dirty rice that gained a following during Pecking House's pop-up days.
Before making his name with chicken, Huang had been a sous-chef at Eleven Madison Park, but there are few signs of his fine-dining pedigree at this counter spot. Instead, on a recent weeknight, the crowd of people who were able to simply stroll in included some who probably had no idea the restaurant's chef had previously planned to open his own Michelin-geared restaurant or that they were about to eat chicken that others had once waited literal months to try. Outside, a couple of passers-by debated whether the restaurant served chicken or duck: "Pecking is duck," one reasoned.
Other neighbors are a bit more clear on what is actually served and seem happy to have Pecking House in the area. "God, this neighborhood needs good food," says Eric Reinfeld, a customer who has lived in Park Slope since 1966. "The sandwich was absolutely outstanding," he says. "And the dirty rice was outstanding."