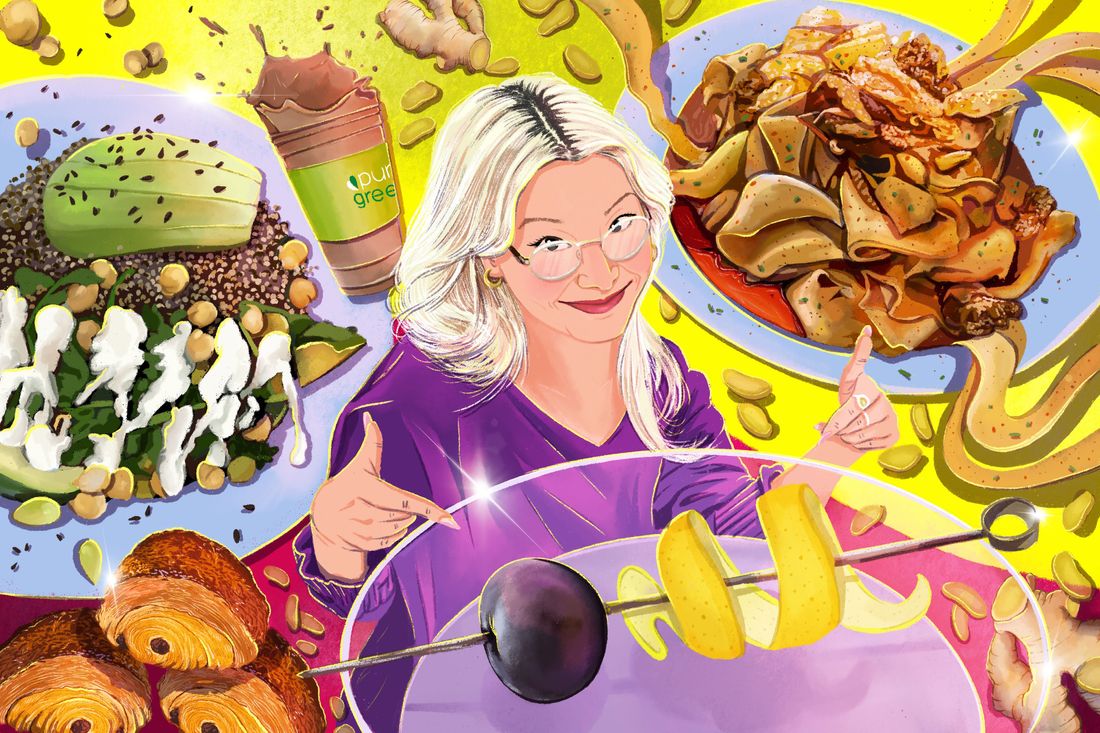 "We both get an Aviation and eat the cherries first …" Illustration: Maanvi Kapur
Delia Cai, who grew up in Illinois, loves New York's food, even if she doesn't love just how cutthroat competition for a table can be. "Eating well, or eating interesting things, is an Olympic sport," she says. "I still don't really have a stomach for it. Oh, they don't have a Resy at a reasonable time? I guess I'll never go!" Besides, Cai's been busy, getting the word out about her debut novel, Central Places, and — somewhat less expectedly — dealing with a breakup: "I thought, Maybe it'll be funny if I just put this all in the Diet and mention the food that was happening during it."
Wednesday, February 15
I'm a freak who usually sleeps at least nine hours a night, but I promise you this is not the food diary of someone who feels like she has their life "together." Plus, I think I got maybe six in today? So this is a rough morning. It's my first day semi-back to normal after a truly wild patch that involved a week when my grandmother in China died from COVID, a week when I went out to L.A. for work, publication week for my novel in New York, and then another week when I went back to L.A. "for vacation," the latter part of which mostly consisted of me sitting in a hotel room and spiraling once each and every possible emotion caught up to me. So I'm deliriously happy to be back in some kind of a routine in the comfort of my walkable Eden in Brooklyn.
The fridge is in its natural state — full of expired food — so I pick up some produce (lemons, a few branches of ginger, that pebbly type of kale, almond milk) to hold me over. I drink a glass of water with a lemon squeezed in it every morning because I once read that Justin Theroux always starts his day with lemon water and decided to do the same. Let's be honest: Physically, that man knows what he's doing. Another freak thing (possibly related to said sleepy-girl lifestyle) is that I don't reeeeeally do caffeine. I'll have green tea or a matcha latte as a treat, but if I drink real coffee, I will lose my mind for the rest of the day. You can't even let me eat tiramisu too close to bedtime.
Breakfast is leftover overnight oats I got from a neighborhood café yesterday. You're really about to get a glimpse into a life lived within the outer capacities of stretched-out takeout. It's not that I hate cooking or am just like so busy all the time, but I'm totally impatient with the general mental load of grocery calculus and meal planning and Googling "How long chicken in fridge good for?" as someone who lives alone and constantly overschedules. I used to feel really bad about this, because I suspect our culture still equates mastery of the domestic arts with true adulthood, or at least womanhood, or at least a quality Instagram presence. During quarantine, I got into Blue Apron for a while, but I stopped after that horrific Daily Harvest lentil situation made the news because I realized getting raw chicken in the mail was, mmmm, not wise.
Lunch is a goddess bowl from Clementine Bakery, which I walk to while pretending not to enjoy a 60-degree day in February. It's mostly quinoa, zucchini, sautéed kale, and roasted chickpeas, a.k.a. extremely microwavable, so I eat half and pop the rest in the fridge. Work, Zoom therapy, then a weirdly 7 p.m. dermatologist appointment, so before I leave, I eat the leftover polpette that I took home from my Valentine's Day date. This makes it sound like I took half of a measly meatball home, and I want to emphasize it was one of those super-huge ones; I am not that insane.
Once I'm back in Brooklyn, I grab a few more groceries from Food Emporium — fruit, salmon, other attempts at nutrition — and spend the night doing one of my favorite things: peeling then eating a whole grapefruit in front of the TV. When I was a kid, my mom used to peel a grapefruit for me like this every day after dinner (we Asians love our night fruit), so it makes me think of home.
Thursday, February 16
I sleep for ten hours straight and feel as luminous as a Disney princess. Do some self-congratulatory yoga and then walk to Nostrand Coffee Roaster for an iced matcha latte and a chat with the owner, Jiwon. Breakfast is the overnight oats I made yesterday out of self-consciousness about this article: oats, chia seeds, almond milk, honey, two tablespoons of Hershey's special dark cocoa. I usually make a giant bowl and keep it in the fridge to scoop at over a week, not totally unlike cat litter. Add half a bodega banana.
For work, I prep and sort out some details for an interview. Not to be a corporate lackey, but while I do find that working from home makes me infinitely more productive, I can also feel myself wilt when I haven't been into the office in a bit. There's this book I've been wading through over the past few months, The Body Keeps the Score (yes, I'm that kind of Brooklyn girl), that has made me think a lot about something the author calls "group synchrony," which is basically how important and life-affirming and healing it is to feel like you're part of something. The ideal example they give is joining a group choir, which I think is beautiful because there must be something about the act of literally adding your voice to other people's, but in lieu of that, I just need to go and look at my co-workers in the face for a bit. Starting … next week! I swear!
Lunch is yesterday's leftover goddess bowl and the rest of the banana. I do a little podcast interview for the book, then try to get my fancy pub-week nail extensions taken off at the neighborhood salon, but it turns out they don't do removals??
For dinner: Roast some potatoes and carrots, sear a chunk of salmon, add sautéed kale. I'm realizing another reason why I don't love cooking is that the quirks of this apartment make it a whole production. First I have to get out the stepladder and unscrew the smoke detector, then I have to open a window and plug in a box fan so that all the searing/sautéeing smokiness has somewhere to go. And even when I'm done, the whole place still smells oily and fishy. I don't know, man. I've already promised myself that the next place must have a window in or by the kitchen, because all this is truly a pain.
Around eightish, I meet my friend Adrian for drinks at Dynaco, which is our go-to spot for exchanging long-winded stories and getting plastered on the increasingly rare $12 cocktail. We both get an Aviation and eat the cherries first, then dish about work, weekend plans, love lives, and the general weirdness of how parallel our lives have been lately.
Friday, February 17
I have to go all the way to the New York Botanical Garden to interview a subject this morning, so I'm up at 7 a.m. and put a bodeganana in my bag before I call an Uber. It's a nice, rainy drive up to the Bronx, and I'm early, so I stand off to the side by the entrance and wolf down my banana. The interview is a breeze — sometimes speaking to someone who's super-media-trained is like talking to a beige wall, but the real pros know exactly how to feed you what you're looking for, and that was the case today. On my way home, I stop for a breakfast sandwich, which I have slowly honed over my seven years in New York to near perfection: sausage, egg, and cheese on an English muffin (bagels are boring and kind of hurt my mouth — there, I said it!), with a smear of pesto and a hash brown in between. The key is also to ask for the eggs to be fried, not scrambled, because then you get some nice yolky goo.
I eat the whole thing, work, take a tiny catnap, then hike into the city for my annual ~~~well woman~~~ exam. In a few weeks, I'm turning 30, and I wasn't planning on stressing about it, but I do stare at some prenatal-health brochures a little too long in there. The office is right next to a Starbucks, so on my way out, I get a hot mint tea and a (warmed up!) chocolate-chip cookie because that is the least you can do for yourself after an almighty pap smear and nice uterus squeeze. Sorry for putting all those words in one sentence.
I put in a little more work so that I don't hate myself after the three-day weekend, and then I have to shower and get ready for the live Asian Not Asian podcast show that I'm a guest on tonight. I steam a dress and eat the leftover Salmon & Co. without being totally sure if it's technically lunch or dinner. The live show ends up being hugely fun — I worry I made a fool of myself a little because I get so nervous in front of a crowd, so I have a glass of white wine backstage, and then everyone gets drinks at the Magician afterward.
I feel like podcast communities are always so chummy and pleasant? Part of the live show was a bachelorette-style dating game, so we're all trading stories from the Tinder trenches. I'm super pro-setups because I think concerns of romantic love can feel communal, and I text a friend about a guy I've met here tonight because I think he might be a good match for her. By the time someone puts a third gin-and-tonic in my hand, I know it is time to go, so the podcast host, Mic, and I split an Uber back to Brooklyn. Possibly the best part of the night involved another comedian on the show showing me a bag of tacos he scored somewhere in the neighborhood and telling me to take one. If you've never stood at a bar holding a loose taco in your hand, you are missing out on one of life's greatest pleasures. I love when dinner finds me.
Saturday, February 18
Another banana for breakfast before I put on my UGGs and go to Cobble Hill, the neighborhood I lived in when I first moved to New York, for a barre class (I am basic, but I am free). I pick up the Washington Post review I got framed a few weeks ago and stop by Books Are Magic to sign books.
At home, I eat out of my cat-litter bowl (the overnight oats) and drink a shit ton of water before meeting the Valentine's Day guy on, okay, uh, what I think is going to be a casual little park date where we walk around and drink mint tea together, but, um, it turns out to be a casual little park date where we sit down on a bench and break up. I know. Twist!
I throw the rest of the tea away into a "cans for recycling only" bin on my walk back. At home, I boil a few slices of ginger in a pot for ten minutes and pour the contents into a mug: My "special spicy water" is the reason I'm going to live to be 100, just watch, because if I'm gonna die alone, it'd better be as a wizened centenarian with amazing gut health. Tragically, there is nothing remotely good to eat at home except this packet of dark-chocolate sunflower-seed cups I bought at Erewhon when I was in L.A. They're vegan, gluten-free, keto-friendly, "sweetened with monkfruit," and they taste like ground chalk.
My friend Jen is throwing a dinner party to celebrate her new townhouse, so I stand in the shower for an undisclosed amount of time pulling myself together and then walk over with a little packet of housewarming incense and a new set of Pure Barre socks I owe her after she lent me hers. It's the kind of dinner where everyone else is a decade older and all know each other better. Someone pours me a bourbon, and I sit at the table taking increasingly tinier sips of it. The house dog patters over and climbs onto my lap unbidden; my heart crumples a little. Forty-something-year-old cooking is so fancy, man. There's a charcuterie board; fresh homemade fettuccine with clams and some spicy, reddish sauce; and a giant radicchio salad that could probably have fed Jesus and his boys for that Last Supper, easily. I have some wine and then Uber to meet up with Adrian and her roommates, one of whom is celebrating a birthday at karaoke in Williamsburg. We drink Champagne, and I sing Justin Bieber's "Baby" and Shania Twain's "Man! I Feel Like a Woman!" with Adrian. Group synchrony! Then home at oneish, dissolve into sleep.
Sunday, February 19
Banana, cat litter, lemon water, then a valiant attempt to do every chore I can think of around the apartment. Cut up an apple for a snack, then I decide I'll cheer myself up by hanging the WaPo review, but oh my God you guys are not going to believe this lol: I'm so distracted that I let the frame slip out of my hands, and the glass shatters into a million pieces all over my kitchen. Somewhere in the demon lair of my brain, a few neurons take copious notes on what a good scene this would be. You can't not appreciate the poetry.
Resolve to get myself out of the apartment: I take the framed clipping back to KC Arts in Cobble Hill, where they see the feral desperation in my eyes and offer to replace it at a discount. Then I buy myself a pain au chocolat from Bien Cuit. I have to go into the city to get these soft-gel talons off my hands, so I hit Renew Spa for a massage and try to find something to eat before going to Akiko. The mirage of Congee Village, where I think I'll do my birthday party, appears like a beacon, but it's too jam-packed, so I round a corner and find a serviceable slice of margherita pizza somewhere on Broome and devour it at an empty table.
Adrian comes over to let me run my mouth for a few hours; I make us some special spicy water, and I'm in bed by midnight. I didn't know it was possible to feel exhaustion all the way down to each individual ribosome, but there it is. Set the alarm for nine.
Monday, February 20
I go for a run around the neighborhood and have a banana afterward, then I meet up with Valentine's guy for the debriefing that we agreed on. We talk for an hour, and then decide, in the most bizarre turn of events, to … get coffee? On our way to coffee, he suggests we just get brunch? Twist?? So we end up at Forever Thai in Bushwick, and I'm having some drunken noodles with tofu and a jasmine tea, plus a few copped sips of his Thai iced tea, except I drink out of the side of his glass instead of using the straw because that feels less, like, intimate somehow. But as far as a breakup brunch goes, it's not a wholly terrible culinary experience! It's a milestone like any other, I guess. Plus, I mean, I'm sad, but at least I'm full.
After we say good-bye, I train out to the Guggenheim to catch the Alex Katz show — the painting that doubles as the Sally Rooney Conversation With Friends cover absolutely delivers — and take a tiny stroll by the reservoir at Central Park mulling over the goodness of perfectly fried tofu and a suspiciously spring breeze and an imperfect connection.
It takes three trains to get home, and I miss a stop by Long Island City so I have to walk a bit to Court Square. On my way, I pass by Book Culture and pop in vainly to see if they have Central Places. They do! I come home and make sautéed kale and cacio e pepe, then go over to my friend Erika's apartment to catch up and play with her sweet dachshund, Moony, and then bed — sweet bed! — by 9:30.