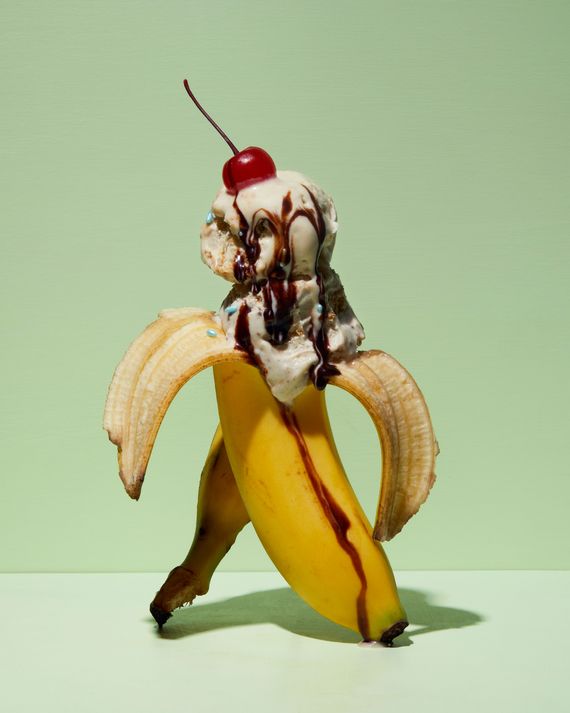 Nick Morgenstern is a champion of the humble banana. When he opened his flagship ice-cream shop in 2014, he was excited to introduce a durian-banana flavor to the masses, a combination he'd been thinking about during his time as a pastry chef, even if it didn't immediately seem like it'd be a blockbuster. Instead, it became the first flavor to sell out. "A lot of people who came all the way over here to try it were very disappointed" there was none left, he recalls. "We've never run out of it since. To this day, that's a very important flavor."
Over the ensuing years, he introduced a number of new banana flavors — roasted banana, banana macadamia praline, and banana dulce de leche among them. Banana Frosted Flake made its debut last year, and this season he's rolled out banana s'mores and banana Nilla Wafer as well as something entirely new that's known as banana brûlée, frozen custard that's finished in the shop with a crusty layer of toasted sugar that, removed from its paper cup and placed into some porcelain, would be absolutely at home on any high-end dessert menu in the city.
This, though, is only the beginning because, starting tomorrow, April 20, Morgenstern is going all in: He's turning the original Lower East Side Morgenstern's location, at 2 Rivington Street, into an entirely new shop called calling Morgenstern's Bananas. Yes, he's painted the outside very yellow for the occasion.
The big deal is that this parlor will not specialize (merely) in banana-flavored soft serve. Instead, Bananas will use ingredients such as bananas or nuts as the base for a line of dairy-free soft serves that will be dispensed from four top-of-the-line Carpigiani machines. To start, the flavor roster will include options such as salted peanut butter, "prickly punch," sumo yuzu, and "mucho mango," which is boosted with tangerine and coconut for a creamy texture.
Nick Morgenstern will offer nostalgic vanilla ice-cream at his flagship shop and devote an entirely new business to banana-based soft serve. Photo: Hugo Yu
The flavors, as always, will change, and when I stopped in last week to get a preview, Morgenstern was trying to decide between a couple of options for the true banana flavor. He presented me with two short swirls of slightly different hues: The first was closer in taste and color to the pale cream of a firm, barely ripe fruit, while the second was slightly tan and tasted noticeably sweeter — made with some caramel. Eventually, it would be deemed more crowd pleasing and make the opening list.
Bananas may be America's most-eaten fruit, but it somehow remains something of a niche flavor as far as ice cream is concerned; Morgenstern suspects that has something to do with the fact that "managing a giant inventory of fresh banana is a real pain in the butt." Lovers of Chunky Monkey may have something to celebrate this summer, though, as I've noticed a number of bananas popping up in unexpected places. At Stretch, Wylie Dufresne's new pizzeria, another banana-based soft serve arrives with babka crumbs and a magic shell made of peanut butter. A bit farther uptown at Mischa, pastry chef Justin Binnie is filling canoe-shaped sesame éclairs with a layer of thick banana-accented pastry cream. And down in Prospect Heights, a meal at Patti Ann's can end with an exhaustive DIY banana-split service.
Here's my theory: Bananas are the best, and tastes seem to have narrowed as people default to familiar luxuries: martinis, slices of pizza, the option to add a scoop of caviar to pretty much anything. "Things are more nostalgic," says Morgenstern, which is why he's leaning into recognizable flavors. I think he's right, and I suspect even the city's biggest ice-cream fans may be fatigued by the multi-hyphenated oddities that were so prevalent over the past few years. (Anyone remember chorizo-caramel swirl?) I see another advantage to banana-based vegan soft serve: It seems like a good excuse to order some ice cream for breakfast.