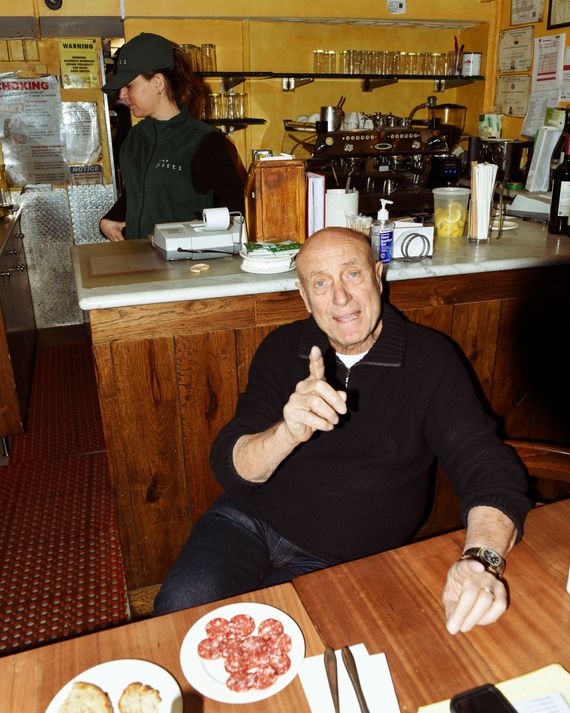 Giovanni Tognozzi inside the restaurant he opened in 1992.
Photo: Liz Barclay
Time may not mean much after two lost years, and perhaps that's why, more than ever, we need the people and places that can anchor us to the past. Manhattan is filled with points of light that help to guide us, offering familiarity and comfort even when everything else is changing. Bar Pitti has been one such mainstay since 1992 with simple Tuscan food and its vast sidewalk often filled with celebrity diners. I sat down with owner Giovanni Tognozzi to talk about his restaurant's longevity, Tuscany, and watching families grow up inside his dining room. 
You grew up in Italy. When did you move to New York?
I moved to NYC in 1987 and opened Bar Pitti in 1992. I never thought I would have reached 30 years. It's been beautiful, and I am so grateful.
Was food always a big part of your life?
In Italy, when I was 7 or 8 years old, we didn't eat meat frequently because it was expensive. But we were lucky because in the country house, we had rabbit and chicken. I am a fan of rabbit because it's one of the leanest proteins, and it's good for your health.
Did your family have a farm?
My father had a farm. He produced tomatoes, and I used to have to pick them up and sell them to the local hotel. I love all of Italy, but Tuscany is home to me. I was born 40 kilometers from Florence in Monsummano Terme.
So how and when did you decide to open a restaurant in New York City?
When I moved to NYC, I told my brother, "Hey, if I am staying in New York, I have to do something. I have to open something. Otherwise, I have to go back to Italy." I used to be a waiter, just to work, but I said, "I love New York, so if I stay here, I will do something." A small trattoria — that's it. Not fancy or high level. Here at Bar Pitti, we do spaghetti with lobster but at the right price. It's simple.
Do you have a chef or cook that influenced you?
A lot of the food coming from here, the inspiration is my mother, especially the polpetine — veal meatballs — and lasagna. My mother and father grew up in the '50s, '60s, and it was not fancy. It was really good, simple food.
What does the simplicity of the food represent for you? 
For me, it's a connection to the way I grew up. I grew up with bollito misto and roasted chicken, cow's liver. It's not pretentious.
Looking back, what are some of your favorite memories from the restaurant?
My favorite memories are still, and always have been, when I see people come the first time, then come the second time, and the third, and then bring friends and family. That is better than any success a newspaper could give me. I have customers, for example, who were dating, then they got married, and now they bring their kids.
What do you do when you're not here working? 
I love hockey. I love my bike rides in Long Island. I love the fresh air and the country. And when I can take seven days off, Tuscany. Toscana. Walk around where I grew up. It's like a shot of vitamin C. Before COVID, we went every four months. We will again soon.
I'm sure it helps to deepen your understanding of everything, and you see ideas you can bring back.
New York is a part of the world. It's special. Not like other cities. You can leave, but you always need to come back. I tell you: I am an Italian, but I am truly a New Yorker.
What does 30 years of Bar Pitti mean for you? 
At the time I started the business, I thought ten years would suffice. I look back and I said, "How did I do?" Customers keep coming back after decades, and that you cannot buy. I am thankful. I am happy. People come days in a row. They grow their families here, people bring their lovers, come alone, and their kids grow up, and their kids are still coming back as adults. That is No. 1. That shows me I did something right. It's generational. The most satisfaction I could ever ask for.
This interview has been edited for length and clarity.