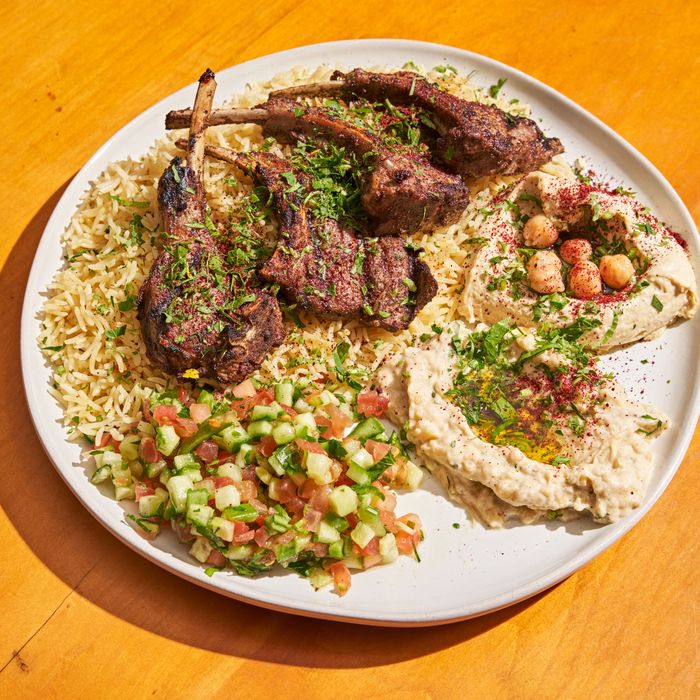 Lamb chops with hummus and baba ghanoush.
Photo: Adam Friedlander
Whether it's the potted club music, the endlessly tweaked and updated Negronis at the crowded bar, or the numbingly familiar raw fluke and rustic bucatini preparations on the menu, there tends to be a certain sameness to new restaurants in the big city. Every once in a while, however, a place comes along like the Palestinian Al Badawi, which has been open for a few months now on Atlantic Avenue, that makes you feel like you're entering another world. The facade is strung with garlands of bright plastic flowers, and the spacious room inside smells of cinnamon, sumac, and freshly baked bread. The tables are cut from twisting tree logs and set with clay cups. There's a live wall of ferns on one side of the room and a fresco on the other, depicting the Dome of the Rock entwined in the world's oldest olive tree, which is in Palestine, the servers will say, and for which the restaurant is named.
Al Badawi is the latest venture from the industrious couple Abdul Elenani and Ayat Masoud. She's a lawyer who grew up in Brooklyn (her parents emigrated from Jerusalem) and he's an enthusiastic entrepreneur who over the years has run an eclectic portfolio of dining establishments (multiple coffee shops and a Belgian frites bar), along with a farm, where much of the halal meat for their restaurants is sourced, and a contracting business. A couple of years back they opened the popular Bay Ridge restaurant Ayat, which was named for Masoud, an accomplished cook who wished to showcase the kind of traditional, homestyle pilafs and chicken and lamb stews from the kitchens of the West Bank and Jordan that you don't normally encounter among the usual shawarma and kebabs and mezze platters at Middle Eastern restaurants in New York City.
Many of these enticing recipes are on display at this ambitious, 100-seat restaurant too, like okra and beef bamia stew, rolled stacks of stuffed malfouf cabbage leaves, and platters of sumac-dusted musakhan chicken served over taboon bread that is spread with sweet, gently dissolved onions.
There's a domed oven at the front of the house, which turns out wafer-thin wheels of sajj bread that you can enjoy with a dizzying variety of toppings like crushed pistachios; shreds of beef and chicken; or even that local Brooklyn delicacy, mozzarella cheese. Stacks of bread keep arriving during the course of dinner too, and if you're a bloated critic who likes to order a little of everything on the menu, it can take some time to get your bearings as the multitude of mezzes (I counted 20) and bountiful portions of beef shanks and lamb chops and ouzi proteins clatter down on the table.
Our first salvo of dishes at Al Badawi began with the aforementioned meat and rice-stuffed malfouf cabbage leaves as well as servings of wara dawali, warm, hand-rolled grape leaves stuffed with loose deposits of tomatoes, onions, and freshly cooked rice. The wonderful mezze platter included a rich, freshly mixed hummus, alongside another Levantine speciality called muhammarah, made with ground red peppers, walnuts, and a dose of pomegranate syrup, all presented in a red dish the size of a small wagon wheel.
As with everything on the menu, the grilled lamb chops that followed had a just-cooked, homestyle quality to them, and so did the crisp-skinned musakhan, which fell apart as we ate it with the chunks of toasty taboon bread underneath. Like good barbecue, this oniony, salty-sweet, sumac-infused chicken has a way of lingering in the deep recesses of the brain for a day or two after you've enjoyed it, and the same is true of other delicacies like the great fattat jaj (shreds of chicken folded with slivered almonds and minty yogurt in small mountains of rice) and the lamb-rich mansaf, which arrived at our table with the kind of ritual ceremony (bread, gravy, a giant family-size platter) that attends a proper roast beef dinner in the West. The chunks of bone-in lamb are simmered to a fatty tenderness with shavings of dried, fermented yogurt, then set over layers of sajj bread and piles of yellow rice, all of it scented with cinnamon. As with the chicken, the lamb comes apart easily and mingles with the bread and rice, which we softened as we ate with rich spoonfuls of lamb-and-yogurt drippings that are served in a bowl on the side.
Will you have room after your giant-size portion of mansaf — there are two equally intimidating family-style options for parties of up to six and eight — for a taste of the chicken or beef shawarma sandwiches (toasted like a panini on the griddle) or one of the many kinds of manakish flatbread offerings that are served at this boisterous establishment, like the finest Brooklyn pizza, on elevated metal trays? If you do, my party of tasters and I recommend the mixed chicken and beef sandwich, and the "seven cheese" option, although we agreed to save the copious seafood offerings for a later visit (yes, a whole red snapper is available with a side of rice and lemon potatoes), along with the kebabs (seven varieties, including filet mignon) and the new round of desserts, which to our great relief were being "reworked," according to our server, but will be back on the menu soon.
Recent restaurant reviews