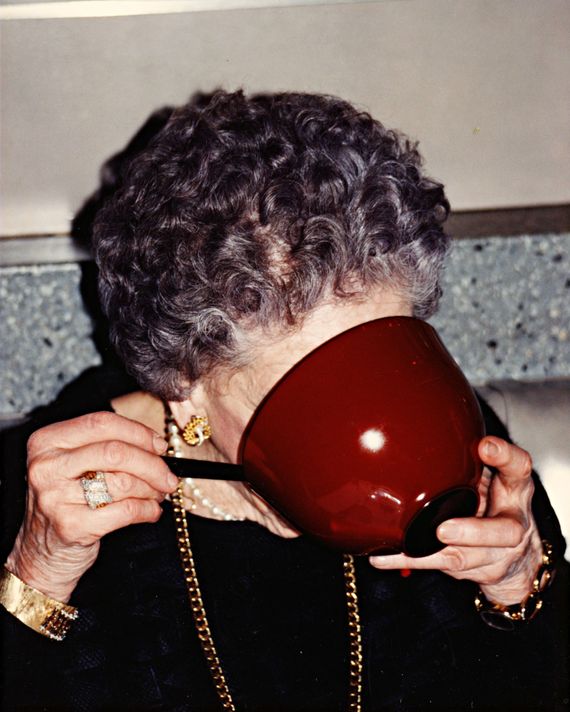 Brooke Astor enjoys some soup at the Quilted Giraffe. Photo: Barry Wine
Mourning the loss of a long-closed restaurant can't bring it back, but it can remind us how wild (and important) this city's dining scene has always been. And so many of the people who built these dining rooms are still here with plenty of stories to tell. From time to time, we're going to check in with them for a bit of hazy reminiscence. To start: the Quilted Giraffe, where — after the restaurant moved from a Victorian house in New Paltz to a former coffee shop in Manhattan in 1979 — celebrities slurped caviar and washed down wasabi pizza with glasses of vintage white Burgundy.
If anyone wishes to assert that the Quilted Giraffe's famous beggar's purses — blini-wrapped bundles of Beluga caviar — were viral sensations before the internet as we know it existed, the restaurant's chef and co-owner Barry Wine, now 80 years old and happily sipping a flute of pink Champagne in the afternoon sunshine, will take it. "Oh, sure," he says. "It was a TikTok thing way before TikTok."
We're sitting on the expansive patio of his Chelsea penthouse and flipping through a stack of sticky old photos, admiring the glittering array of regulars who populated the various iterations of his restaurant back in the day: Craig Claiborne; Brooke Astor; Jasper Johns jauntily holding a pour of sake; Warren Beatty grinning next to a beggar's purse propped on a candelabra and topped with gold leaf. Wine first encountered the dish in a restaurant outside Paris, where it was served in the nouvelle cuisine style on a simple white plate. Returning home to New York, Wine added the gold leaf and the candlestick, instructing diners to eat the bite in a sensual manner without their hands. "I don't mean to be lewd or cynical, but this is what we decided people wanted to have," he recalls. After a few years, he added another kinky wrinkle: pairs of handcuffs that would be locked to lamps or chairs or sconces on the wall — an innovation that, judging by the look on Beatty's face, seemed to suit the racy, coke-addled clientele of the day just fine.
Not that there was much coke at the Quilted Giraffe, at least according to Wine. He and his then-wife, Susan, had to maintain the culinary reputation they'd built across three different versions of the restaurant, beginning in New Paltz, where they served Château Lafite for $4.50 per glass starting in 1975, to a successful Turtle Bay townhouse operation on Second Avenue around the corner from Andre Soltner's Lutèce, and finally to a swank space on the ground floor of the old AT&T Building on Madison Avenue, where for a time it became the most expensive restaurant in the country with those beggar's purses commanding a $50 supplement on top of the $75 dinnertime prix fixe, until the doors closed for good on December 31, 1992.
The scene restaurants back in those orderly, pre-digital days tended to have their own very specific clientele. Elaine's was for the literary set and La Grenouille was the haute couture hangout. Venues like La Côte Basque or Le Cirque were populated by what remained of the old uptown social aristocracy. The Quilted Giraffe, meanwhile, was for the aggressive new-money bankers, lawyers, and finance vultures of the go-go '80s who would make a mint, go bust, or end up in jail. The junk-bond king Michael Milken had a regular table; so did the corporate raider Ivan Boesky. Bernie Madoff would order lunch sent to his office.
Ask Wine to define a "scene restaurant" and he'll reply, "It's the place where everybody has to be," although what that means today in the helter-skelter, post-covid comfort-food era is anyone's guess. "There's a different definition of fun these days," he says. "People want a good steak; they want a good pasta. Sure, you can get interesting food at a 14-seat place out in Brooklyn, but I don't know where the warmth and the entertainment is in that." Though he had no formal culinary training before opening his first restaurant, Wine eventually became known for recipes like mustard ice cream, pizza topped with raw tuna and wasabi–flavored crème fraîche, and squares of Kobe beef layered atop jicama kimchee. "My customers had breakfast in Tokyo, lunch in Paris, and dinner in New York," he says. "They were comparing us to Paul Bocuse — so we'd better produce something special. I'm not sure that's the case at a Carbone restaurant."
Over the years, many tales about the Quilted Giraffe have taken on lives of their own: the time a wolfish Beatty appeared with Madonna on his arm; the night the Saudi arms merchant Adnan Khashoggi enjoyed his usual rack of lamb and a bottle of '79 Petrus at table seven before skipping town as the Iran-Contra scandal broke; and the grim October evening when all of the doomed Wall Street machers flooded into the house after the Black Monday crash to buy bottles of Bordeaux with their corporate cards one last time.
"Like most great restaurants, we had a lot of normal husbands and wives who were hoping to get laid too," Wine points out. "It was a wild time, and we were selling a certain story, we were selling romance, we were selling fun."
In addition to handcuffs, Wine remembers providing a chauffeured Rolls-Royce for guests who didn't feel like staggering home. Over the years, the kitchen was filled with talented future chefs like Tom Colicchio and Masaharu Morimoto, and the restaurant helped pioneer all sorts of innovations, including tasting menus, a more inclusive American brand of French cooking, the use of an 18 percent service charge instead of tips, and the introduction of Japanese ingredients and techniques to the world of haute Euro-centric cuisine.
The Wines closed the restaurant when their new landlord on Madison Avenue — Sony — bought out the lease for a reported seven-figure sum. "It presents an opportunity for us that is not likely to happen again," he told the New York Times back then. He and Susan divorced shortly after that; she lives in Arizona now, and he divides his time between the city and a Palm Beach condo, both of which are filled with examples of his latest passion: sculpture and jewelry design. Over the years, he has consulted on various projects — most notably Warner LeRoy's doomed reboot of the Rainbow Room — but he's never opened another restaurant.
Up on the terrace, we could hear the sound of boat horns as the big cruise ships slid down the Hudson and out to sea. We flipped through a few more pictures: a young Morimoto wearing a Santa's hat, Colicchio with hair on his head, and one cuffed couple after the next eating caviar bundles. The beggar's purses were popular until the very end of the Quilted Giraffe's run, and if Wine were starting out today, they'd be at the top of the menu, albeit with a cheaper brand of roe. "If I have one of these photos, I have 1,000," he says as we regard the parade of gentlemen in sharp Armani suits and women posed next to his signature dish with their ecstatic smiles and blown-out '80s hair. "We must have been doing something right," the old restaurateur concludes as he finishes the last of his Champagne. "They all look so happy."