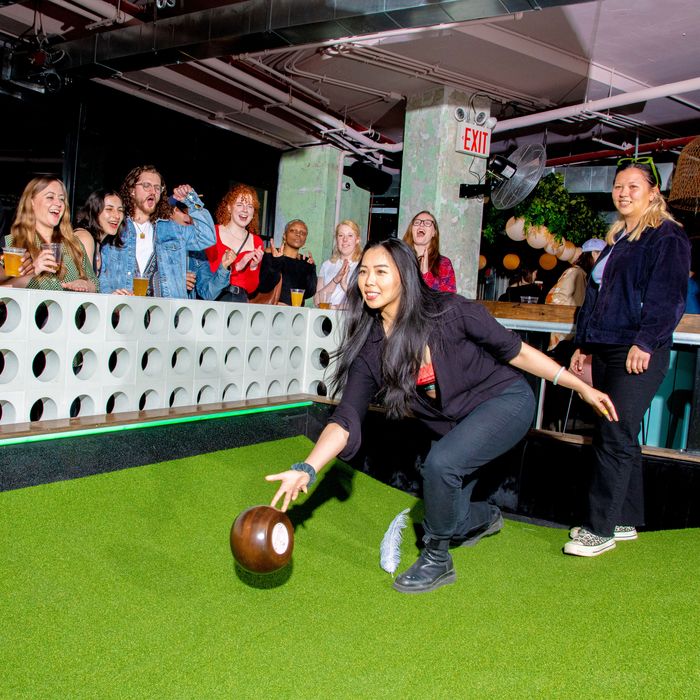 Testing out some brand-new lanes in Dumbo.
Photo: Evan Angelastro
On a recent Friday night in Brooklyn, a tense contest of feather bowling had turned into the kind of competition that elite athletes dream about: The entire game would be decided on the final throw. The ball — which, despite its name, is not spherical and instead resembles a giant puck or a wheel of cheese — was lobbed, and the tension in the room wound tighter. The five-pound ball wobbled and weaved haphazardly down a 70-foot chute of concave green turf while its target, a 12-inch-tall white ostrich feather, stood proudly at the other end. The roll had all the makings of a game-winner until the ball tilted unexpectedly and collided with one from the opposing team. A shriek of defeat echoed through the bar. The feather stood defiant, untouched.
As the story goes, feather bowling began in a field in Belgium long ago when bored farmers decided to play with some wheels of cheese — hence the shape of the ball — aiming at feathers because, presumably, that's what was around. But outside of Belgium, where dozens of courts still stand, only a handful of feather-bowling venues exist, and it's been called, several times, "the most obscure sport in North America," which is what made it so attractive to Dave Plate, the owner of Randolph Beer.
"It just became this obsession of like, We've gotta figure out how to do this in New York," Plate recalls. So in 2019, the Randolph team began searching for a space that could accommodate the large lanes required, 72 feet long and 9 feet wide, to be considered a regulation court. A lease was negotiated in Williamsburg, and plans were finalized for a waterfront flagship. Then the deal fell apart at the onset of the pandemic. "It was painful," Plate sighs.
For Plate, it became a dream deferred until the space next to Randolph's Dumbo brewery became available. Feather bowling was back on the table. Plate added 7,000 square feet to that already expansive space, designing everything around two feather-bowling courts. Since there are no official schematics, Plate and his team reverse engineered the court design from photos and videos they found on the internet, most of which came from the mecca of feather bowling in America: the Cadieux Cafe in Detroit, which has operated authentic courts in the U.S. since its founding in 1933 and still boasts what is easily this country's liveliest feather-bowling scene. Plate made his own pilgrimage to Detroit in October 2021 to see the game firsthand and returned to New York with tips and advice from the Cadieux team. Then he added his own flourishes, lining Randolph's lanes with green turf and swapping the traditional pigeon feathers for ostrich, which are both easier to see and more durable.
Anyone familiar with boccie, pétanque, or shuffleboard will grasp the basic concept of feather bowling — you try to get your ball closer to a target than your opponent can, scoring is based on whichever team has the closer balls, and you play until one side gets ten points — but specific quirks set it apart. For starters, teams do not alternate their shots. Instead, one team throws all six of its balls from one side of the court. Then the other team takes its turn on its own side. "It seems wrong until you play and you realize that creates strategy," Plate explains. The team that throws first, for example, can go all-in on offense or choose to use some of its balls to create a defensive barrier around its own feather. Plate prefers to throw second, negating the need for any defensive strategy. "I want to go after you, and I want to just knock you outta the way," he says.
Feather bowling demands an in-person audience, and the Randolph team is embracing that, building out the rest of the space in a way that rewards group hangs. There are lots of specialty beers, of course — including a new brew called Light As a Feather — as well as vintage arcade games, pinball machines, Skee-Ball, and pool tables. There is also food. Big food. Executive chef Masterful Davis developed each dish on the new menu to meet two criteria: It had to be shareable, and it had to be eat-and-play food. Even salads are meant for a group, and a plate of nachos easily weighs two pounds.
Last week, the Randolph team invited a bunch of friends for a test run of the space ahead of its official April 29 opening. Nobody had heard of Belgian feather bowling before — "What the hell is it called again?" asked one fan, Carlos, right after he declared himself "fully obsessed" — and Plate is still working on posting the rules, but everyone seemed happy to figure it out.
"I don't think we're playing it right, but it's fun!" one trio admitted, discovering different tactics and strategies on the fly. One feather-bowling newcomer named Tess thought it was best to point her feet directly at the opposing feather when she rolled. Will perfected the form of his finger roll ("Very soft — you don't want to overthrow it"), and Maggie advised taking advantage of the curve of the court: "It has to swerve. You can't throw it straight."
Navigating the lanes' slopes becomes crucial as players try to roll their balls around opponents' balls, a technique that Davis, the chef, points out is easiest to master after a couple of beers: "The balls swivel," he says. "You gotta be loose and roll with it."